The hardcore red devils fans call him the "old Trafford magician". The highly successful soccer player

Cristiano Ronaldo

is known for his fabulous enthusiasm and lightning footwork. A strong physique, genuine soccer skill coupled with a lovely smile, youthful personality, myriad of hairstyles – all these have made Christiano Ronaldo a heartthrob of many.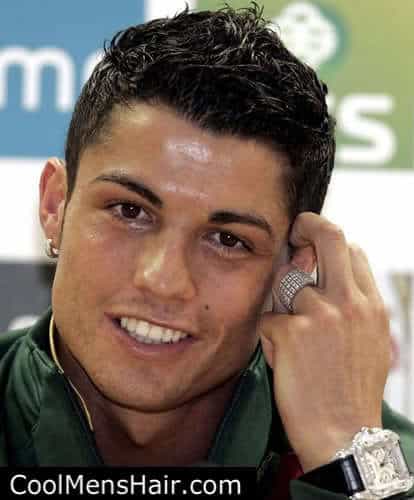 Born in Madeira, Portugal, as Cristiano Ronaldo dos Santos, this soccer icon followed his passion for the game right from his childhood. By the age of 18, his immense talent and love for the game earned him a position in Manchester United.
He made the soccer fans go crazy with his dribble. After his memorable stints in the year 2006 World Cup, he was showered with several awards including PFA Player of the Year. Besides his bricking success in the sports world, the Portuguese lad got noticed in the fashion world too for his frequently changing and stylish looks.
Christiano Ronaldo got the cameras clicking every time he got his hair styled into a fresh cut. In his early years, the young footballer wore a casually cut hairdo, with a few strands highlighted. Given his facial features, lovely eyes and thick mane, Ronaldo tried some of the cutest hairstyles such as classic taper hairdo.
Since he prefers to keep it short, Ronaldo has also been seen in rather simple yet trendy hairdos such as the short curly gelled in style. While he carried off his fauxhawk–mullet hairstyle with great √©lan, Christiano Ronaldo was seen trying the gelled style hairdo.
Among many of Ronaldo's chic hairdo is his spiky cut with copper brown shades. He gets full scores for his signature razor cut with shattered arch and the medium layered cut. Ronaldo's straightened and iron hairdo goes well with his oval cut face.
Cristiano Ronaldo Fauxhawk-Mullet Hairstyle: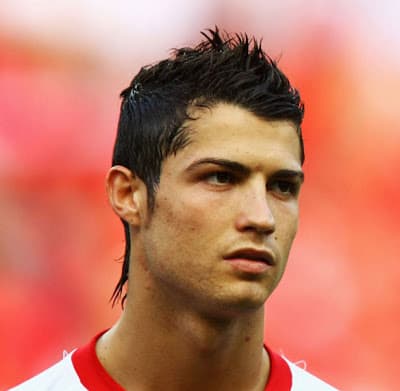 Cristiano Ronaldo with his trendy fauxhawk-mullet hairstyle.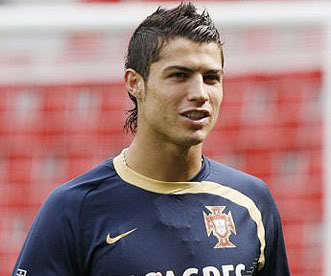 Cristiano Ronaldo's cool fohawk
Ronaldo faux-hawk mullet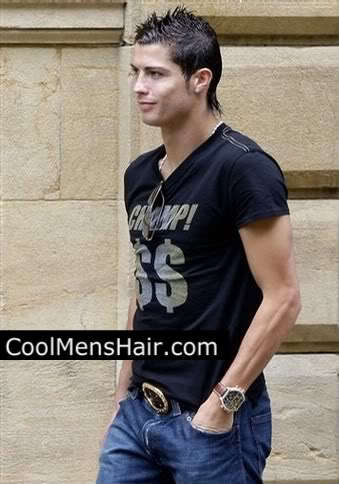 Ronaldo faux-hawk mullet style
Ronaldo's Hairstyles Pictures: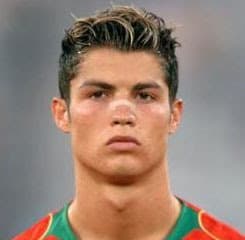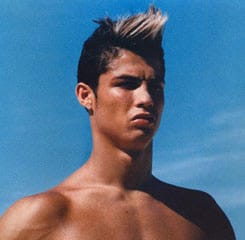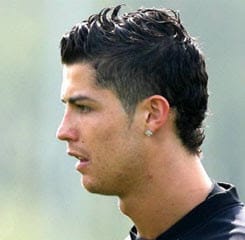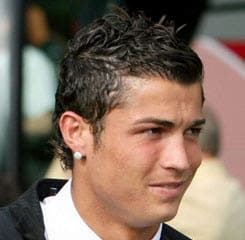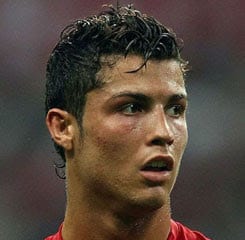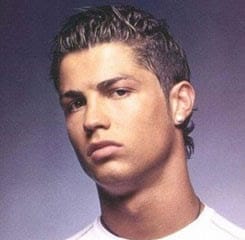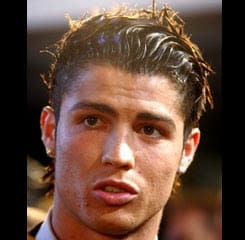 Christiano Ronaldo loves to experiment with his looks, keeps his hairstylist busy working on his hair department every second month. For someone blessed with loads of talent and oodles of confidence, it takes very little effort to makes things work. The phrase goes well with this Portuguese footballer. Undoubtedly, Christiano Ronaldo is one of the world's sexiest sports star.
How To Get Your Hair Like Cristiano Ronaldo
World class soccer star, Ronaldo, loves to experiment with hairstyles. His natural good looks and healthy hair looks good in many of the short styles he prefers. When you want to learn how to get your hair like Cristiano Ronaldo, you can begin with reviewing the images above.
Ronaldo has several versions of a short curly look. In each of these versions, you should begin with hair that is totally clean. Towel dry the hair, then use a good quality styling cream/fiber/gel. Few recommended styling products are displayed below. The gel should be worked through all the hair.
Cristiano often chooses an upswept style with elements of a mullet at times. The soccer player has also been seen sporting a fauxhawk mullet. A lightened hairs on the crown of the head can add an unusual dimension to dark hair.