Creating a hairstyle like Robert Pattinson (Edward Cullen) is an easy way to give yourself the sexy, sleepy look that has electified audences everywhere. Although it might look like he rolls out of bed with his hair perfectly styled, the truth is there are some very specific techniques that can be used to create the look that has become synonimous with his name.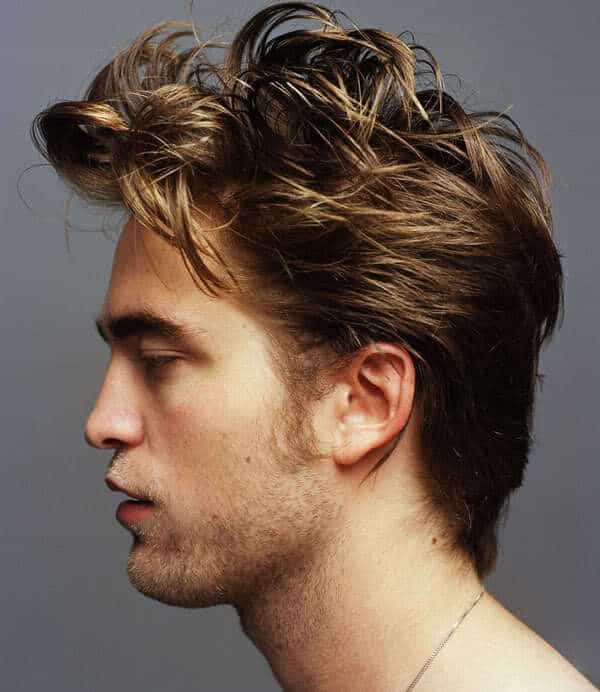 Robert Pattinson. Photo by Theo Wenner/"Dossier".
To get the Robert Pattinson style, you may need first to change the cut and texture of your hair. The hair should be cut a bit shorter on the sides and longer on top. Fortunately, it can work for a number of hair types and face shapes. If you have naturally thick hair, it may become weighed down, so thinning it out will improve your chances of pulling off this fun style. Best of all, you only need a few styling products and a hair dryer to take your look from wallflower to show-stopper in a few short minutes. Here's how:
Gather your tools.

For the Robert Pattinson style, you will need some styling gel, control paste or wax, a round brush and a hair dryer. If you are without these products, make sure you take note of how each product smells when you are shopping. If there is one product that smells particularly great, try to get the others in unscented versions. Or pick up all the products from the same brand and with the same scent. Your new style just might attract more attention and when someone gets close, you don't want to overwhelm them with an unappealing mix of scents.

Goop it up.

Place a grape-sized dab of hair gel in the palm of your hand and rub your hands together. Grab the roots of your hair and scrunch the length of your hair in your fists all over the head. Continue working the gel into the hair like this until there it is spread evenly throughout the hair and there are no blobs of gel anywhere.

Blow it out.

With your hair dryer on the lowest setting, bend over at the waist and dry your hair upside-down. Point the blow dryer at the roots and move it around with one hand while scrunching the hair with the other hand. Repeat all over the head until all your hair is dry. Be warned, when you get a first glimpse of it after drying it will look over-the-top wild, but that is ok for now, we aren't done yet.

Settle it down.

Without brushing your hair, wrap small sections around a round brush and hit it with the hair dryer again, this time for just a few seconds to tame the locks down at the ends. Do this throughout the hair, trying to make it look random, not over-styled. If the sides are too long, you may want to forgo this step on the sides so you don't end up looking like Albert Einstein. Instead, just use your fingers to comb the sides back from your face.

Finish it off.

To complete the Robert Pattinson style, just take a little styling paste or wax and sculpt the locks by peicing them out and separating as it looks good. Use only your fingers to style at this point, brushing or combing it will ruin all you have created and you may have to start over. Keep working it until you get it just right.
Robert Pattinson hairstyle. Image Credited to Nikki Katz.
While this style is relatively easy to do, it may take you a few times to get the amount of product right. Too little will leave it limp and unworkable, too much will make it greasy, crunchy or sticky. The first time you do it, you might have to wash and start over again, but once you get the hang of it, it can quickly become part of your daily styling routine and you can have the sexy Robert Pattinson look every day.
About the Author:
The article is written by Jessica hunt who is a professional barber and does personal make-overs.
She has written many articles about hair dryers up to z gallerie outlet from professional make up advice up to advice on how to dress yourself.