21. Braid, Braid, and Braid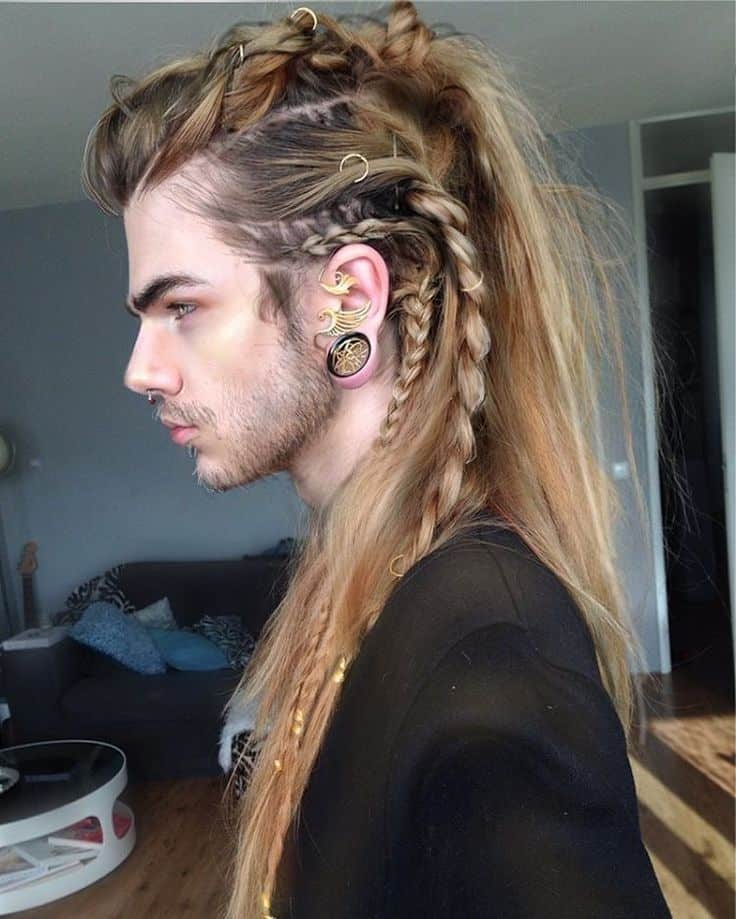 Make Braids. Indulge yourself in a braid-ception. You can make layered braids and leave the hair be if that's what you prefer for your long mane of curly, manly hair. You can do it on your own without your stylist. If you've got piercing, this will look smoldering on you.
22. Dutch Braid for Men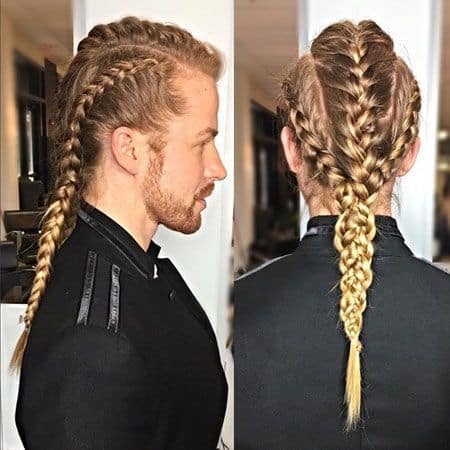 Dutch Braid is also a great way to style a man's long curly mane. It is quite functional for men with long hair to manage the hair. Even though it isn't the best to sport when hair is getting wet, but for dry settings, you can sport it rather well. It's a great hairstyle to sport during winter.
23. Semi Punk Braids
Rock your long curly mane in a beautiful plait of the punk-themed colorful braid. This style, however, takes commitment and lots of work. But the end result is truly satisfying. If you are an artful person, or a performing artist, this hairstyle will accentuate your persona.
And if you don't consider yourself as one, you can sport this new style and look great anyway. Goes even better with facial here.
24. Braided Dreadlocks for Curly Long Hair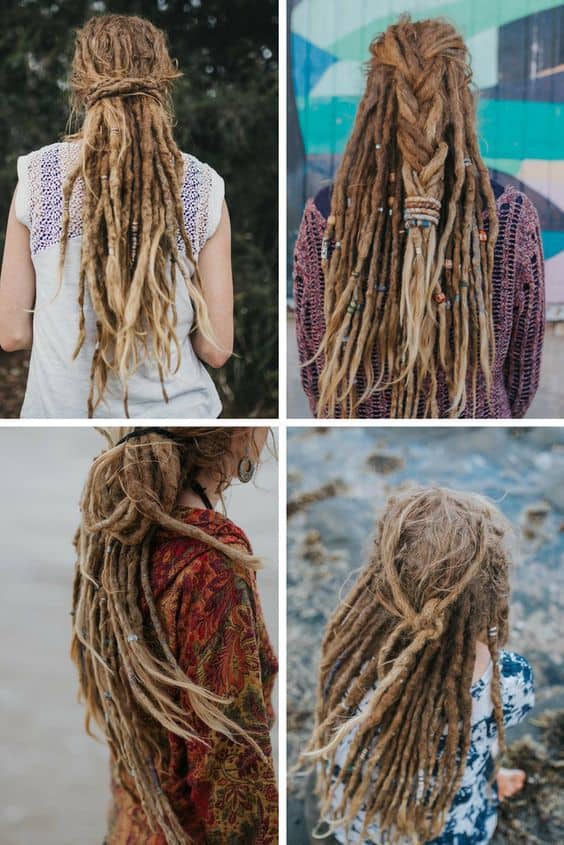 Dreadlocks are destined long curly hairstyles for men. Your long, curly mane gives the dreadlocks a personality, a true grit. You can highlight it, accessorize it, or leave it authentic. Either way, you will look rather great and impressionable. Try enlisting a professional hairstylist's help for the best results.
Ponytails for Men's Long Curly Hair
Who says ponytails are just for ladies? Men can rock ponytails as well. Especially men with long curly hair. Ponytails are easy to make and easy to manage. And they can be smolderingly handsome if you can wear those. Let's see some ponytail styles, shall we?
25. Samurai Ponytail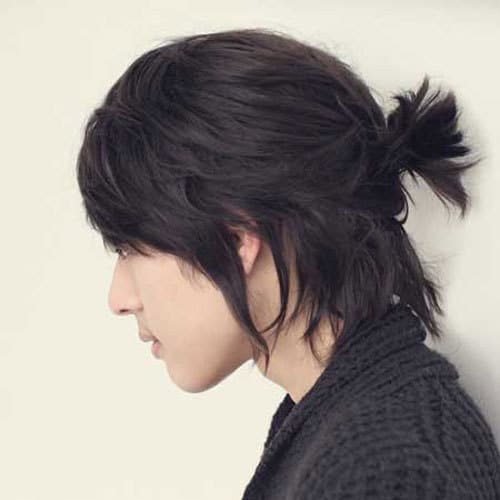 Samurai Ponytail looks good on any hair type, but for wavy and curly hair, it adds texture. Especially if your hair is "long, but not THAT long", you can tie up your wavy locks that hang loosely around your face and as much as you love those, are responsible for the annoyance that you wish you could avoid.
Grab some of the long hair on the top and tie that to a ponytail with a hair elastic or thin rubber bands. You're all done. You can sport it in the gym or any activities that make you sweat (including a tough test).
26. Half-UpPonytail/Bun for Curly Hair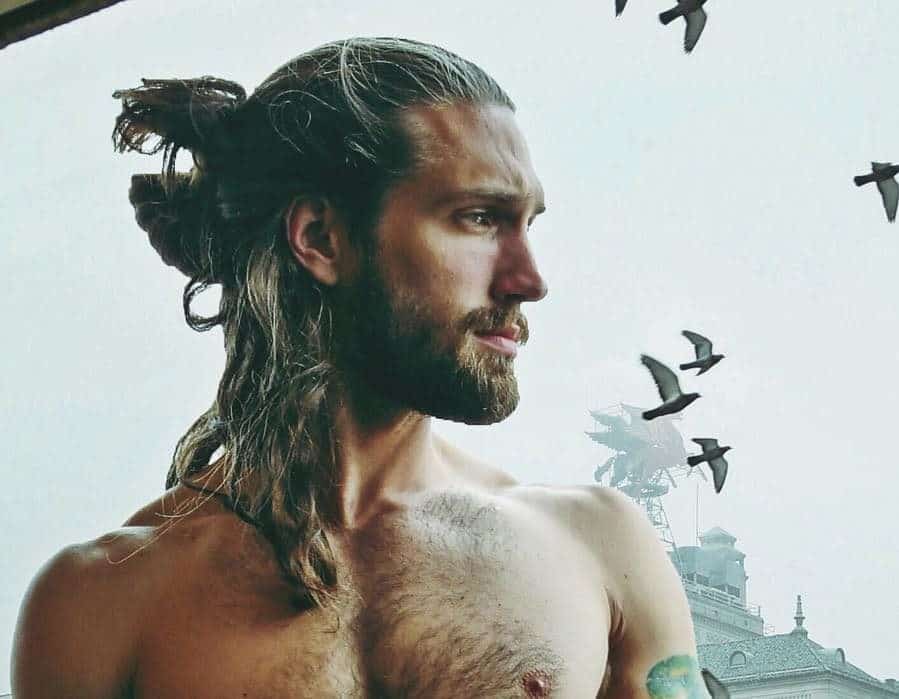 This one is for a slick and professional, yet laid-back look. Tie your most of your shorter locks in a half up ponytail in the back of your hair, you can tuck the bottom and give it a bun look. Looks good either.
The longer locks in bottom accentuate the feature and frame your face. You can rock any semi-formal occasions with your long curly and manly locks in this hairstyle.
27. Half up Messy Ponytail for Curly Hair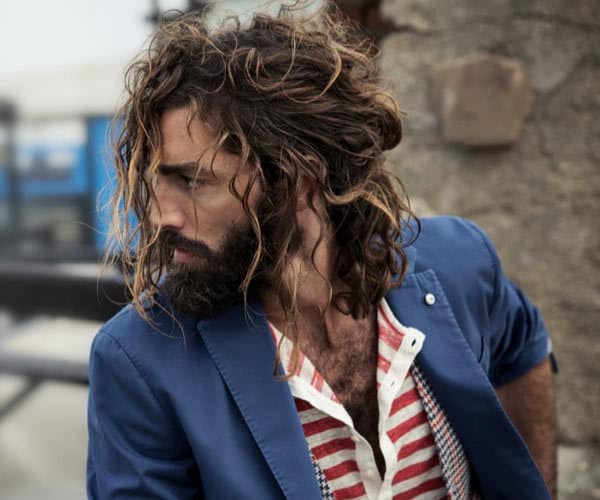 You can look ragged, messy, and handsome in loose, messy half up ponytails if you want. Your curly mane of long hair will actually assist you to give it extra effects and more grit. Take some of the shorter locks, tie those in a ponytail in the mid-back of your head.
Tuck in into a bun if you want, or not, if that's what you desire. Leave some strands loose to a side to give it a messy look. You might want to spritz some products to give it a wet messy look. You're all set for looking ruggedly handsome.
28. Tie it up in the Back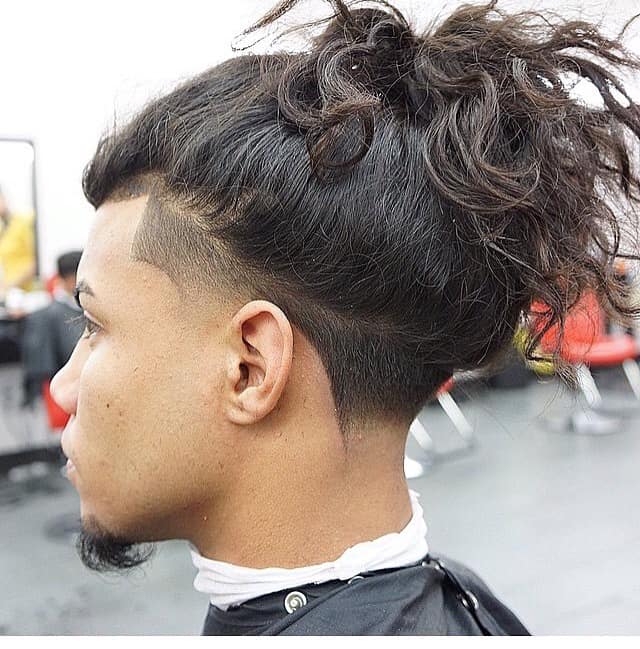 There are more "tie up" hairstyles at your disposal if you are in need of those. Especially if you have long unruly curls and want tame those. Scoop those up and tie a high pony at the back of your head. You can do undercuts and textures on the sides and bottom for added effects, but even without that, the style is great and quite functional.
29. Tie It Down!
If your hair is long, but "not so long", yet you want to tame your curly manes, you can do that easily with a low ponytail. This will bring out your manly handsomeness and will be quite functional at the same time. Your curls will definitely add some texture to it, which will make it look better.
30. With Strong Undercut
Strong undercuts are very "in" these days. It's stylish and comfortable at the same time. If you are beginning to try "long hair" routes, this is perfect "go to" hairstyle for your potential long curly manes. Scoop up your hair and tie it to the back.
That is how you rock a great look with wavy manes. You might need products in first times. Also, you can combine with the crew cut to come up with a new style for your curly hair!