11. Double Delight for Your Hair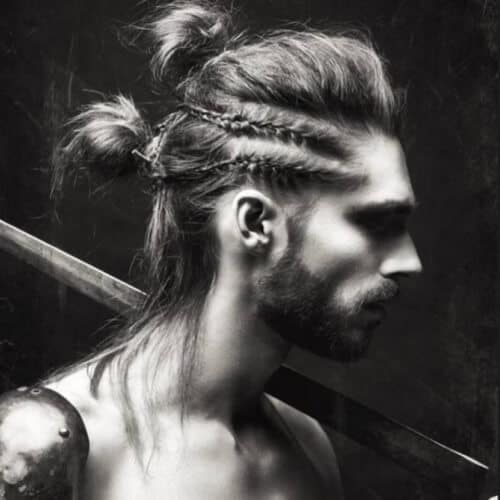 So, you have a long mane of wavy hair and have it cut in layers and now regretting it because "it's everywhere"? We've got a solution for that and can make you look smolderingly handsome at the same time. Trust us with the double bun and side braids.
Braid the unruly locks in the middle and tie your hairs of the same layer in two buns. And voila, you're one smolderingly good-looking man without "hair-worries". And of course, your wavy curls will give the hairstyle a more prominent statement.
Braids for Long Curly Haired Men
Unlike popular opinions, braids are just not a feminine thing. Men with long hair can also rock braids if they are willing to give it a chance. Especially men with a curly mane of hair can do so much with braiding their long hair.
It is functional and stylish at the same time. The Vikings sported long braids for a reason. Won't you like to have a look at the different kinds of braided long curly hairstyles for men?
12. Wavy Braids
If you don't have time or patience to fuss with cornrows, try two simple plaits down the middle. The look will keep your hair out of the way during a gym sesh and also show off your length.
An easy to do braided hairstyle for men with a curly hair. And if your hair isn't super-long, it is definitely for you to try. Just take the key part of your hair on the top of your head that falls over your face (the actual criminal if you may say so) and tie those in two plaits.
Voila! You've got yourself a fashionable and sporty hairstyle. You can even run a marathon or do rigorous gym routines without "hair problems".
13. Messy Hair with Single Braid
Well, this one is easy peasy for those men with long curls and not enough time. After drying your washed hair (or maybe leave it for air-drying) make a tiny braid out of the strand of hair that bothers you most in front. You're all set to look smoldering and attractive.
14. Men's Fishtail
Fishtails work just as good on long, curly men's hair like the other famous long hairstyles. Even though predominantly it was considered as a women's hairdo, many men are sporting fishtail so well that it has become a part of the rather rad male hairstyle. It, however, requires some time, commitment, and attention.
You might want to learn from online tutorials for fishtail because it gets confusing if you read the instructions first and not actually see it being done. However, you can take a look at the wiki how or other visual tutorials for a good idea.
15. Top It off with A Tight Braid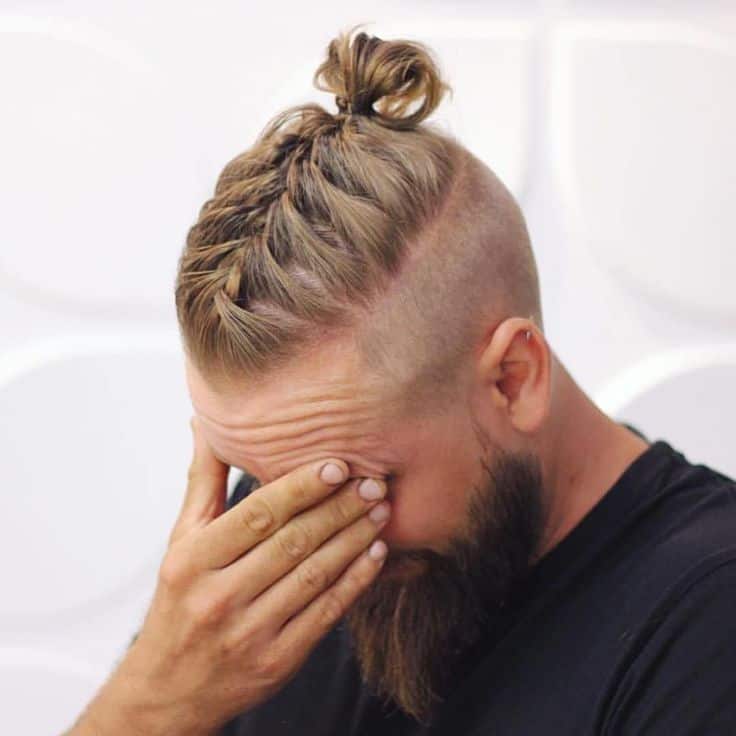 If you are good at tying braids or have a friend to help, you can rock this hairdo. You don't even necessarily need to have the "long" long hair. Actually, this style suits any length of curly hair for men. Make a very hefty French braid on the top of your head, starting from the forehead and forward.
Your curly hair gives this style extra grit because that would add texture to it. This hairdo is rather great for the gym or other athletic activities since it keeps your hair tightly in place. It is also very fashionable.
16. Cornrows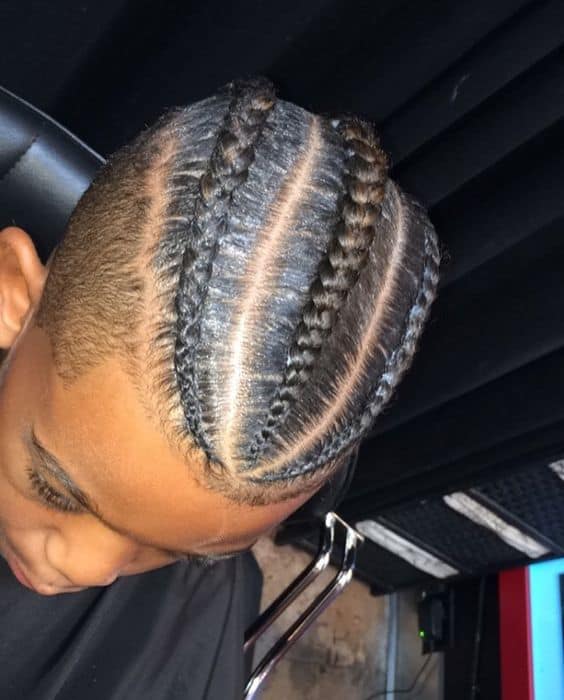 Cornrow braids are great long curly hairstyles for men. Especially when they don't have the mean of tending on their long locks all the time. Professionals make better and more sustainable cornrows that will serve your purpose better.
You can highlight those for effect, but the natural cornrows are a great semi-formal hairstyle to sport. For men with long curly hair, cornrows add a distinct texture to the hair, which makes it even cooler.
17. Colorful Braids for Men with Curly Hair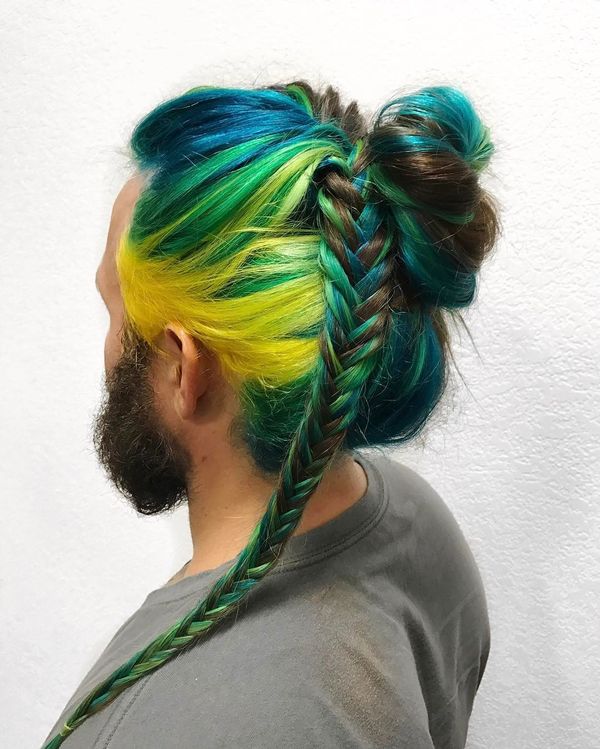 Braid up your long, manly or curly mane. Adding colors to it makes it stronger and more stunning to look at. You can even use extensions. For better styling, take help your hairstylist for hair color or highlighting. At least make a plan with a professional.
18. Row your Curly Locks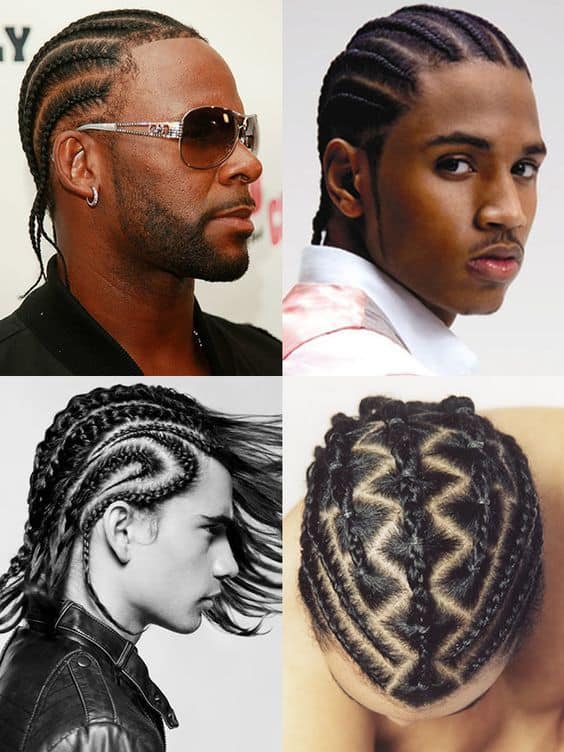 Braided Rows are always a great idea. It's fashionable and manageable. You can wear it in various ways. If simple cornrows are not your thing, you can up your game and make the best of it with the help of your hairstylists.
Rows of any types go well with the textured, long curly hair of men. They look and wear row braids better than other hair types. You can even add colors to it. Long, curly hair of any length can be sported with Braided Rows.
19. Punk Braids and Bun for Men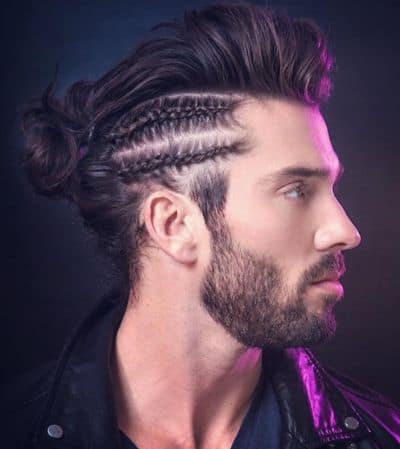 Men with curly hair can punk harder than the others, contrary to popular belief. Try faux straightening out the hair and then do the punk hairstyles. Of course, the stylists can do magic to your hair, but you can do some of this stylings on your own as well if you try. Goes great with your looks.
20. Braids and Bun with Strong Undercut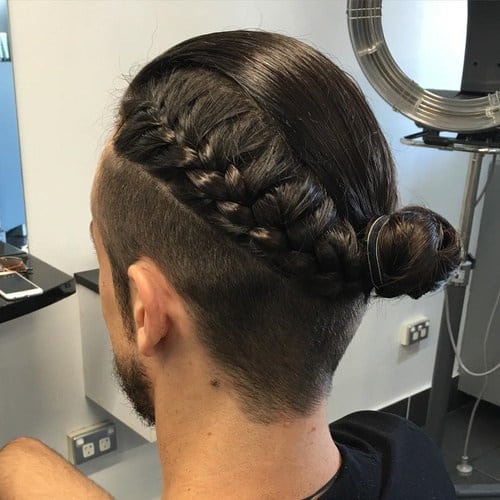 You can be punk and classy at the same time with this hairstyle. Long hair with strong undercut always makes a man look dapper. This also accentuates the feature of long curly haired men with facial hair. Tie your long hair in some braids and then pull those braids in a bun. Your curly hair will add a texture to it.