Emo is a term used to describe a subculture of punks who focus more on individual emotions than making any sort of political statement. These expressions come in the form of music, fashion, and style.
Hairstyles are one method of identifying with this subculture. Many choose longer hairstyles, though there are no set lengths that define this style. Therefore, we shall discuss how to get emo hair for boys with short hair.
Short Emo Hairstyles for Guys
1. Short Emo Hair with Front Bangs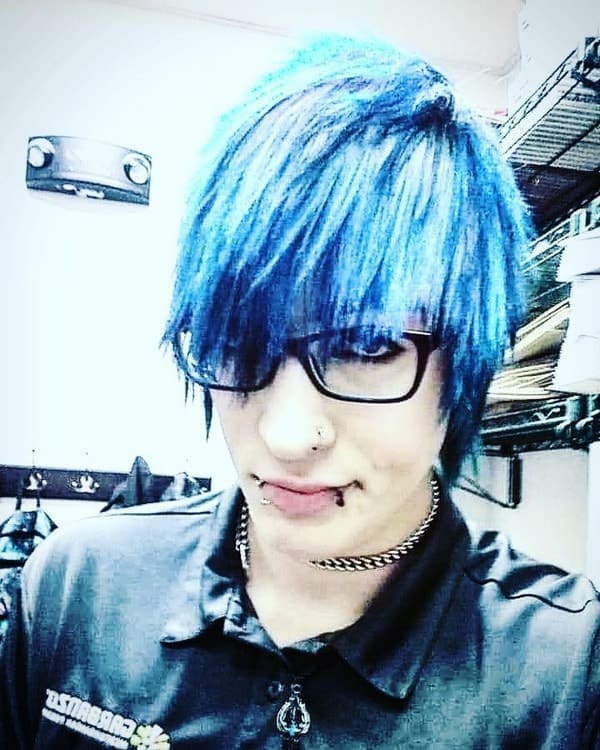 Feathery emo haircut with textured front bangs screams out the cool personality of the guys. Blue hue gives an extra definition to the feathery structure of this hairstyle. Apply the blue dye only on the top and keep the back hair black to bring out an expressible contrast.
2. Blonde Short Emo Hair with Side Swept Bangs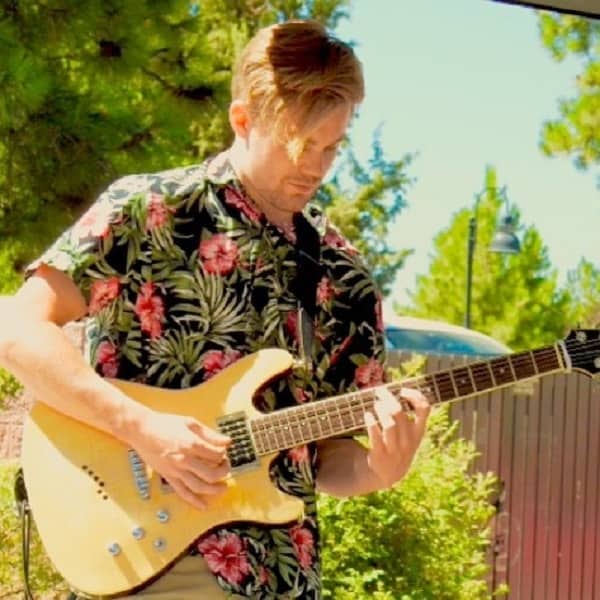 All emo haircuts do not give you bad boy vibes; some short emo hairstyles give boys a dope personality like the one in the above image. To achieve this look, comb the hair into a side part hairstyle and pull out the bangs that hang down in front of one eye. Golden blonde hair will add more magic to your looks.
3. Undercut + Short Emo Hair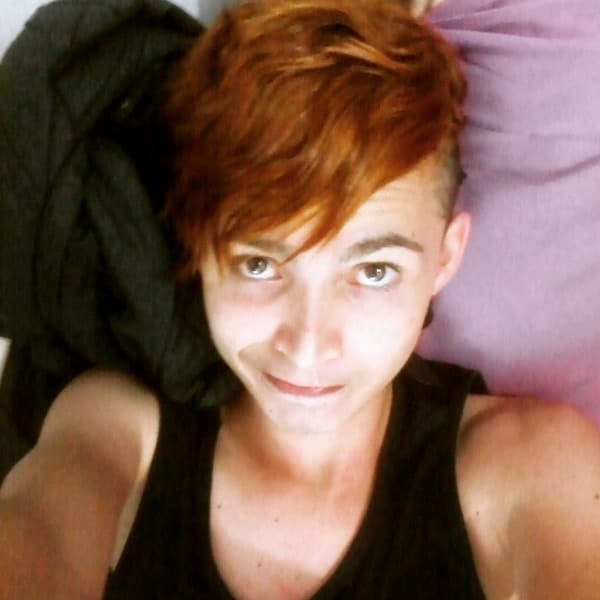 The emo haircut has been introduced in plenty of variations since 2010; the incorporation of an undercut with the short emo haircut is one of the coolest emo hair combinations for boys. This look is quite flattering as the front bangs sweep at one side of the head rather than styled into a typical edgy fringe. It is very easy to maintain.
4. Silver Blonde Look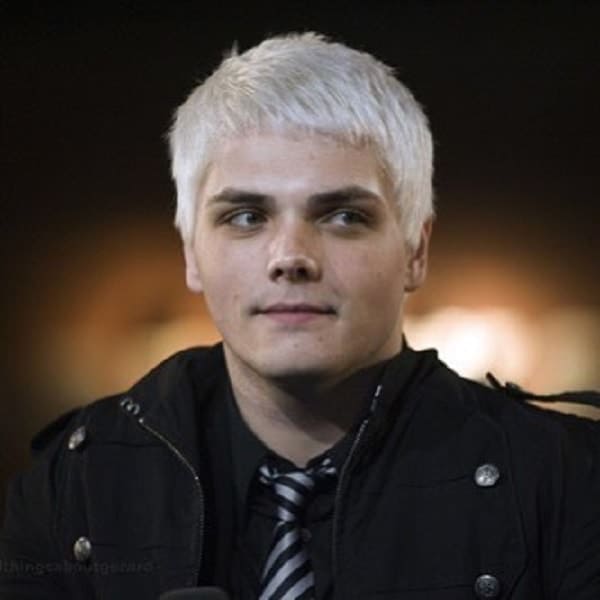 Who can wear a short emo hairstyle better than the guys who bring out the true vibes related to this particular lifestyle through their songs! You can get inspiration from the above look if you are looking for a vivacious outlook. Silver blonde hair looks wonderful on warm undertones.
5. Emo Hairstyle for Fine Hair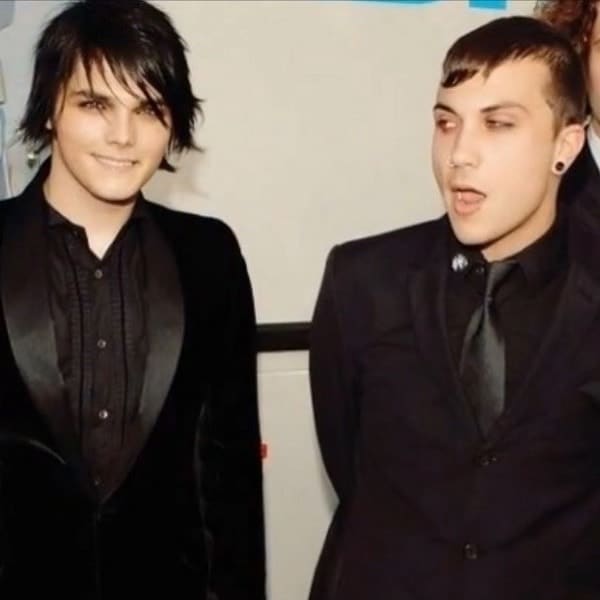 If you have fine hair and think you cannot wear an emo hairstyle then, think again! A shaggy emo haircut and pointed bangs can help you to get the desired look. If you want to keep hair short, overgrow a buzzcut and style the top into edgy bangs, otherwise; go with the shaggy one.
6. Two-Toned Short Emo Hair
Experiment your hair with a variety of color dyes to give your short emo hair a whole new definition. You are not bound to any color; just try what inspires you the most!
7. Sleek Emo Haircut with Highlights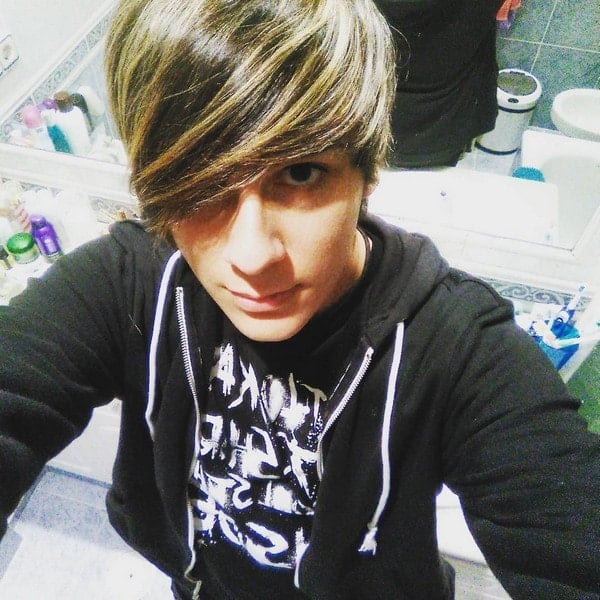 Highlights can add extra bewitching personality to a sleek emo haircut. You can trick your sleek, short emo with any highlights. You can choose from dark caramel to ash brown, whatever you like!
8. Curly Short Emo Hair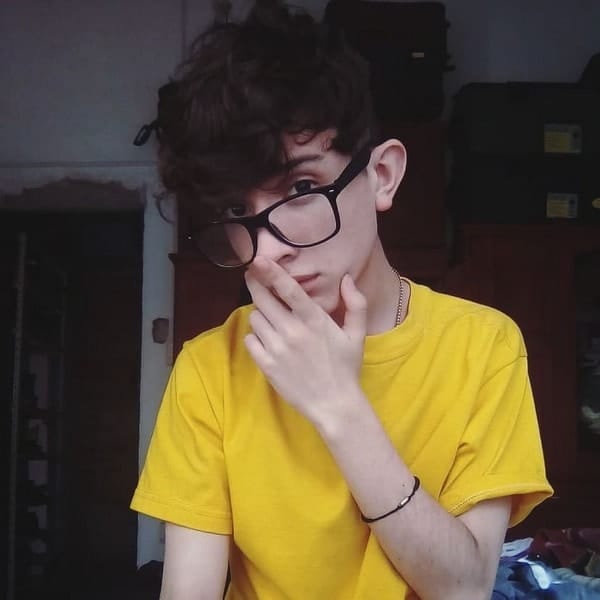 If you have naturally curly hair then, just focus on styling the emo bangs for an inspiring appearance. Keep the hair at back shorter than the curly top. Push forward the curls to accomplish this particular look.
9. Tapered Short Emo and Choppy Bangs
Upgrade your short emo hair by adding a chopping effect to it! To get this look, taper the hair gradually at the back and sides of the head. Keep the top hair longer and chop the front bangs to get an asymmetrical look.
10. Messy Short Emo Hairstyle
Sleek hairstyles are not for every guy with short emo hair, some guys can rock with a messy look, astonishingly. We would not be wrong if we describe this look as a bedhead emo hairstyle. It is easier to style and maintain.
11. Thick and Sleek Short Emo Hair
It is perfect for those guys who want to keep their emo hair in a more casual look that will make them ready for any occasion. It provides guys subtle appearance and looks remarkable on thick hair texture. You can achieve this look by pushing forward the hair and for glossy looks, use good quality pomade.
12. Short Emo Hair with Long Bangs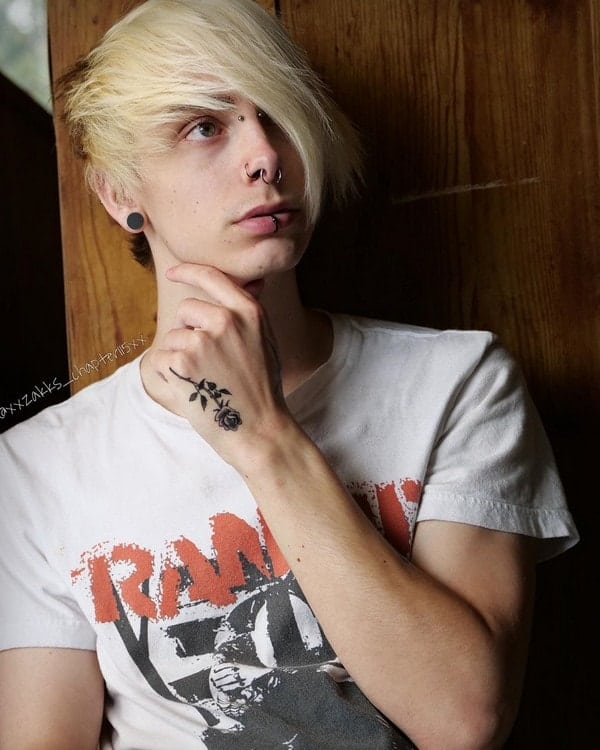 Here, you can observe an unusual, but a noticeable mishmash of short and long emo haircut for guys. The hair at the back looks black while the front hair looks turned into platinum blonde for groovy aesthetics. It provides guys an ultra-edgy outlook that is achieved by sweeping the platinum blonde section at the front where the long side fringe covers one side of the face.
Emo Hairstyles for Boys
When it comes to expressing your personality through hair, the emo look is a great option for boys' hairstyles. Emo haircuts typically consist of long, straight thick and heavy bangs brushed to one side that covers one or both eyes. While the color is normally dark, such as brown or black, recent styles and trends show color doesn't matter. It's all about self-expression. You also don't need to have only straight hair to rock the style anymore – curly hair is in!
Ready for your next expressive haircut? Here are 8 emo hairstyles for boys to try in 2023.
13. Short Emo Curls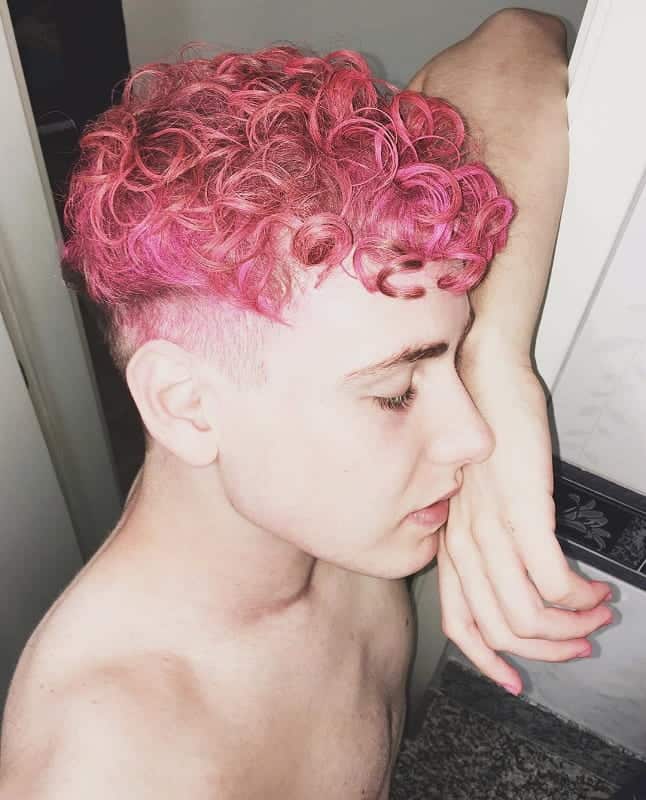 Put a playful touch on your short emo haircut with a fun color like hot pink. Side fades add extra edginess to an already bold cut.
14. Short Spiky Emo Hair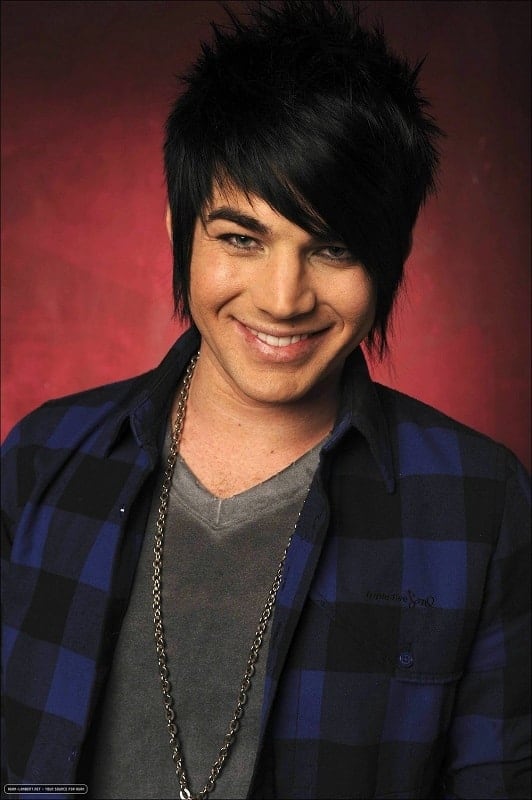 Singer Adam Lambert did it best with his straight short spiky emo haircut that came down past the ears and shadowed the eyes.
15. Short Thick Emo Haircut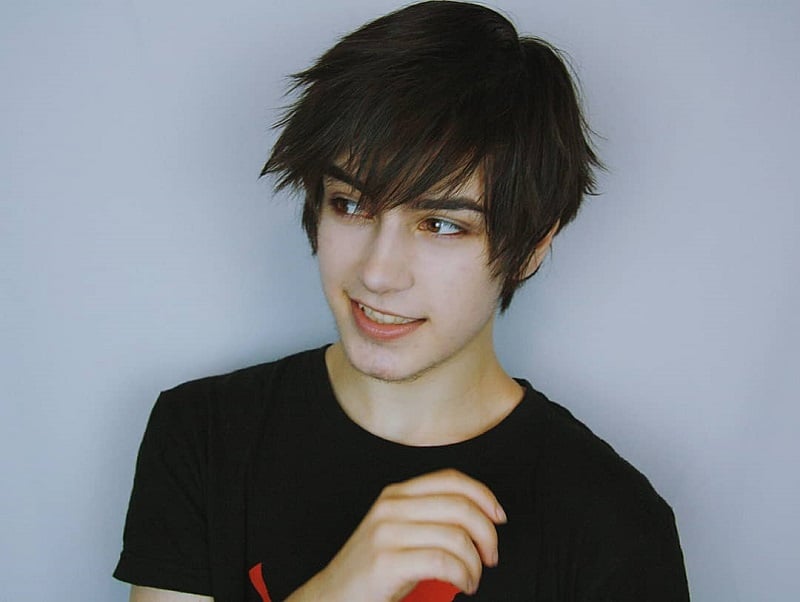 For thick hair, a short emo haircut with heavy bangs that look a little piecey can be easily manipulated and styled to frame the eyes.
16. Short Emo Bangs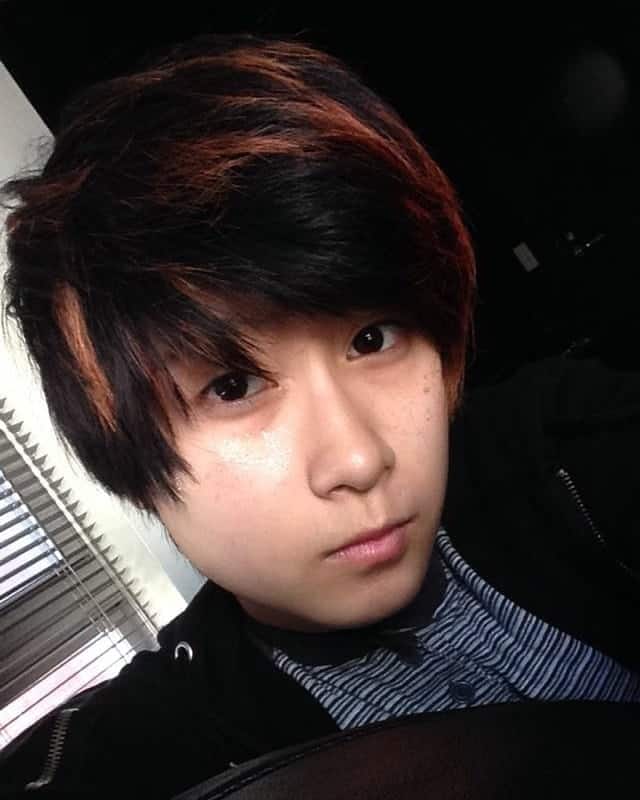 17. Short Blonde Scene Hair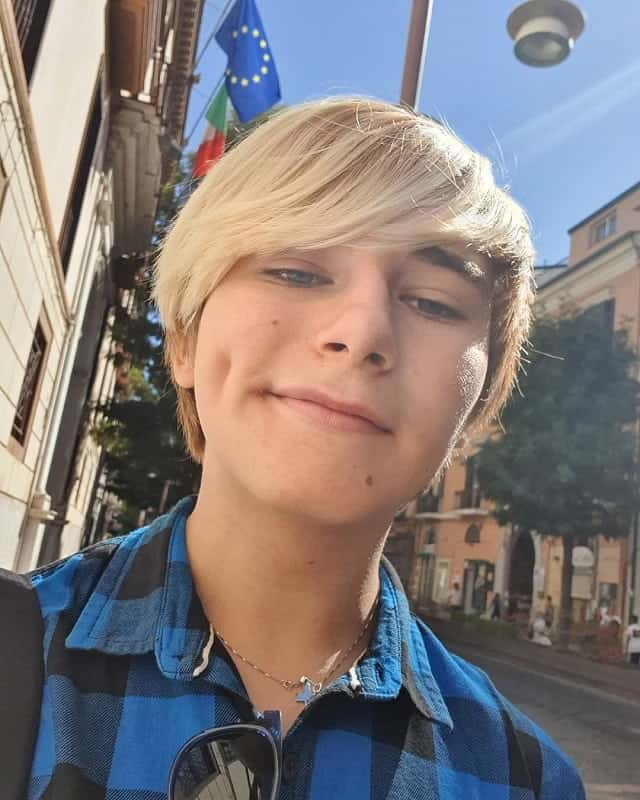 18. Short Emo Shag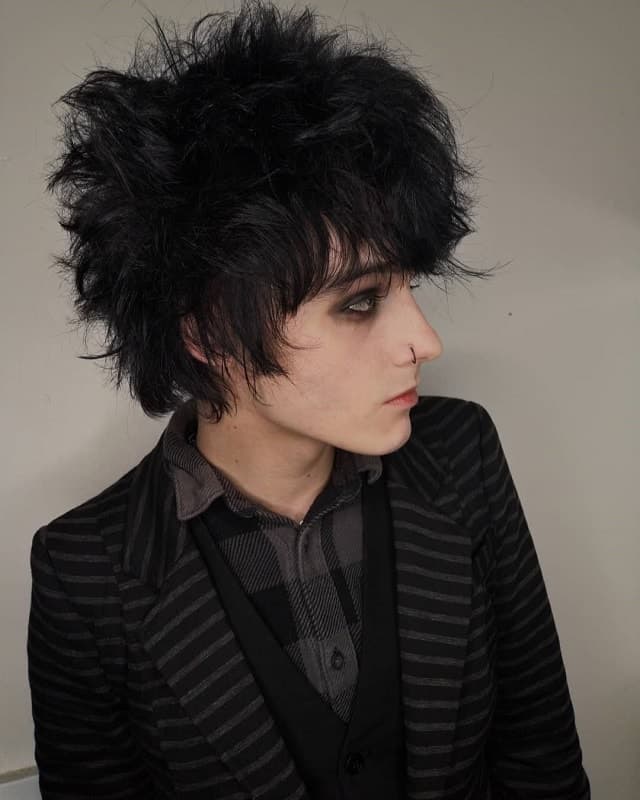 19. Short Red Hair for Emo Boys
20. Short Blue Emo Hairstyle
Things to Know About Short Emo Hair
One of the first features that identify one as having emo hair is its straightness. These hairstyles all require the hair to be as straight as possible. To this end, most guys who choose this style use straightening irons and heavy hair products to pull any curl out.
Deep black is the normal color choice for those choosing the short emo hairstyle. Since this is not normally seen as natural hair color, most members of this group dye their hair. It is not uncommon to see other colors used to create streaks or highlights as well. Normally, neon-bright colors are used.
There is no minimum length that hair must be to qualify as emo hair. The key is having the hair cut in asymmetrical patterns, meaning that the sides are uneven, front and back are different lengths, etc. The front is normally left longer so that one can create long fringe on the front and one side. It is also important to have the hair razor cut to provide layers and texture.
Styling tends to lead to brushing the hair toward the front and one side so that it covers one eye. If the hair is very short, this will likely mean letting the front grow while keeping the sides and back shorter. The gel may also be used to create spikes in the back reminiscent of the punk culture that spawned this offshoot.