Long, curly mane of hair has always been a way of expressing the good looks of men. Styling and maintaining long, curly hair can be burdening sometimes. A little guidance and specific choice of style, however, can change the game. How about we give it a try then?
Long curly hair of men can be styled in many different ways. It depends on how you want to style your hair, how long you want the length to be, and the extent of commitment you are willing to make. You can wear your long mane as a bun, or tie it up like a ponytail, wear it in braids or just style it in different tasteful ways. The choice is yours. You will find a plethora of styles to choose from. More precisely, the plethora of "sorted" choices. This will be less confusing and more functional for men with long, curly hair to choose a hairstyle. Just pick your style and you will be all set!
Buns for Men with Long Curly Hair
Buns are manly and ooze a distinct appeal in a man's look and accentuate the beauty of man's long curly hair. It is also the most low maintenance and functional hairstyle for men with long hair. This costs very low, all you need is a hairband. You can also check these bun haircuts to get inspiration.
1. Tiny Curly Bun
For men with the moderately long mane of curly hair, tiny, curly buns can be good style to put on. Tie it on the back of your neck and leave the tips free. The tips will curl and give it a semi-messy look. This hairdo is ideal for work or classroom. And very easy to sport on run.
2. Loose Curly Bun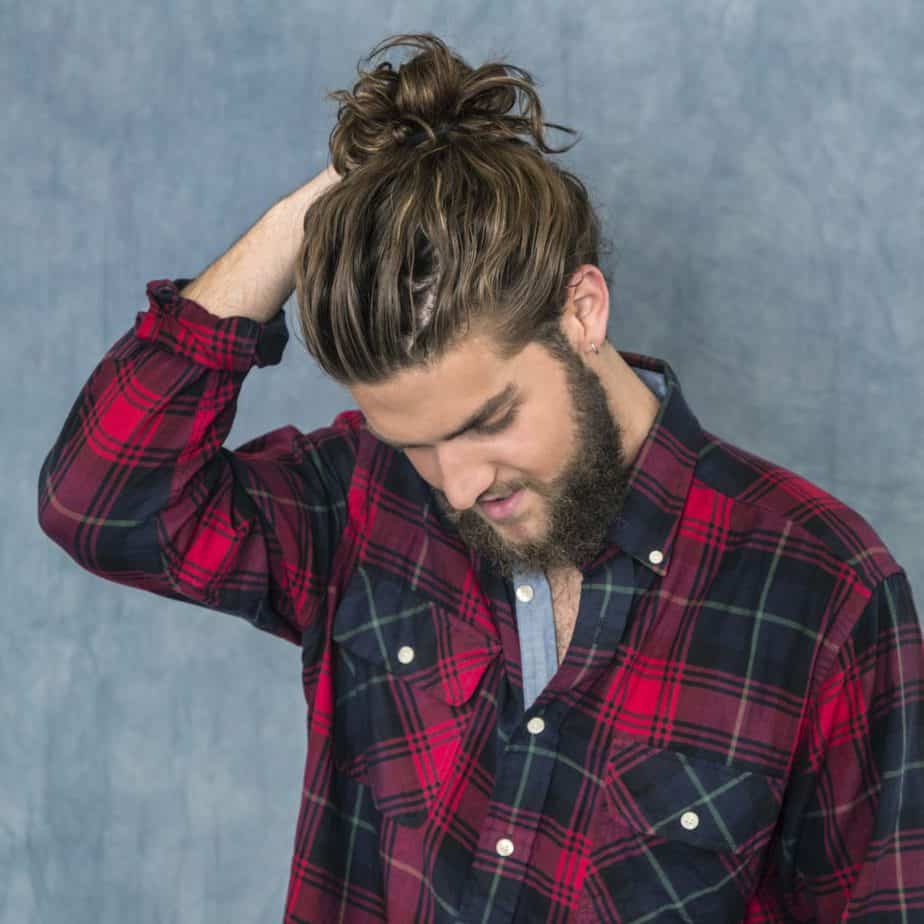 Loose buns add beautiful texture to men's long curly hair. It does take a little work through for a bun, but the result is satisfying. It involves tying a loose ponytail at the back of the head, then make a loose bun by tucking your hair in.
3. Messy Bun with Curly Long Hair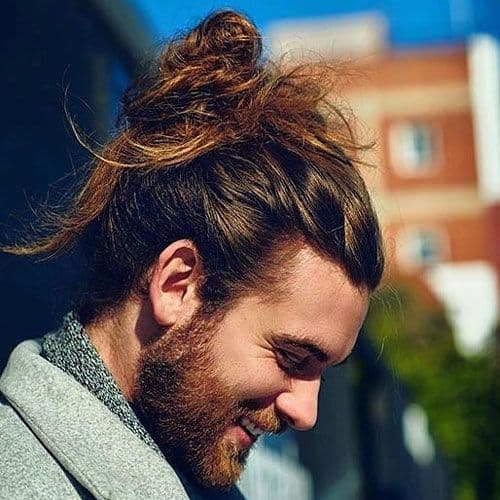 Messy buns give a man rather smoldering look. And men with long curly hair can sport a messy bun in the most artistic way. So far it is the easiest of the buns to put on. Just grab your mane and pull it into a loose bun at the back of your hair, no initial "ponytails" necessary.
4. Semi Bun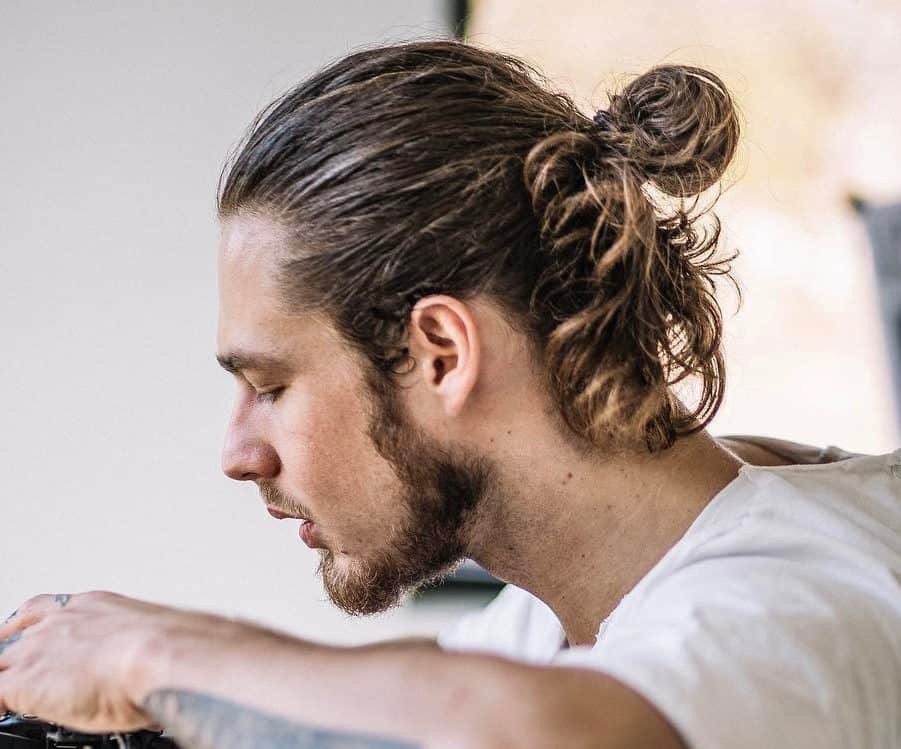 This one is for more of a relaxed and effortless hairstyle for men with long curly hair. Loosely tie your hair in bun without tucking the ends in. For a further smoldering look, frame your face by leaving some strands out in front.
5. Samurai Bun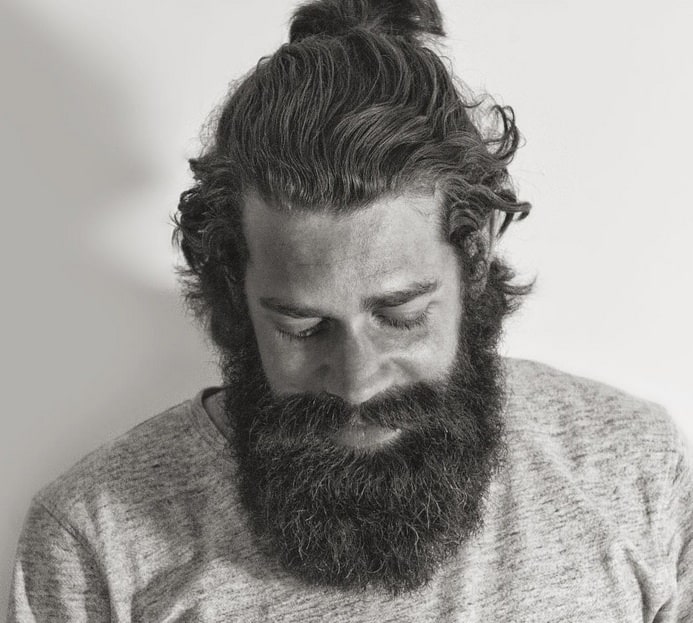 Samurai hairstyles look good on men with long and curly hair. Even though some would argue that since this is an oriental hairdo, it would fit better with straighter or slick hair. However, Samurai Bun would suit any hair type if you are willing to give it a shot. For long, curly-haired men, the tangible and wavy texture of the hair gives the hairstyle more personality and grit. At the same time, it is very functional as well.
6. Twist Your Waves in a Bun
If your hair isn't too long, you can twist those curls and make it into a low, relaxed bun. Divide your hair in two parts, make a ponytail of those two by joining those and tuck that into a low bun. Voila, your relaxed beach look is ready.
7. Slick and Smooth Bun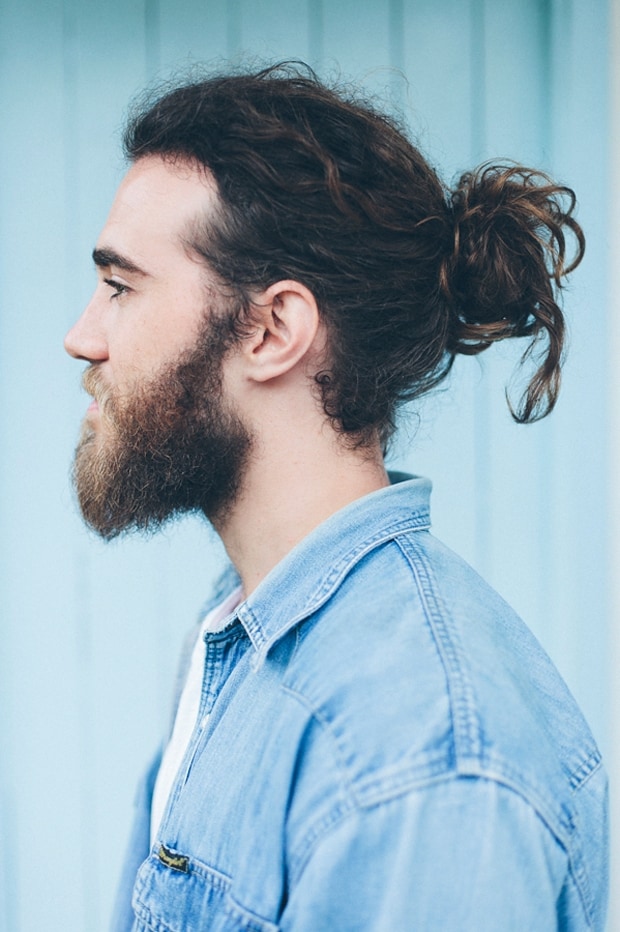 Sure, your hair is long and curly, that does not mean you cannot make it slick and war it in a bun. You can do whatever you want with your long, curly mane of hair. Use hair products make it slick and smooth and then knot your curly mane in a bun at the back of your head. You've earned it!
8. Buns with Braid and Strong Side Part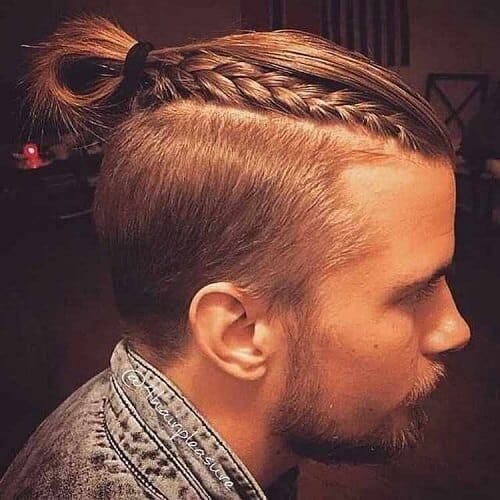 Stand out with your hairdo by braiding it and tucking the end of the braid in a top bun with the rest of the long hair on top. A strong side part will give your wavy or curly hair a gritty and impressionable look.
9. Dreadlock Buns with Bandana
This is a cool and impressionable dreadlock style that's easily manageable and great for sports activities. Or any work that requires your hair to be set in place. Not just your long curly hair's texture will make it unique, you can rock new bandanas now and then spice it up!
10. Corporate Buns
Who says man-buns can be "serious, manly look"? You can rock your long, hair in buns in very formal and impressionable look as well. Just choose the right way to tie your hair in buns. You can also rock informal or semi-formal looks with that as well. You might want to use some product to tame the curls or the waves for better, however.
11. Double Delight for Your Hair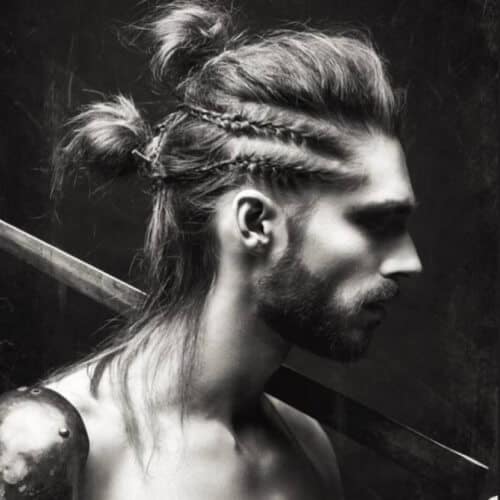 So, you have a long mane of wavy hair and have it cut in layers and now regretting it because "it's everywhere"? We've got a solution for that and can make you look smolderingly handsome at the same time. Trust us with the double bun and side braids. Braid the unruly locks in the middle and tie your hairs of the same layer in two buns. And voila, you're one smolderingly good-looking man without "hair-worries". And of course, your wavy curls will give the hairstyle a more prominent statement.
Braids for Long Curly Hair
Unlike popular opinions, braids are just not a feminine thing. Men with long hair can also rock braids if they are willing to give it a chance. Especially men with a curly mane of hair can do so much with braiding their long hair. It is functional and stylish at the same time. The Vikings sported long braids for a reason. Won't you like to have a look at the different kinds of braided hairstyles for men with long curly hair?
1. Wavy Braids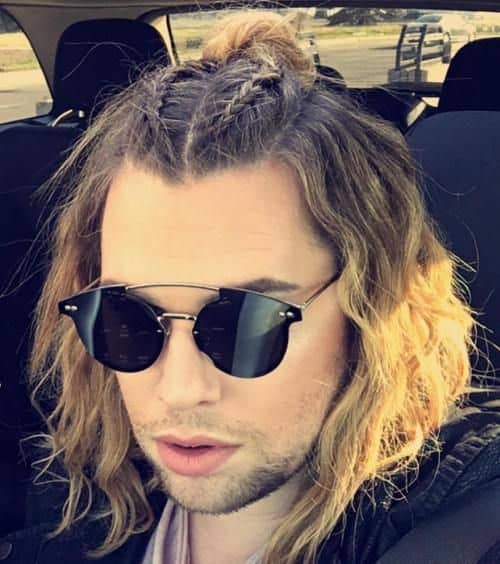 If you don't have time or patience to fuss with cornrows, try two simple plaits down the middle. The look will keep your hair out of the way during a gym sesh and also show off your length.
This is an easy to do braided hairstyle for men. Especially for men with curly hairs. And if your hair isn't super-long, it is definitely for you to try. Just take the key part of your hair on the top of your head that falls over your face (the actual criminal if you may say so) and tie those in two plaits. Voila! You've got yourself a fashionable and sporty hairstyle. You can even run a marathon or do rigorous gym routines without "hair problems".
2. Messy hair with Single Braid
Well, this one is easy peasy for those men with long curly hair and not enough time. After drying your washed hair (or maybe leave it for air-drying) make a tiny braid out of the strand of hair that bothers you most in front. You're all set to look smoldering and attractive.
3. Men's Fishtail
Fishtails work just as good on long, curly men's hair like the other famous long hairstyles. Even though predominantly it was considered as a women's hairdo, many men are sporting fishtail so well that it has become a part of rather rad male hairstyle. It, however, requires some time, commitment, and attention. You might want to learn from online tutorials for fishtail because it gets confusing if you read the instructions first and not actually see it being done. However, you can take a look at the wikihow or other visual tutorials for a good idea.
4. Top it off with a Tight Braid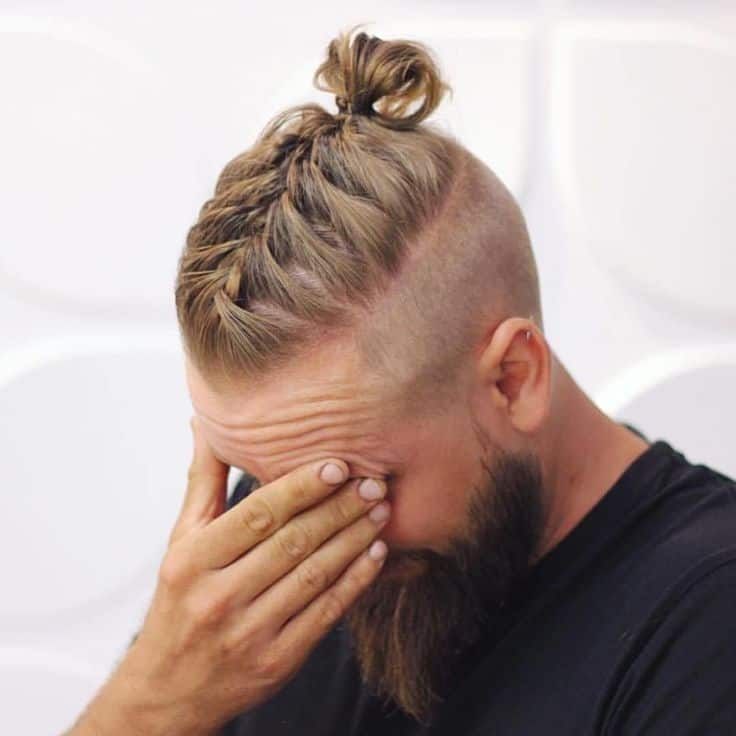 If you are good at tying braids or have a friend to help, you can rock this hairdo. You don't even necessarily need to have the "long" long hair. Actually, this style suits any length of long curly hair for men. Make a very hefty French braid on the top of your head, starting from the forehead and forward. Your curly hair gives this style extra grit because that would add texture to it. This hairdo is rather great for the gym or other athletic activities since it keeps your hair tightly in place. It is also very fashionable.
5. Cornrows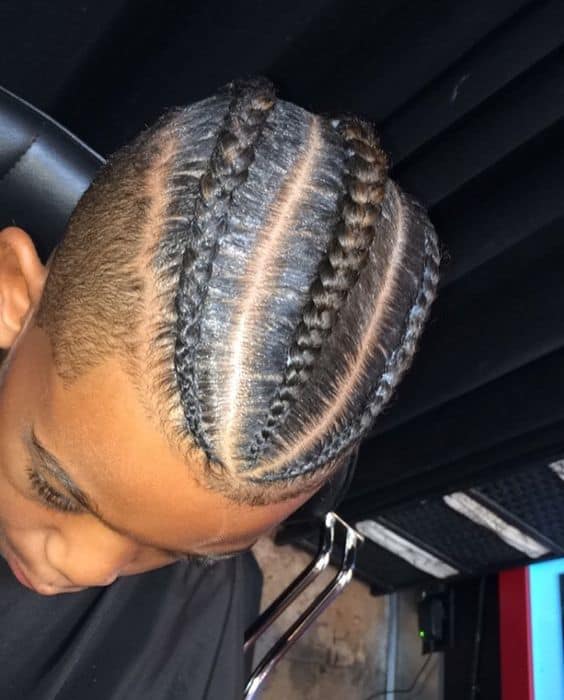 Cornrow braids are a great idea for men with curly, long hair. Especially when they don't have the mean of tending on their long locks all the time. Professionals make better and more sustainable cornrows that will serve your purpose better. You can highlight those for effect, but the natural cornrows are a great semi-formal hairstyle to sport. For men with long curly hair, cornrows add a distinct texture to the hair, which makes it even cooler.
6. Colorful Braids for Men with Curly Hair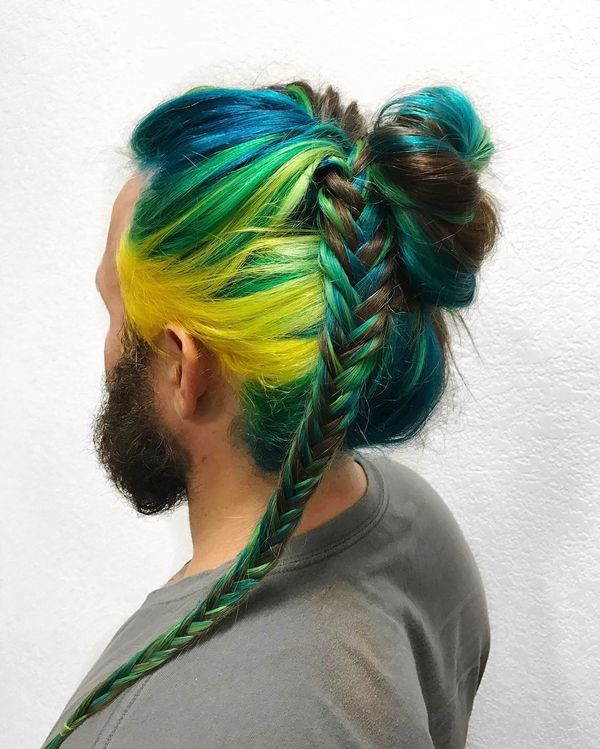 Braid up your long, manly or curly mane. Adding colors to it makes it stronger and more stunning to look at. You can even use extensions. For better styling, take help your hairstylist for hair color or highlighting. At least make a plan with a professional.
7. Row your Curly Locks
Braided Rows are always a great idea. It's fashionable and manageable. You can wear it in various ways. If simple cornrows are not your thing, you can up your game and make the best of it with the help of your hairstylists. Rows of any types go well with the textured, long curly hair of men. They look and wear row braids better than other hair types. You can even add colors to it. Long, curly hair of any length can be sported with Braided Rows.
8. Punk Braids and Bun for Men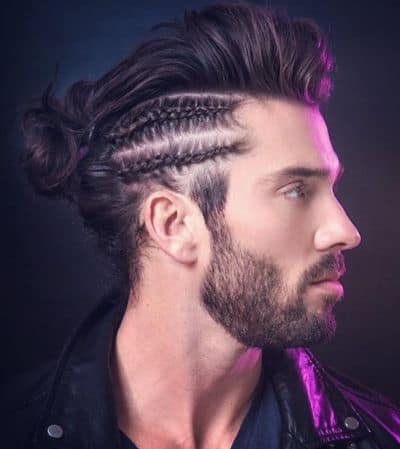 Men with curly hair can punk harder than the others, contrary to popular belief. Try faux straightening out the hair and then do the punk hairstyles. Of course, the stylists can do magic to your hair, but you can do some of this stylings on your own as well if you try. Goes great with your looks.
9. Braids and Bun with Strong Undercut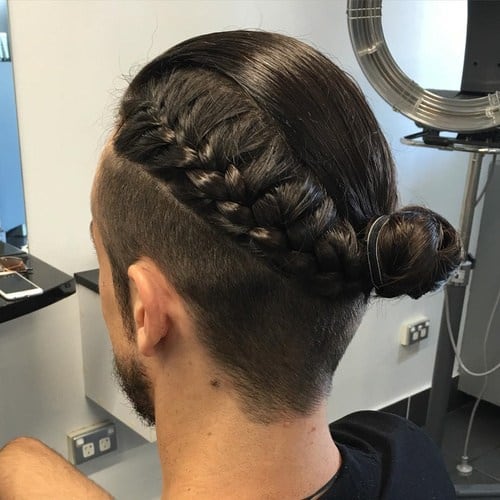 You can be punk and classy at the same time with this hairstyle. Long hair with strong undercut always makes a man look dapper. This also accentuates the feature of long curly haired men with facial hair. Tie your long hair in some braids and then pull those braids in a bun. Your curly hair will add a texture to it.
10. Braid, Braid, and Braid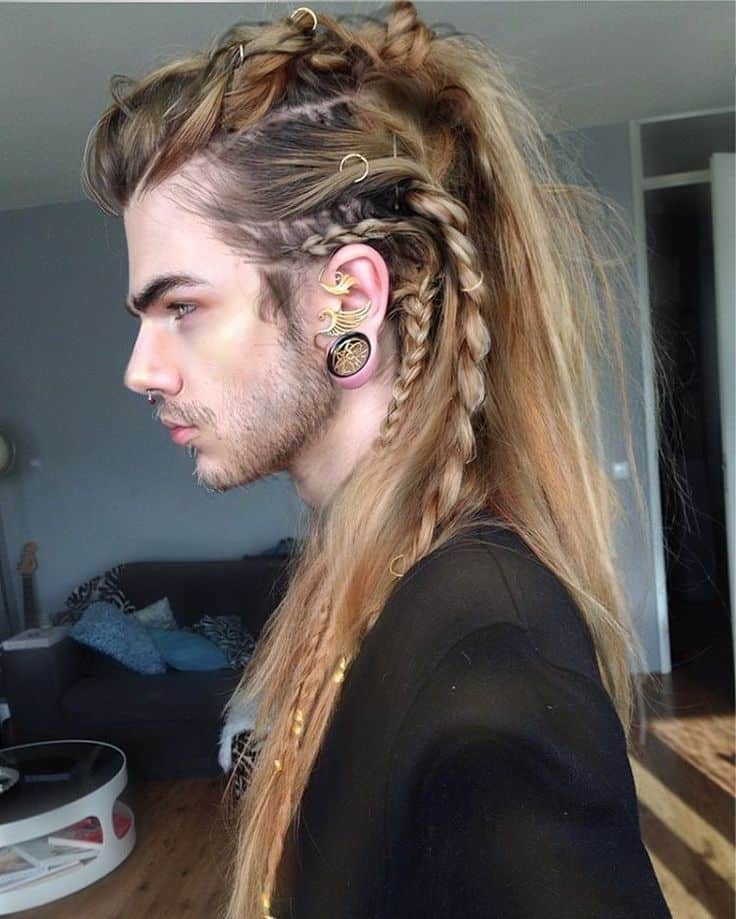 Make Braids. Indulge yourself in a braid-ception. You can make layered braids and leave the hair be if that's what you prefer for your long mane of curly, manly hair. You can do it on your own without your stylist. If you've got piercing, this will look smoldering on you.
11. Dutch Braid for Men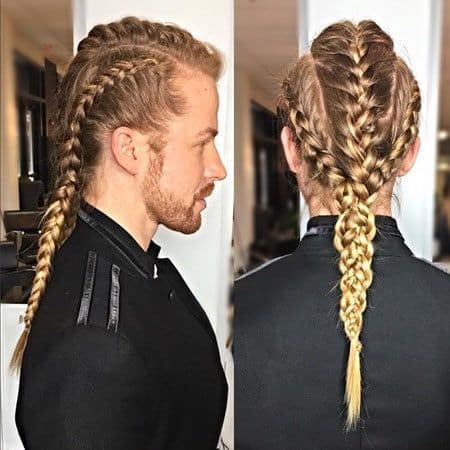 Dutch Braid is also a great way to style a man's long curly mane. It is quite functional for men with long hair to manage the hair. Even though it isn't the best to sport when hair is getting wet, but for dry settings, you can sport it rather well. It's a great hairstyle to sport during winter.
12. Semi Punk Braids
Rock your long curly mane of manly hair in a beautiful plait of the punk-themed colorful braid. This style, however, takes commitment and lots of work. But the end result is truly satisfying. If you are an artful person, or a performing artist, this hairstyle will accentuate your persona. And if you don't consider yourself as one, you can sport this new style and look great anyway. Goes even better with facial here.
13. Braided Dreadlocks for Curly Long Hair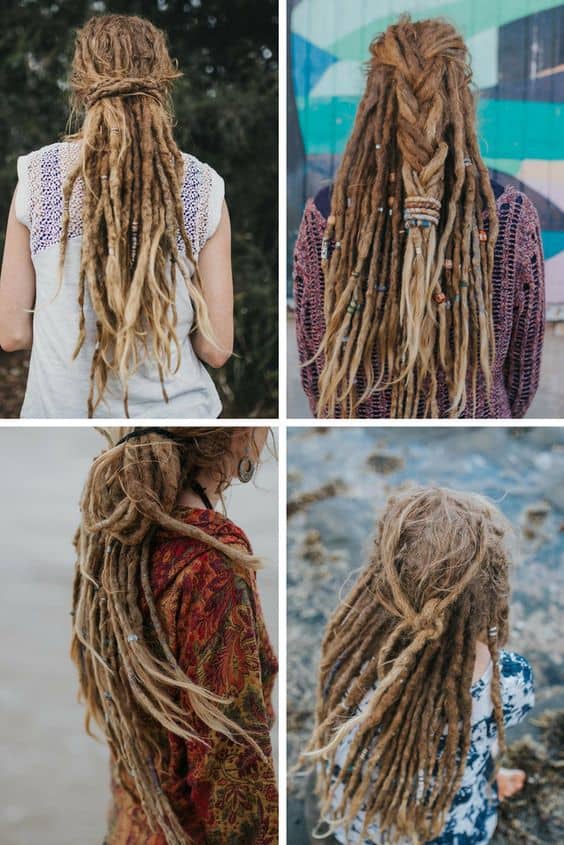 Dreadlocks are destined for men with long curly hair. Your long, curly mane gives the dreadlocks a personality, a true grit. You can highlight it, accessorize it, or leave it authentic. Either way, you will look rather great and impressionable. Try enlisting a professional hairstylist's help for the best results.
Ponytails for Men With Curly Hair
Who says ponytails are just for ladies? Men can rock ponytails as well. Especially men with long curly hair. Ponytails are easy to make and easy to manage. And they can be smolderingly handsome if you can wear those. Let's see some ponytail styles, shall we?
1. Samurai Ponytail
Samurai Ponytail looks good on any hair type, but for wavy and curly hair, it adds texture. Especially if your hair is "long, but not THAT long", you can tie up your wavy locks that hang loosely around your face and as much as you love those, are responsible for the annoyance that you wish you could avoid. Grab some of the long hair on the top and tie that to a ponytail with a hair elastic or thin rubber bands. You're all done. You can sport it in the gym or any activities that make you sweat (including a tough test).
2. Half-UpPonytail/Bun for Curly Hair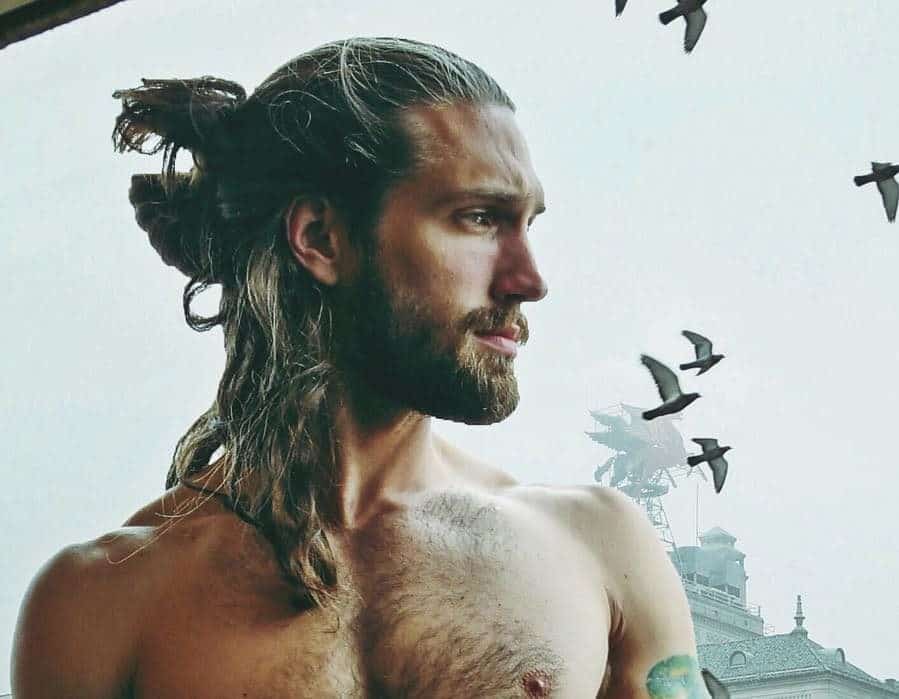 This one is for a slick and professional, yet laid-back look. Tie your most of your shorter locks in a half up ponytail in the back of your hair, you can tuck the bottom and give it a bun look. Looks good either. The longer locks in bottom accentuate the feature and frame your face. You can rock any semi-formal occasions with your long curly and manly locks in this hairstyle.
3. Half up Messy Ponytail for Curly Hair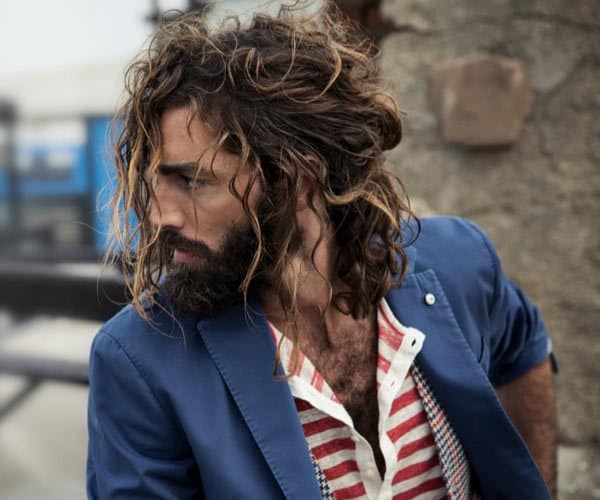 You can look ragged, messy, and handsome in loose, messy half up ponytails if you want. Your curly mane of long hair will actually assist you to give it extra effects and more grit. Take some of the shorter locks, tie those in a ponytail in the mid-back of your head. Tuck in into a bun if you want, or not, if that's what you desire. Leave some strands loose to a side to give it a messy look. You might want to spritz some products to give it a wet messy look. You're all set for looking ruggedly handsome.
4. Tie it up in the Back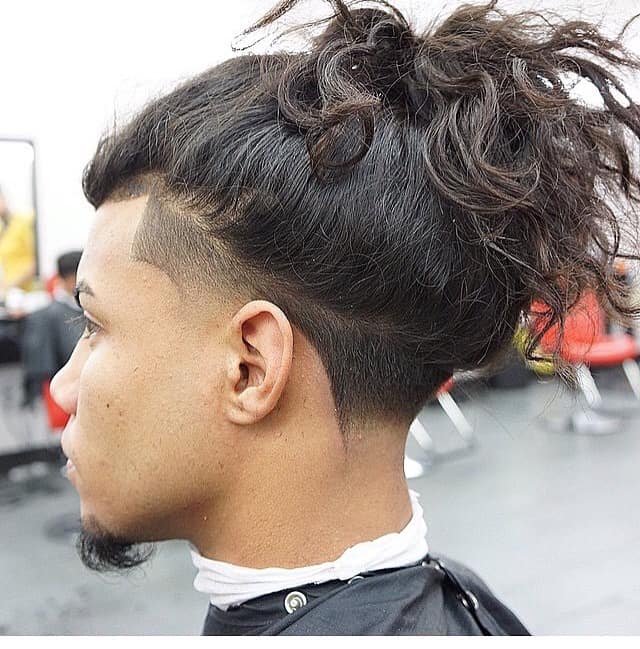 There are more "tie up" hairstyles at your disposal if you are in need of those. Especially if you have long unruly curls and want tame those. Scoop those up and tie a high pony at the back of your head. You can do undercuts and textures on the sides and bottom for added effects, but even without that, the style is great and quite functional.
5. Tie It Down!
If your hair is long, but "not so long", yet you want to tame your curly manes, you can do that easily with a low ponytail. This will bring out your manly handsomeness and will be quite functional at the same time. Your curls will definitely add some texture to it, which will make it look better.
6. With Strong Undercut
Strong undercuts are very "in" these days. It's stylish and comfortable at the same time. If you are beginning to try "long hair" routes, this is perfect "go to" hairstyle for your potential long curly manes. Scoop up your hair and tie it to the back. That is how you rock a great look with wavy manes. You might need products in first times. Also, you can combine with the crew cut to come up with a new style for your curly hair!
7. Undercut and Side Part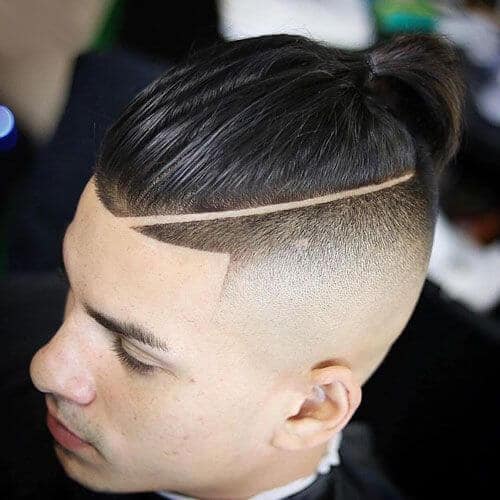 Why go with simple undercut for long (ish) wavy or curly hair when you can rock a strong part? A strong and professionally done side part accentuates the features of undercut in your growing wavy mane of hair and brings out the handsomeness. Slick it up if you may!
8. Colorful Dreadlock Ponytail with Strong and Artistic Undercut
This one is free-spirited, hip and functional at the same time. The colored dreadlocks in a top bun secure the hair on top while giving it a very lively look. The undercut leaves a lot of room for air circulation.
Other Hairstyles Men Can Rock with Long Curly Hair
1. Wavy Pompadour
Let's begin with the "beginners". Many of you are wondering, "hey I've decided to grow my hairs out, but I can't find any styles for hairs that are "not long" but will be, what should I do with my awkward mess on top?" Brothers, we've got your back. Try sporting Wavy Pompadour with some products. You can rock your hair in this style and be as stylish and handsome as you wish to be. You can wear any kind of outfit and this hair will go with it.
2. Slick Pompadour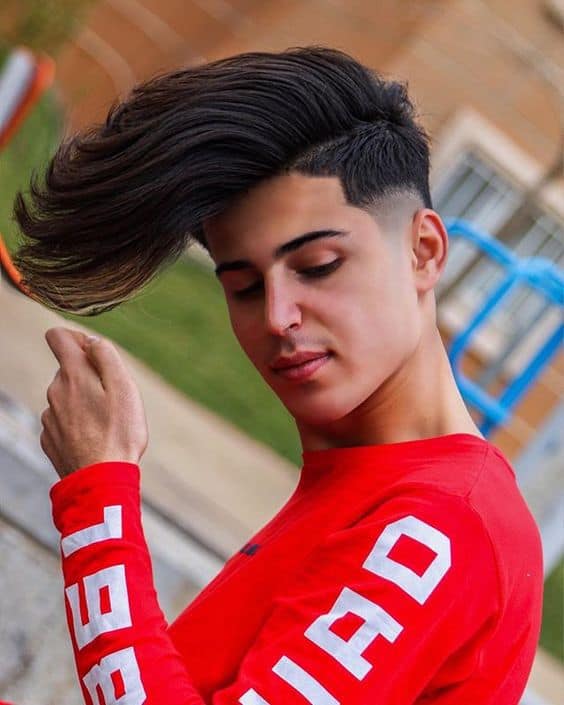 Why go "slick" when you can go messy? Because that looks good on you in occasions. This one is also for men who are "thinking about" growing out their hair. Your "yet small" hair deserve better encouragement and pampering for growing into long locks that you can maintain while sporting slick pompadour.
3. Long, Curly, Combover
Combovers are cool. And men with long curly hair deserve to rock this coolness with their hair. You will need the help of your stylist for best results, but boy it's worth a try. You might want to "straighten" it for a while so your hair may take a subtle wavy shape in a few days later. It's best for men who are in the middle of longer and shorter hair and want the best of both worlds.
4. Make your Hair a Canvas
When You have long curly hair and a penchant for appreciating hair-art, you are one perfect canvas to sport it. And also, look very handsome. Choose a strong undercut and do designs and patterns. You can go creative with your top mane as you wish.
5. Shoulder Length Long Curly Hair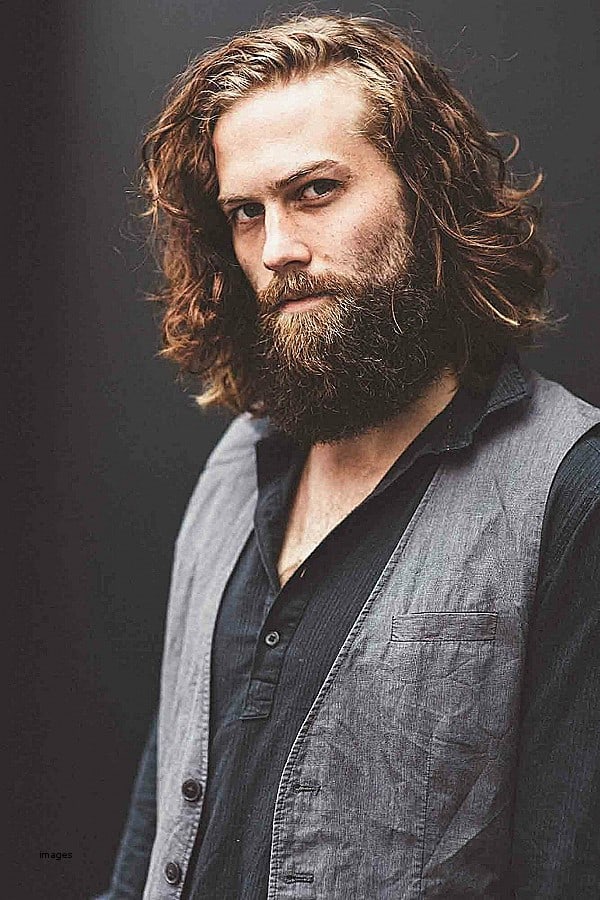 Shoulder Length hairstyles are rather good for long, curly or wavy haired men. The best part of rocking this style is, you don't even need to tie your hair. Just use some products to tame the hair and run comb to get rid of tangles. Your shoulder length wavy hair will style itself. Great outdoors look during colder days.
6. Asymmetrical Long Curls with Undercut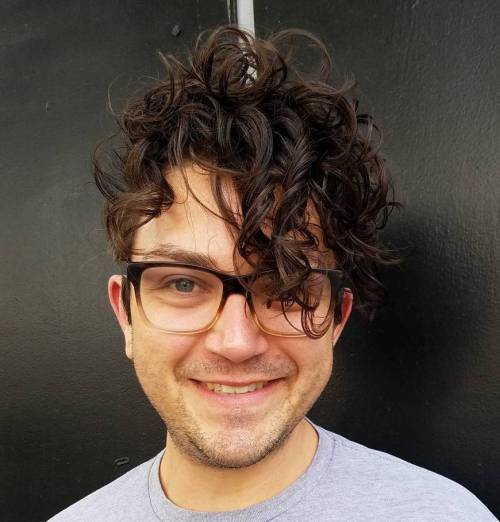 This one is the style for men with grit and a penchant to try something different. Keep one side of your hair short with a strong undercut and slick up your wavy curls in another side. You can rock this look with (or without) piercing and nicely kept beard. For performing artists, this is an impressionable look to sport!
7. Beach Waves for Long Curls
Beach waves give rough, coarse or curly hair something extra. Something you'd want your hair to look like when you are in more relaxed of moods. Like while vacationing or in a semi-formal workspace. However, you can sport beach waves with your long curls even when you are in formal settings. This is the armadillo of hairstyles for long, curly haired men.
8. Curly Halos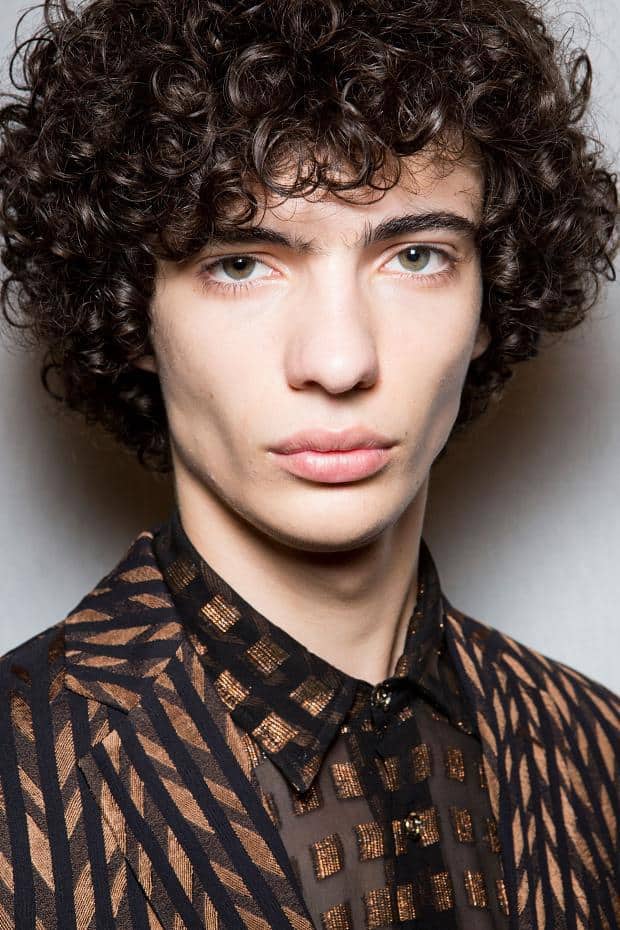 Why not maximize the innocence of your curly mane while you're on your way to growing out the curls? Densely circle your head with your curls like a halo and go trimmer downwards. This is how you sport a nice and impressive look. Put on a button down, and you will have the perfect laid-back style for any place you are about to go, whether it is a formal work event or a loud night at the club!
9. Let the Waves Go Wild
Your long-ish curly or wavy mane is no cake, but layers suit it more than you think it does. Layer it up and let the waves do what they want. Your handsomeness will surf on the waves of your hair. Because "letting it go" once in a while does not hurt.
10. The Casual Waves
Don't work on your hair if you don't want to. Let your manes casually hang out on your head and let it take its directions. This style is for the men with long hair and best for voluminous wavy/curly haired men. Because the volume will add bounce to the style. And you will sport a cool, laid-back look without any fuss.
11. Go Bohemian with your Curls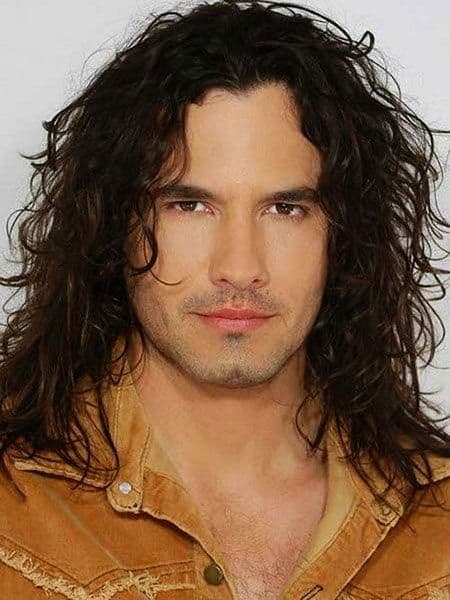 Why not do something exotic with your long, wavy or curly mane guys? And not cross big lines at the same time? Bohemian hairstyles come handy when you're both the cool, relaxed, and artful guy among friends and a responsible corporate guy at work. It is for the longer mane of course. But men who are growing out their hair can also try it. It does not take much. It's almost like leaving your wavy hair/curls be, other than slicking it up with some products to give it a wet, summer look. This hairstyle is born for pool parties.
12. Go with Layers
For those who have been growing out your short hair for a while in pursuit of a long wavy mane, and suddenly you need some styled look for one reason or another, layers are your savior. Enlist the help of your hairstylist, layer- up your growing long-ish hair and use some styling products, Your wavy hair is going to give your look a new dimension.
13. Go Rough on Your Dense Hair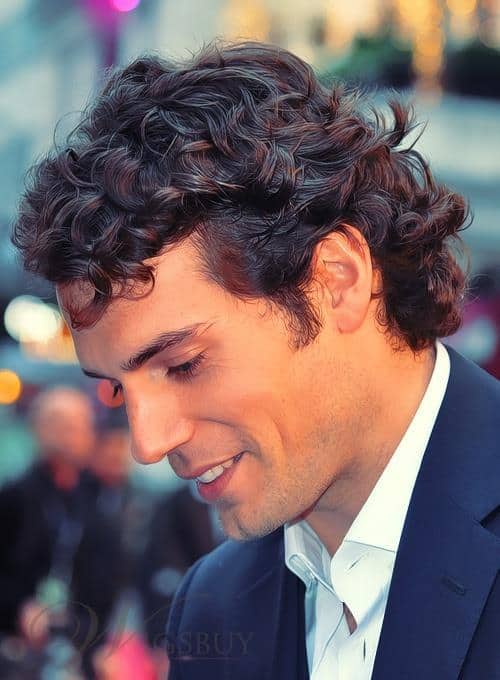 This one is also for men in the pursuit of long hair but still on their way. If you're growing out your curls to longer hairstyle, and you have dense and voluminous longer hair, this is a good look for you. You can cut bangs with it or live the hair on top little longer than the rims and bottoms or let the hair over ear grow. Let your hairstylist go creative with the lengths. This uneven length of hair will give your hairstyle a rough and messy look that is clearly very handsome on dense hair. Because the density will add extra grit to it.
14. Luscious and Crazy Waves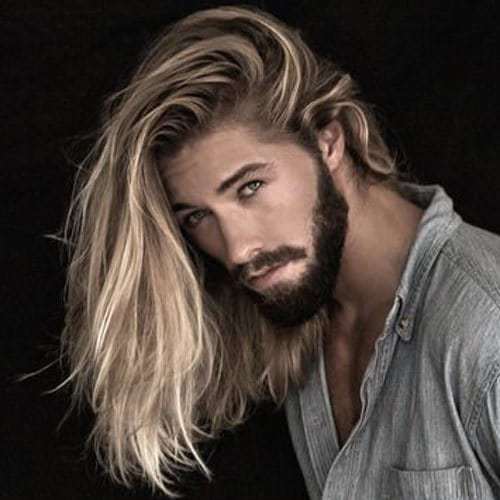 When you've got a long mane of wavy and coarse hair, you've got yourself an asset to frame your face with manly elegance. Give your waves a rough brush/combing to a side and let them hang loosely. Your long, coarse and voluminous mane of hair itself will be a style on its own. If you are considering a beard, try these buzz cuts with a beard. No stylist or fancy products necessary.
15. Give Your Curls a Day Off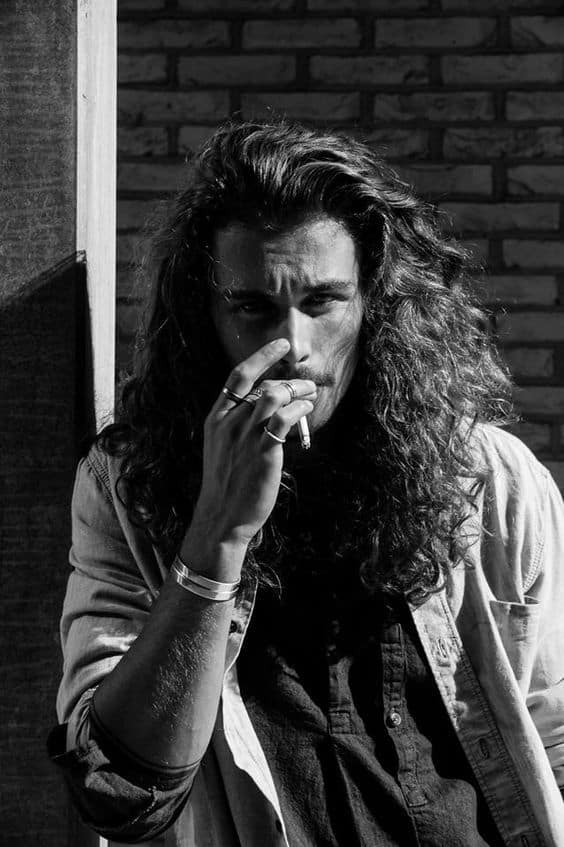 Your long curls have seen enough toiling days of being pulled in a man-bun, a long ponytail or maybe even a fishtail if that's what you're into. But the hair needs to breathe sometimes if you want to have a sustainable long and healthy mop in future. That is why this hairstyle is not just good for your looks but also for the health of your hair. Wash it and leave it for air dry, just push it in front so it does not obstruct your view. You're all set and your hair is ready for a vacation.
16. Sweep Your Locks Back
Laid back, effortless, and perfect for formal occasions – this low maintenance hairstyle is for men in the pursuit of growing longer hair. You can easily work on it without much fuss. Just sweep your soon-to-be-long locks back with some hair products. Your wavy hair will give the style a pleasing texture and you will be all set for any occasion.
17. Shoulder Length Hair Pushed to a Side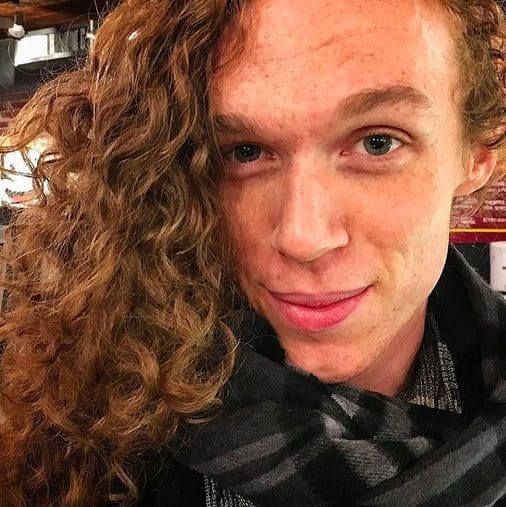 Do you have shoulder length hair? Then it's your turn to relax and the hair's turn to impress. Push your shoulder-length curls to a side and let them hang loosely and frame your face. Ideal for beach and informal outings. Or a good post-shower look without the hassle of blow drying.
18. Highlight your Curls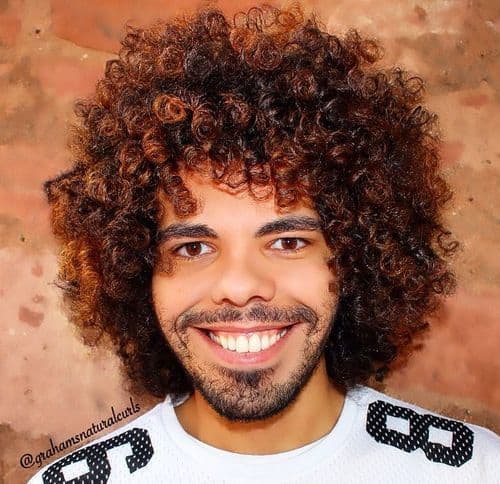 Highlighting the curls of your long curly hair is a brilliant idea. Especially if you are sporting a fro. Even without fro it looks good. Since curls have a certain texture, and highlighting brings out the charm of textured hair in a different, and energetic way.
19. Undercuts and Wavy Hair
Strong undercuts in one side and long shoulder length wavy hair slicked in another side – a perfect style for a punk-themed look. This will make you stand out from the crowd and the waves of your hair will give your look some extra grit.
20. Layered Bob for Curls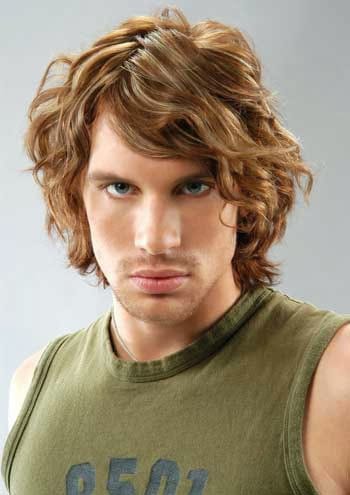 Men can rock a layered bob just as much as ladies do. And men with long curly hair can do it better than the other hair types because the cut sets in better and the texture does its own magic. This look is best for the men who love the idea of long hair but it is becoming too much to maintain.
21. Reverse Waves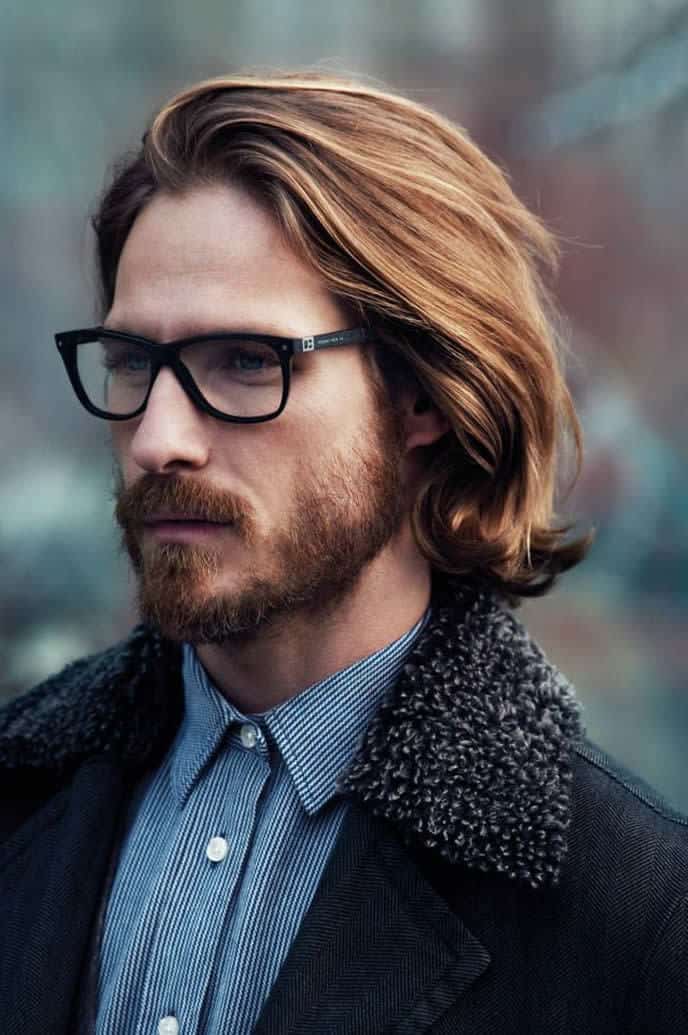 Reverse your waves to back with some products. This is an ideal look for men with long wavy locks who have work to do and could use fewer disturbances in front of their face while working.
22. Puff it and Ruff it
This one is for men with very curly and long hair who want something to rock with suits and casual wears at the same time and look impressionable and distinguished. You better enlist the help of your hairstylist for this hairdo. Part your curly locks to a side, and the ruffle it with some hair products for a high and puffy look. There you go, a semi-gothic and impressionable hairstyle that suits everything.
23. Shoulder Length Dense curls with Dreads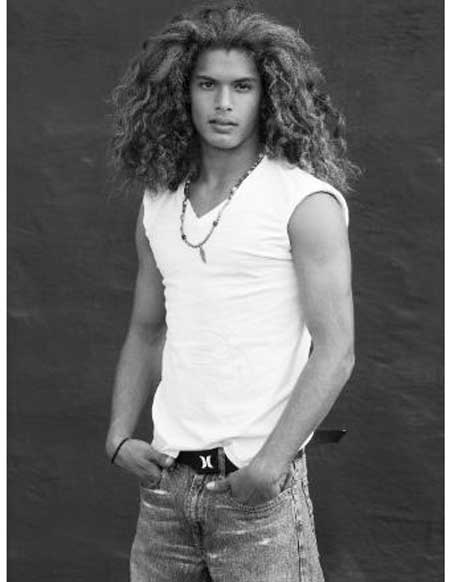 You can infuse deadlocks with your shoulder length densely curled hair. Keep the hair around your forehead in dreadlock and leave the rest to hang loosely. This will be a perfect hairstyle for framing your face in a different way and give you a smoldering look.
24. Slick Middle Part For Your Waves
Slick up your wavy mane with hair products and do a strong middle part. Comb it up. You are all set for looking cool and gorgeous. This hairstyle is ideal for men with long wavy hair in formal occasions.
25. Heavy Metal Curls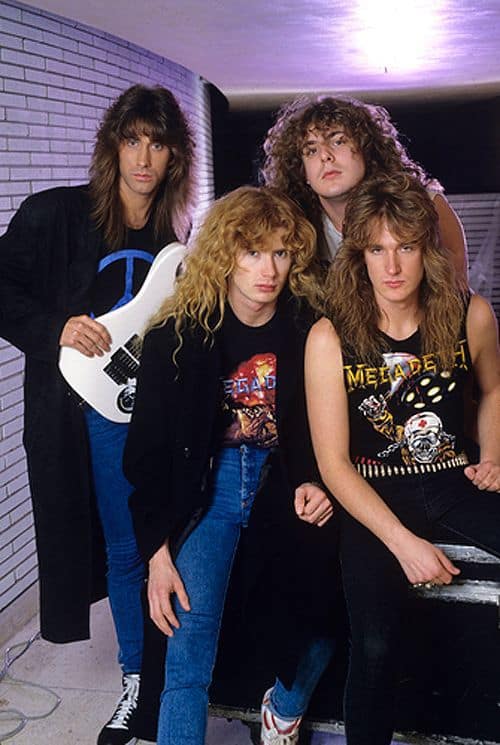 You don't have to be a metalhead to rock the iconic hairstyles of famous metal musicians in 80's when they experimented with men's look with long hair. You can choose from the many hairstyles the metal musicians used to adopt, some of them are still rocking those styles in one form or another and still they look great and impressionable. You can also try those with your long mane of wavy or curly hair.
26. Very Long Layered, Messy Waves
If your hair is EXTRA long, you need extra care and maintenance efforts for that. That is why it is better to adopt hairstyles that is healthy for the hair. The layered and messy hairdo is stylish and at the same time easier to maintain. You can sport it without much fuss compared to other hairstyles.
27. Very Long Side swept Wavy Mane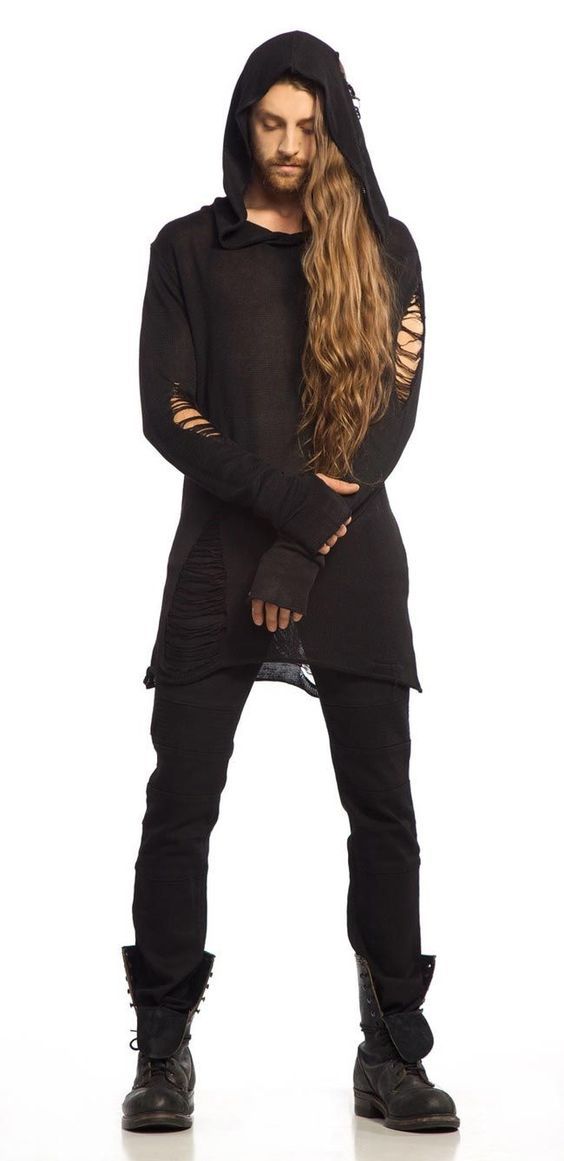 Very long hair can also be an artistic feature of yours. You can make accentuate the artistic features of your hair by flaunting the wavy long mane to a side. This will give you a very impressionable and poetic look.
28. Dreadlock with Strongly Trimmed Side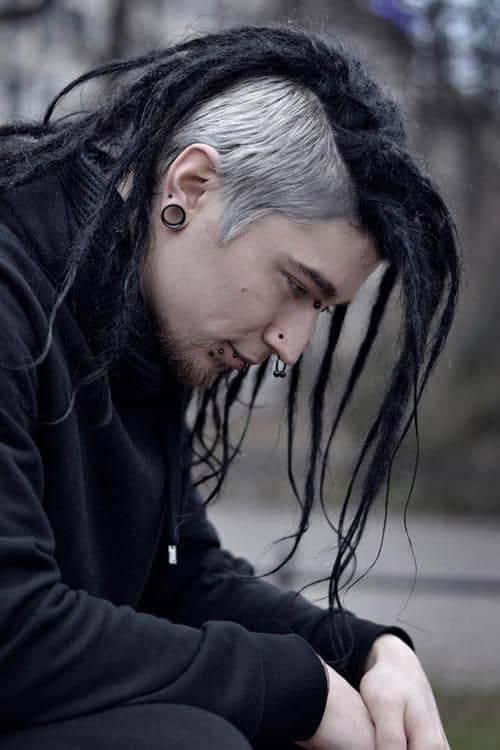 You can rock your Dreadlocks in more than one way. Let them out without tying in a bun or a ponytail. To enhance the effect, give your dreads a strong trim to a side and bleach it. You can try coloring that trimmed side in a different color if bleaching is not your thing. Either way, this is a very distinguishing hairstyle for young men out there with long curly hair.
You will hopefully find a direction where you want to take from this article. Adopt whichever you feel that goes with your face shape, environment, and needs. A good hairstyle makes you look good and feel good at the same time. Happy grooming fellas!