Wilson Cruz is the stage name of American actor, Wilson Echevarria. He is best known as the character, Rickie Vasquez, on television's My So-Called Life. He has also been seen in a recurring role on Noah's Arc.

Wilson Cruz crew cut hairstyle.
Cruz's hair is cut in a crew cut. The sides and back are cut very closely using a number 1 guard. The hair is allowed to taper as it approaches the top so that it blends smoothly. The top is left just long enough to allow its natural waves to curl next to the head.
The texture of his hair is such that he has no need to comb or brush the hair. The style is self maintaining. All he needs is a small amount of wax or pomade to give the hair a shine. Maintaining his style requires him to have it cut at regular intervals, usually 4 to 6 weeks.
He also wears facial hair in a short stubble across his lip and below his chin. This looks a great deal like a five o'clock shadow rather than a beard or mustache.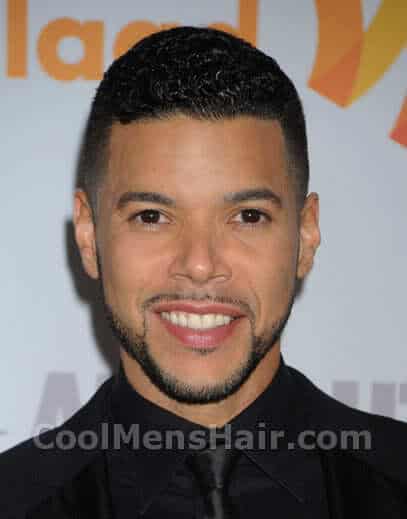 Wilson Cruz hair.
The Wilson Cruz hairstyle is a short, formal cut that is appropriate for wear in any situation. It is a very low maintenance style because it requires no real effort to shape it or hold it in place. Only a small amount of product is needed when he wants to create a shiny look.
Otherwise, this style does not even need any products to maintain it. The only thing needed to maintain the look is regular cuts to keep the length consistent and to shape the hair so that no stragglers develop that break away from the main body of the hair.