For people who want to learn how to thin hair with scissors, there are a variety of different methods that can be used at home. While the best results will always be obtained by getting a professional haircut and styling at a beauty salon, many people today are looking for ways to save money by doing it themselves. Fortunately, these techniques can be learned by anyone.
Slithering Technique
The most difficult hairstyles are usually those that involve thick and wavy locks. Because the finish of the hairstyle is so vital to its overall look, great care must be taken to avoid radical cuts that create a shaggy or unkempt appearance. The slithering technique can help anyone to better manage thicker hair and achieve a smooth finish.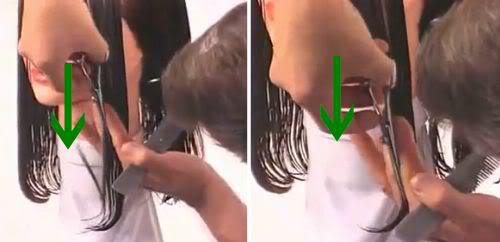 Slide cutting. Photo by HairloverDotCom.
Also known as slide cutting, the slithering technique requires that the follicles be held away from the scalp so that a right angle is formed. The scissors are then used to slide through the locks, beginning at the scalp and sliding toward the tips. The blades should remain open throughout the movement so that no sharp cuts are made during the process.
Notching Technique
The notching technique can both thin a hairstyle out and create a wild appearance at the same time. Again, the follicles are held perpendicular to the scalp, while the blade tips are used to cut sharp angles into the locks. The end result can produce everything from stunning layered looks to spikier styles.
Point Cutting
Point cutting is similar to notching, but is used for hairstyles that are a little longer than those short cuts. The process is achieved with the same type of sharp cuts using the very tip of the scissors, and can produce layered styles for men who have a full head of curly locks. Both point cutting and notching can take some time to master, however, so newcomers to the process should be prepared to be patient.
Thinning Shears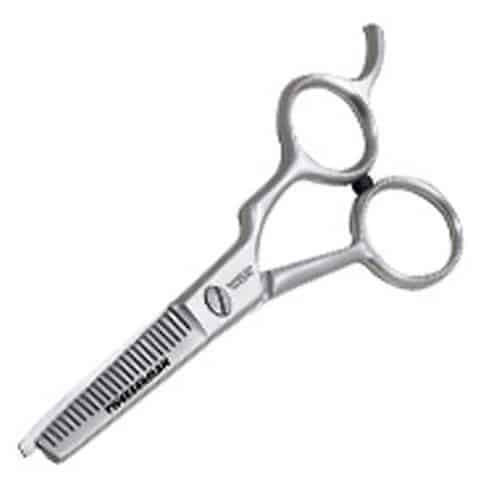 Of course, thinning shears are the best tool to use for any of these techniques, since they are specifically designed to reduce thickness rather than length. The blades of these shears are designed to strip away layers of hair rather than removing inches of length, making them ideal for use even at home. Consumers can purchase their own shears from a local salon or online.
No matter which method is used, patience is the key to obtaining a flattering result. The thinning process is one that should not be rushed, since excessive thinning can create an irregular appearance that is seldom flattering. The thing to remember is that more hair can always be removed, but once it's gone it can't be reattached. As a result, thinning should always be done in stages.
For the best haircuts, people should rely on their local stylists. Because that can get expensive, however, it is perfectly understandable that some people would choose to try to extend the time between visits to the salon by performing maintenance at home. Those who take the time to learn how to thin hair with scissors at home can accomplish that goal with ease.