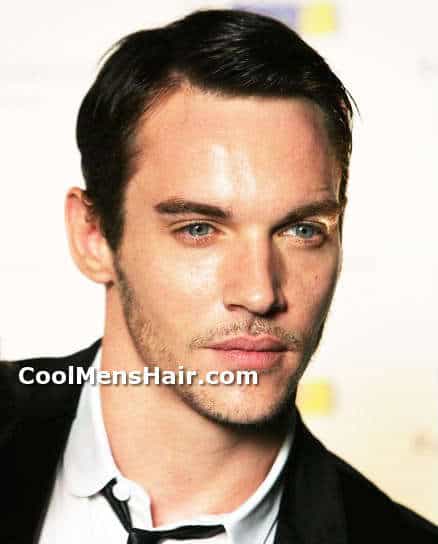 Jonathan Rhys Meyers short formal hairstyle.
Irish model and actor, Jonathan Rhys Meyers, was born on 27 July, 1977 in Dublin, Ireland. His stage name is adapted from the maiden name of his mother, Meyers. Rhys Meyers is best known for the roles he played in the movies, Velvet Goldmine, Match Point, and Bend it Like Beckham. He is also the model that represents Hugo Boss fragrances.

Jonathan Rhys Meyers buzz cut hair.
Jonathan does not seem to be afraid to try different hairstyles. He has been seen with many different styles ranging from a traditional buzz cut to shoulder length hair that made him look somewhat feminine.

Jonathan Rhys Meyers spike hairstyle
One of the best hairstyles for Jonathan is a cut that is short on the sides and back, but a little bit longer on top. Pomade is used to pull the top hair into random spikes. This particular hairstyle makes him look very similar to pop singer, Sting.
He also wears his hair in a more conservative cut from time to time. This style is still a short hairstyle, but not as severe as the buzz cut. Styling gel is applied to the hair to give it a messy appearance that looks as if nothing has been done with the hair.

Jonathan Rhys Meyers conservative short hairstyle
For his role as King Henry VIII in Tudors, Rhys Meyers adopted a very conservative short hairstyle. The hair is combed forward and slightly to one side with very short fringe. This style takes little effort and less product to maintain. A light mist of hair spray applied after brushing in the morning is sufficient to hold this style in place all day.
There have been other Jonathan Rhys Meyers hairstyles through the years. These are the most common and best looking for his facial features.