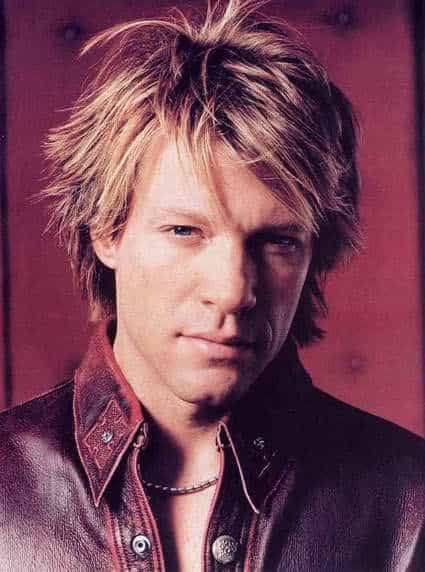 Jon Bon Jovi hairstyle
One of the most consistently admired and successful stars in the genre of rock music,
Jon Bon Jovi
has been there and seen it all! This singer-songwriter and actor has sold over 120 million albums with his rock band, Bon Jovi, and has sold over 10 million albums as a solo artist (in August 2008).
A glam-rock superstar in the 1980s, Jon Bon Jovi subtly changed his style, personality and most importantly, his 'hairstyle' to continue being the heartthrob. His passion for music, and life in general, has earned him a cult fan following. One of his most famous quotes epitomizes what he follows religiously in life, "Nothing is as important as passion. No matter what you want to do with your life, be passionate."
Of Italian-American descent, Jon Bon Jovi was born as John Francis Bongiovi Jr., in New Jersey, USA. He started out at the age of 17 at his cousin's studio, and got a record deal by the time he had turned 21. He formed his legendary band, Bon Jovi, the same year.
Mainstream success and worldwide recognition came with the release of the band's third and subsequent albums especially Slippery when Wet (in 1986), New Jersey (in 1988) and Keep the Faith (in 1992).
As 21st century dawned, the band achieved even greater popularity and critical success with the albums Crush (in 2000), Bounce (in 2002), Have a Nice Day (in 2005) and Lost Highway (in 2007). But what has complemented rather boosted his success and a 'god-of-rock' image is his hairstyle.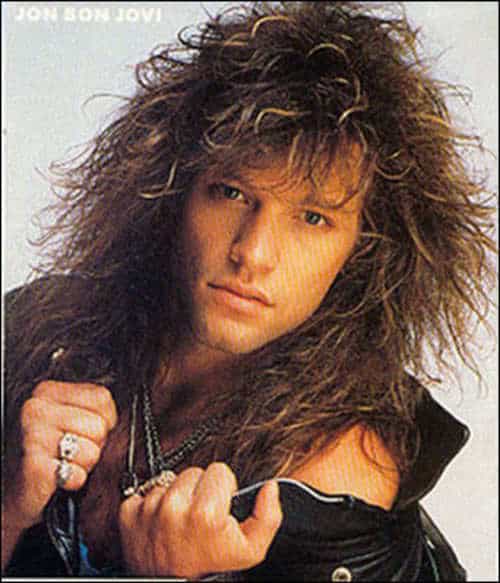 Jon Bon Jovi big hairstyle in early days.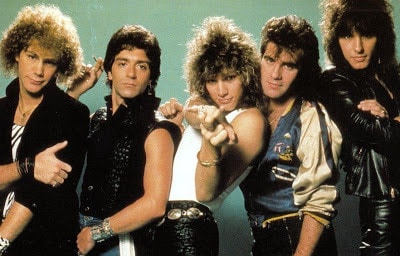 Bon Jovi rock star hairstyles
From the big, frizzy, waist-length hair in the 1980s to the dark colored mullet, Jon Bon Jovi was deservedly termed as the glam-rock's pin-up boy during that era. But as bands and musicians from the 80's withered away failing to keep pace with changing times, Jon Bon Jovi updated his hairstyle and remained in the fray with aplomb!
His hairdo changed hue, blond being clearly given prominence. During the 90's he had his hair cut to shoulder-length and colored blond, sporting bandannas to hold the hair back from falling over his face. Later he cut it shorter, with dark roots peeking from beneath highlighted curly-blond layers.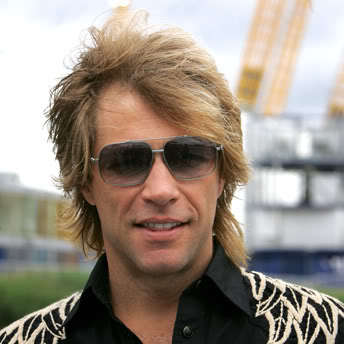 Jon Bon Jovi hairstyle
More recently, he has had his hair cut at collar length, with
side-swept bangs
given a
razored
and wispy finish to punctuate his square-jawed face. The top is also cut in
layers
with no clearly defined parting, giving his hair a naturally
messy look
. This hairdo has caught on with the fans, and Jon Bon Jovi has retained it since.
Jon Bon Jovi has set a benchmark which is high even by the legend's standards – be it music, acting, charitable work or political activism, Jon Bon Jovi has seriously been there, done it all! And that too with panache!