Johnny Depp 'John Dilinger' Hairstyle.
The popular actor
Johnny Depp
has played several iconic roles such Edward Scissorhands, Willy Wonka, and
Jack Sparrow
. In every role he takes on a different personality, each with its mannerisms and signature looks.
He has gone from crazy curly hair in Scissorhands to the intricately braided style in Pirates of the Caribbean. In his latest offering, Public Enemies, we will witness a Johnny Depp 'John Dilinger' hairstyle. The movie transports audiences to the time of the Great Depression, when outlaws were gaining notoriety because of the daring exploits.
John Dilinger started his career as a thief and a bank robber in 1924, though his first heist failed. After an eight-year sentence he and his team started robbing banks again and even raided police stations, killing police officers during his attempts to escape. He successfully evaded capture until he was cornered and shot dead inside a theater in Indiana.
Based on police and newspaper pictures, the Johnny Depp "John Dilinger" hairstyle would have longer hair on top while trimmed on the sides. The hair would be pulled back using a styling gel to give a clean look similar to the styles of men in the era.
Johnny Depp 'John Dilinger' style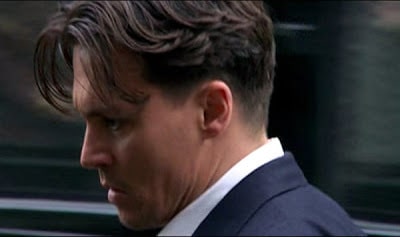 Johnny Depp 'John Dilinger' Hairstyle
Note, though, that Dilinger's hair on top and in front was not long, but he still combed it back nonetheless, giving his head an awkward shape. Johnny Depp's hair was made longer and can even be parted in the middle.