The Captain John MacTavish warhawk hairstyle is seen on this character from several "Call of Duty" games, including "Modern Warfare" 2, 3, and 4 and "Call of Duty Online". This character also appears in "Find Makarov: Operation Kingfish" and "Soap's Journal". In most of these games, Soap is a playable character. Soap has had several ranks and is killed off in at least one title in the game series.

John MacTavish warhawk hairstyle. Photos via Jake Rowell.
The hair design of this character is a military look, but with an edge. It is as if the character has stepped into a future time with close ties to the present military look. The character has a close shaved pate on the sides and back of his head. The Mohican portion of his hair is also called a warhawk. The link between military and mohawk is stressed.
The top of the head is styled in a fairly short, but natural looking mohawk. The upright portion of the tresses on the top of his head is about one to two inches long and is very full. The width of the band is also two to three inches. His hairline forms a point above his nose, giving him a heart shaped face.
The hair is longer on top and is gradually reduced in length as the spiked portion nears the crown of his head. The balance of the head is about the length of a two-day growth of dark beard. The facial hair and the temple are the same close-cropped length.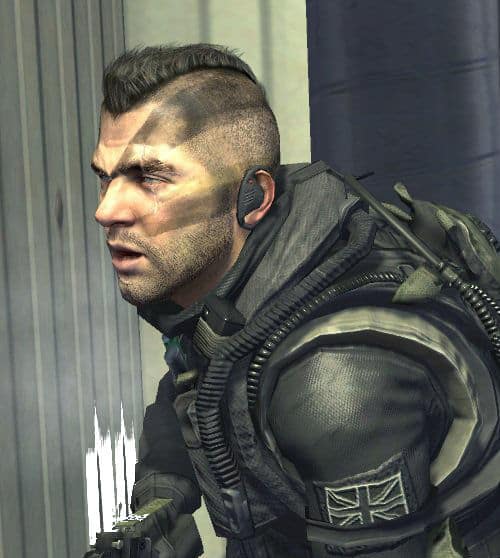 Cpt. John "Soap" MacTavish haircut.
The hairstyle is not a style that will be as comfortable in an office or professional setting. For people in the military who want to make a style statement, the look is perfect. It will be more appropriate for a young man than a gray-haired one. The key factor in maintaining the style is frequent trims to maintain the close cropping.