David de Gea is a Spanish soccer player who plays professionally for Manchester United as goalkeeper. He is also the goalkeeper for the Spanish U21 national team. While he has a very impressive record for saves in his position, the interest here is in the David de Gea hairstyle.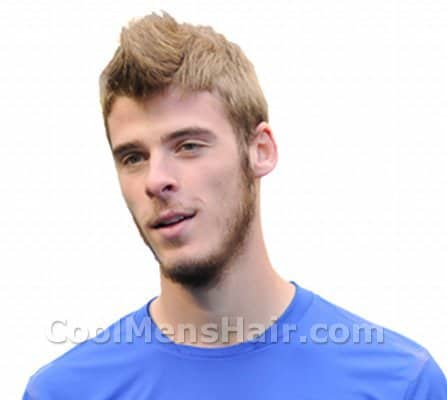 David de Gea hairstyle.
The common term for hair worn in this fashion is faux-hawk. It is based on the Mohawk, but differs in that the sides of the head are not shaved clean. Instead, the sides of the head are cut short while a strip is left in the center of the top that is longer. It is usually waxed or gelled so that it stands up from the head. Wearing the style this way will elongate the face. Therefore, the hairstyle would best suits oval and round face shape.
One thing that makes David's style unique is the way he brings this center strip forward. It extends out in front of his forehead about an inch before curving upward. The rest of the top is brought forward to blend into this while the back is brushed to lie lat. This is another departure from the traditional method of wearing this style. Normally, the entire center stripe stands away from the head.
The portion of his hair that stands away from the scalp is not uniform in length or shape. It appears to have been cut with a razor to provide added texture. It is arranged in an almost random pattern of spikes with the only uniformity being the forward tilt.
In addition to the way he wears the hair on his scalp, David favors a thin growth of facial hair. His sideburns are allowed to grow together below his chin in a very thin beard. He does not wear a mustache with this. The overall length of this hair appears to be about three or four days growth kept trimmed to a uniform length but not shaved completely off.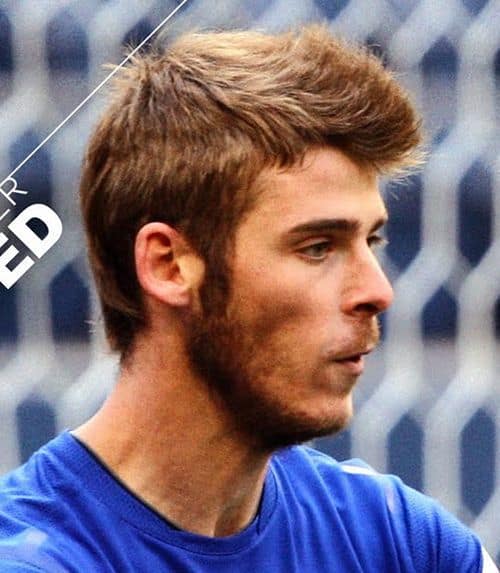 David de Gea faux-hawk hairstyle.
The David de Gea hairstyle is one that is not completely foreign to the soccer field. Several other famous players have worn or still wear a faux-hawk. However, this one is different from most in the way it is styled following the cut.
It does have the advantage of keeping his field of vision clear so that he can continue to make some of those amazing saves for which he is known. The facial hair growth is just enough that one can see he is an adult. Without it, he would look much younger than his 21 years.