Short Buzz cut with Mohawk hairstyle comes on the top of the list when we talk about the stylish and short hairstyles for boys having a widow's peak. Some people consider widow's peak as a disadvantage for their personality but in reality widow's peak adds an alluring factor in facial features of men.
The combination of short buzz cut with Mohawk and widow's peak is ideal for square, heart and oval face shape. If you are worried about the hairstyles that can give an enchanting appearance to your widow's peak then, kindly have a look below at the fascinating compendium of short buzz cut styles with Mohawk and widow's Peak that will surely inspire your thoughts.
Best Short Mohawk Buzz Cut with Widow's Peak
Following are the unique ways to style your widow's peak buzz cut with Mohawk hairstyles. Try out these right away.
1. High Mohawk Buzz Cut with Design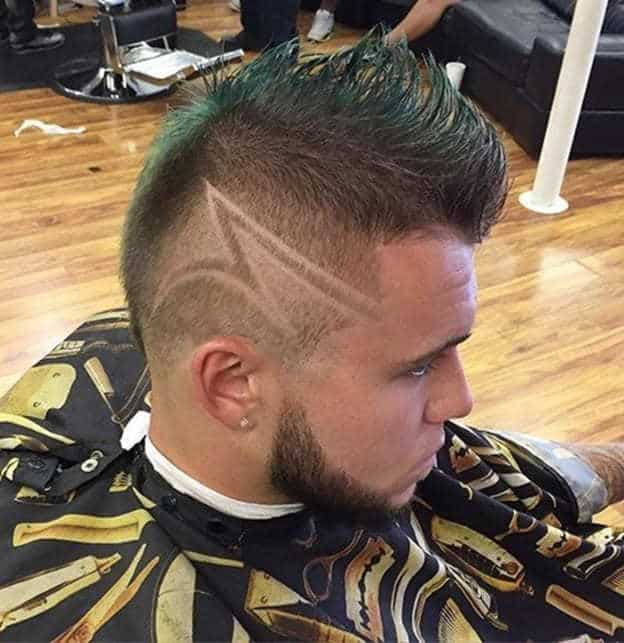 If you have long hair then, you can try a high Mohawk with a short buzz cut. The stylish design on the side of the head makes the hairstyle coolest.
2. Widow's Peak Buzz Cut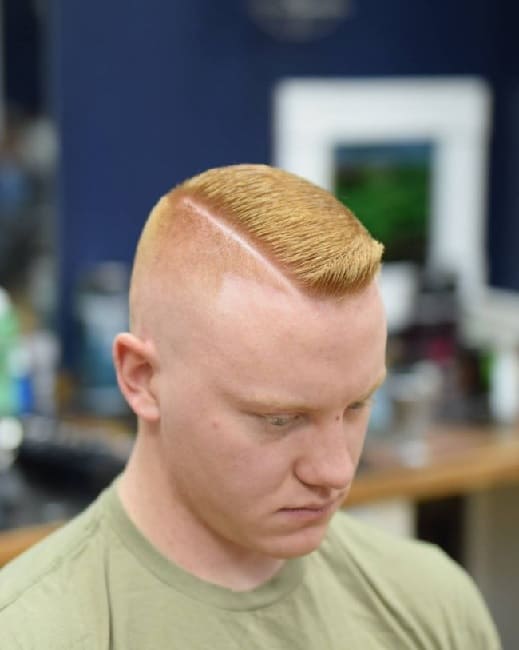 With the passage of time, a lot of variations have made in the Mohawk hairstyle. Widow's peak buzz cut looks awesome with a shorter Mohawk.
3. Colored Mohawk with a Buzz Cut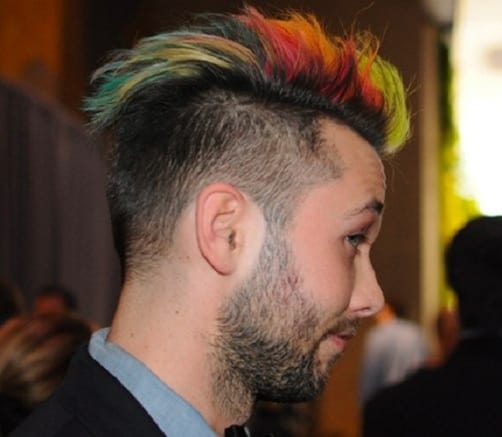 If you want a funky look then, you can try a rainbow Mohawk with widow's peak buzz cut. It will give you a very distinctive look among your fellows.
4. Fade Mohawk Buzz Cut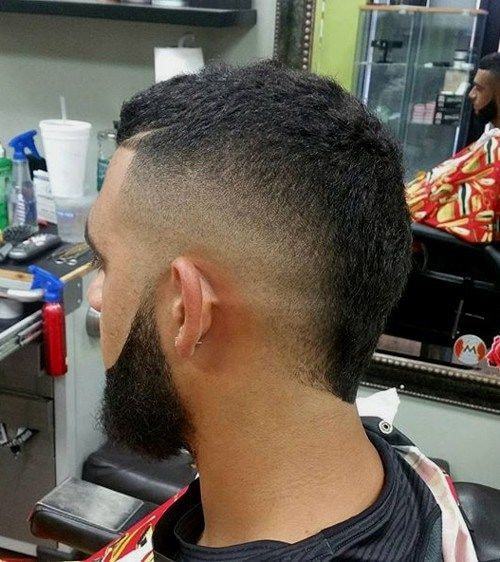 Fade Mohawk buzz cut with widow's peak gives an edgy appearance to men's appearance. This buzz cut with a beard looks perfect. The sides of the head are kept low fade resembling a buzz cut while the top and back of the head have a bit longer hair to shape into a Mohawk.
5. Prominent Widow's Peak Mohawk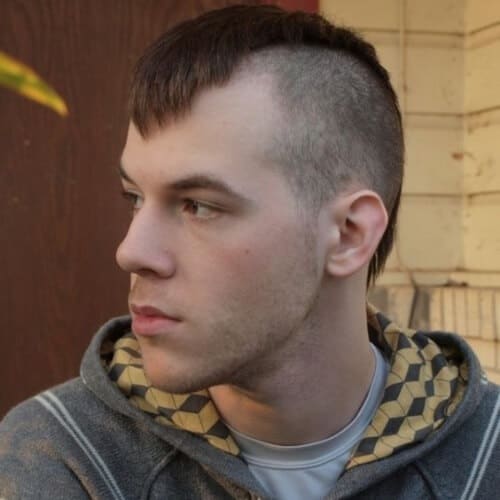 It is an innovative short buzz cut Mohawk hairstyle which gives an attractive look to a widow's peak.
6. Mohawk with Short Buzz Cut and Sidelines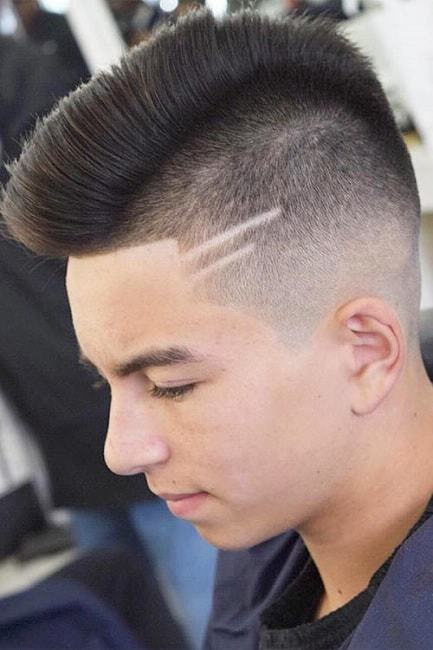 It is an elegant widow's peak buzz cut with a Mohawk. The two sidelines give a modish look to a guy. It can be worn on any outfit whether it is casual or a formal one.
7. Flat Buzz Cut Mohawk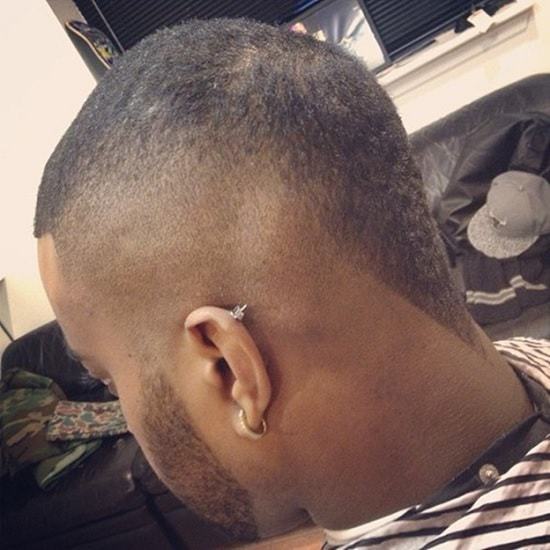 If you like short hair but want a unique, stylish look too then, you can try the flat and trimmed Mohawk buzz cut that will draw the attention from your widow's peak.
8. Wide Mohawk Buzz Cut with Widow's Peak
Wide blonde Mohawk gives a polished as well as voguish look to a widow's peak buzz cut, as shown in the image.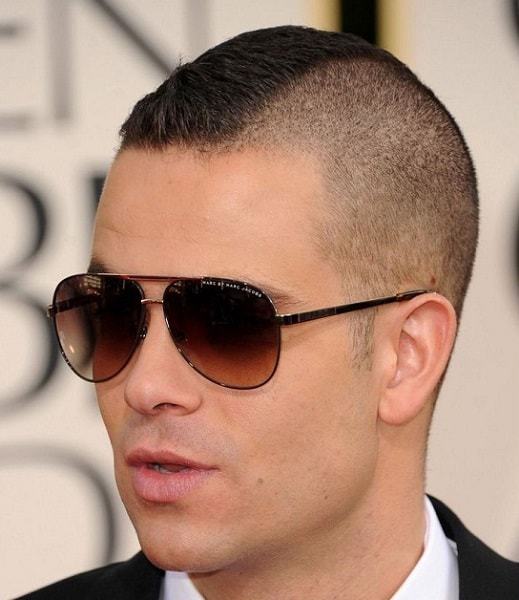 Mark Salling is an American well-known actor. He wore out Mohawk hairstyles with immense variations and all these variations deserve admiration. One of his admired hairstyles is short prominent Mohawk buzz cut that looks perfect with a clean shave.
10. Fade Short Buzz Cut with Widow's Peak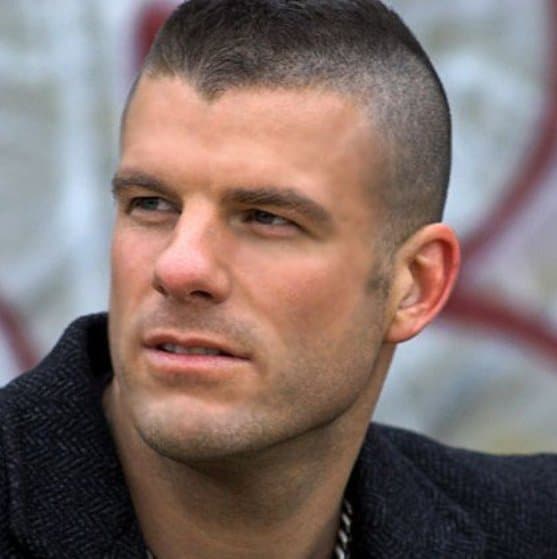 It is the most popular and trendiest short buzz cut Mohawk hairstyle with a widow's peak. It is combined with the low, medium or high top fade on sides of the head which make it a unique among all the short haircuts.
We have compiled all the admired and prevalent combinations of short Mohawk buzz cut with a widow's peak that is utterly worth a try. Each aforementioned hairstyle has its own uniqueness that will make you stand out in the crowd.