Kevin Jonas hairstyle.
Kevin Jonas hairstyles tend to be short and fairly casual, although they do show evidence of regular trims. His hair designs are suitable for his age, but they would also work well for men from any age range from adolescents to seniors. With a busy schedule such as he carries, it is important that the style be easy to arrange and that it not require long to be ready to meet his fans each day.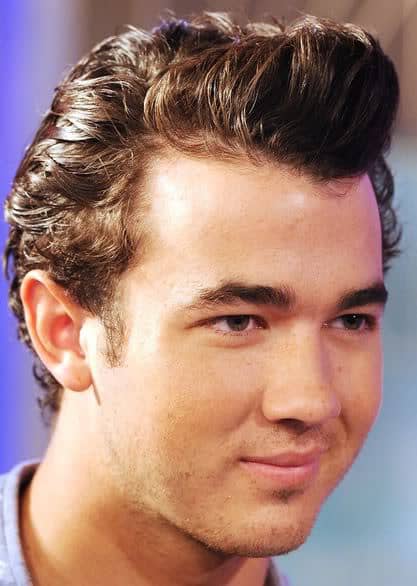 Kevin Jonas pompadour hairstyle.
One style that looks great on Jonas is a low-fuss design with the back and sides short blending into the edges. The sides and back flow naturally into the top layers of hair. The top is spiked into pompadour style, so that the hair style has shape and height. The style is very appropriate for those like Jonas with a round face. It helps to add a longer dimension to his features.

Kevin Jonas curly hairstyle.
For a more casual look, Kevin chooses the curly style with sides and back of the hair blending smoothly into the layers on the top of his head. Like the other styles he wears, it requires frequent trims.
Because this style has additional lift to accomplish the look, it typically requires some styling gel in order to hold its artistic look. Hair that is somewhat thick, curly and has fine to medium texture will probably need additional styling aids.
The star relies on an expert cut to achieve a simple and natural look for his hair. Even though the sides are short, the top can be rough cut to add height. If your hair is medium to thick and somewhat wavy, there will be natural height added to the style. This will help to balance out a round face.
Kevin Jonas hairstyles are easy to achieve if you are willing to spend time in the stylists chair on a frequent basis. You can copy his look whether or not you wear glasses. Men of any height can get the same style with approximately ten minutes of easy effort each day.