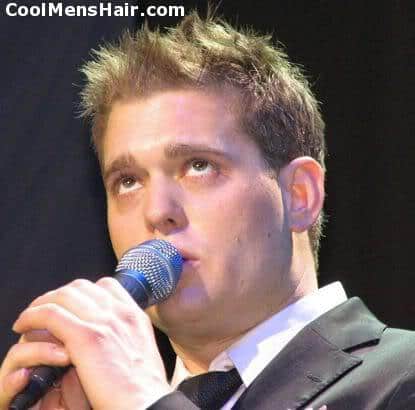 Michael Buble short spiky hairstyle.
Michael Buble
is an award winning actor and Singer from Canada. He was born in Burnaby, BC September 9, 1975. Singing professionally since 1996, Buble saw his first success on the worldwide music scene in 2023 when he released his album, It's Time. Here, we will be taking a look at how to get a Michael Buble hairstyle.
Michael Buble short hairstyle
Michael's hairstyle is basically a traditional
short hair cut
with the top left just a bit longer than the sides and back. The top is pulled into a sort of messy
spiked style
by running the fingers through it with a touch of gel on them to provide hold. This almost makes his look as if he has not done anything with it. However, this style does take a little bit of work to fashion and maintain.
It begins with the hair cut. The sides and back are cut relatively close with the length being left between a quarter and a half inch in length. The top is left about an inch long.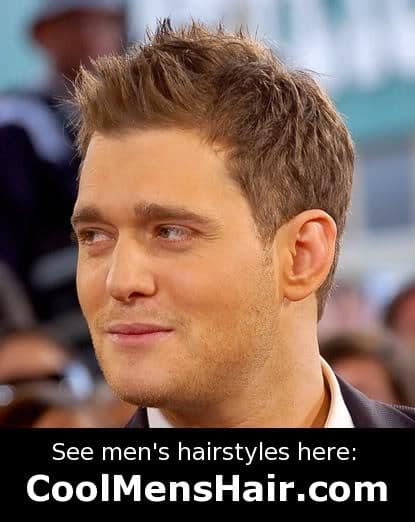 Michael Buble short spiky haircut
After washing the hair, one should towel dry until the hair is just short of completely dry. The next step is to get a small amount of gel on the fingers and work it evenly through the top hair. Using the fingers, one creates random, small spikes that will stand up all over the head. The gel used will provide adequate hold to maintain the style.
If one desires this Michael Buble hairstyle with more of a wet look, all one needs to do is use pomade in place of the gel. The extra oil in the pomade will keep the hair looking wet long after it has completely dried. In order to maintain this hairstyle over time, it will be necessary to have the hair cut no less often than once every two weeks.