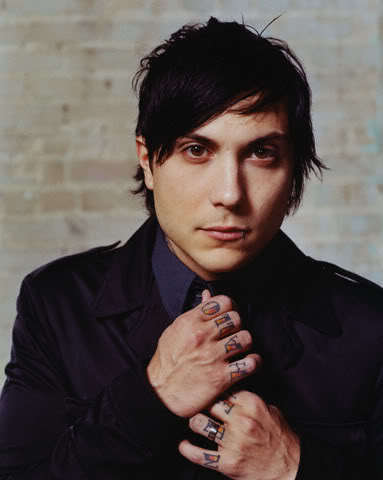 Frank Iero Hairstyle
Spunk and style are what define Frank Iero, the strapping young rocker from New Jersey. He is not only the rhythm guitarist and back-up vocalist of the popular rock band
My Chemical Romance
but also provides lead vocals for his lesser-known post-hardcore band
Leathermouth
.
With a chiseled face and cute, adorable features, he has been the heartthrob of many. But what has made him stand out from the other members of the contemporary emo-scene is his slick and fashionably hip hairdos! Frank Iero has made experimentation with his mane. Amazingly, every hairdo he tries out, gels perfectly with his clean-shaved face!
Frank Iero was born in Belleville, New Jersey on 31st October, 1981 and grew up with his divorced mother. He had been playing the guitar since he was 11 and has played in a number of bands, including Pencey Prep, I am Graveyard and had a short stint with Give Up the Ghost as well.
At 20, he joined the alternative rock band My Chemical Romance as the youngest member, taking up the rhythm guitarist's duty. Since then, there was no looking back for this young lad. This multi-faceted rocker has co-founded a clothing label/recording company named "Skeleton Crew" and has also played the bass with panache.
But what has earned him the 'style icon' tag and a huge fan following is his frequently changing hairdo. He has amazingly flaunted many a hairstyle with equal ease and gusto.
Frank Iero's black strip with the rest of the hair dyed white.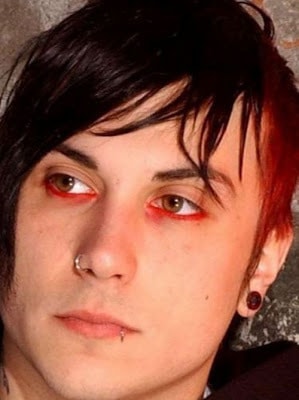 Frank Iero's red hair with a black strip.
While Frank Iero's dark-brown hair had a shirt clipped hairstyle in his high school years, in his early days with his band
My Chemical Romance
, he sported dreadlocks. However, the most popular of his hairstyles being
the faux-hawk
. Faux-hawks became instant hits with the fans.
He had a black strip with red hair and later a black strip with the rest of the hair dyed white. Yet Frank changed it again, this time replacing the hairstyle with long curly hair dyed jet-black.
This hairstyle was a stand-out feature in the band's music videos 'I'm Not Okay' and 'I Don't Love You'. His long curly black hair, set in emo-fashion with fringes in the back and sides was a hairdo that had inspired hundreds of imitators from the punk and emo scene.
Frank Iero has been successful along with his band, and is one of the most admired guitarists today. Yet, apart from all this, his effervescent hairstyle has well complemented his emo style-tattoos, eye-shadow et al.