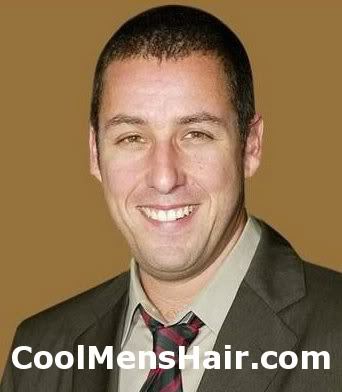 Adam Sandler hairstyle.
Adam Sandler
is well known for his career as a comedic actor. He has starred in such hits as The Waterboy, Little Nicky, Mr. Deeds, and more. He has also done some more serious roles in movies like Spanglish and Big Daddy.
Sandler founded his own production company in 1999, Happy Madison, which has produced the majority of his films as well as launching the careers of several of his Saturday Night Live contemporaries. Here, we shall take a look at Adam Sandler hairstyles.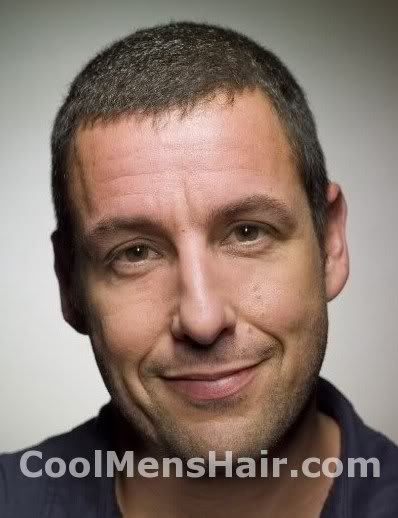 Adam Sandler short hairstyle.
Sandler is a man who is most often seen with his hair cut short and styled conservatively. His hair has some natural curl to it, making this easy to accomplish and produce low maintenance hairstyle that requires little or not hair product to maintain. He is normally clean shaven, though he has been seen with a mustache and a goatee.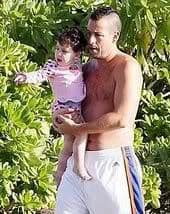 As a teen, Sandler allowed his hair to grow to shoulder length. He parted it on the side and used a good deal of pomade to give it a wet look and to hold it straight. He wore almost the same hairstyle in the movie, Little Nicky, though the length was a bit shorter.
Adam has also been seen sporting a true Mohawk. Here, the sides of the head are shaved leaving only a stripe of hair in the middle of the top and back of the head. Sandler's Mohawk is only about a half inch in length so it stands up on its own without any need to add hair products to maintain the hairstyle.
For the movie, You Don't Mess with the Zohan, Sandler allowed his hair to grow out to a medium length. He then used gel and pomade to pull the top up into a messy looking group of random spikes that overlapped one another giving the appearance that nothing had been done with the hair.