Men's hairstyles are often boring and run of the mill types of designs. There are not very many people who are brave enough to let their personalities shine through in their personal style. Wearing natural spikes on your head can show off what a free-spirited and intense individual you are, especially when you can showcase your looks to other people who also have mohawks.
Why Got2b Glued Blasting Freeze Spray?
If you want to know how to spike hair into a mohawk, then there are a few things for you to be concerned with. Using a product that will maintain such an extreme style is important, so picking out the right tools and supplies will be a necessary first step. Got2b Glued Blasting Freeze Spray is a great tool to spike and hold your hair in place.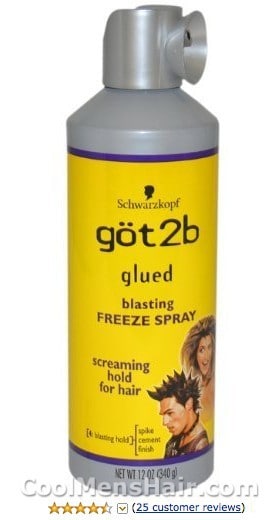 When you need to know how to spike hair into a mohawk using this Got2b Spray, then you probably are set on using that particular product. Some other products can leave an unsightly white residue after it dries and can be difficult to remove, making your hair look dirty and chunky. Most people will want to use something that dries clear and will not be distracting.
Creating Your Mohawk
Achieving proper hair care is important, especially if a man wants to look good. Wearing mohawks can be straining on your follicles. Usually, a lot of product is needed to maintain upstanding hairs, so cleaning should be considered.
Some liberty spikes require that you shave or cut portions of what is already grown on your head. Imagining how the finished look will appear is the only way to ensure that you achieve the style you are going for. Sometimes, if you need to add hairs to other sections, then you can use the spray to glue them onto your head.
It is usually necessary to give yourself a good blow dry before applying product to the hawk. The spray you use should stick onto a dry surface more easily. If you use a dried base, that will make sure that you have a smooth appearance once the styling is completed.
After you have completely dried the head, then separate spikes into section. Spray every individual section and follow it along with the blow dryer to keep it stiff. Repeat this process over and over for every spike. If you blow dry each step of the way, it will help to make sure that the hairs do not fall flat later on and you will continue to look good.
Once you know how to spike hair using this Got2b spray, you will finally be capable of making a style for yourself that you have always desired. Other, more traditional spiked styles call for egg whites or glue to be applied to the head. By using a product that is made for hair styling, then you can more easily maintain your locks.