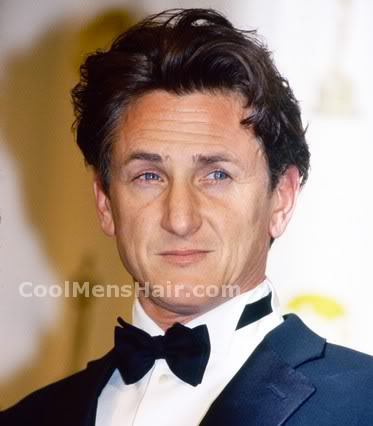 Sean Penn hairstyle.
Sean Penn is an American actor, director, and screenwriter. He rose to fame in the 1980s as a result of his marriage to pop singer, Madonna. Since then, he has won two academy awards, a golden globe, and a screen actors' guild award for his roles in the movies, Mystic River and Milk. Here, we are going to look at Sean Penn hairstyles.

Sean Penn combed hair
Penn typically wears his hair cut to a medium length and combed toward the back of the head. He varies the way he combs the hair slightly from time to time, but the overall appearance is much the same. He occasionally starts in the middle and combs one side toward that side of his head. He must use a great deal of pomade to hold the hair in place.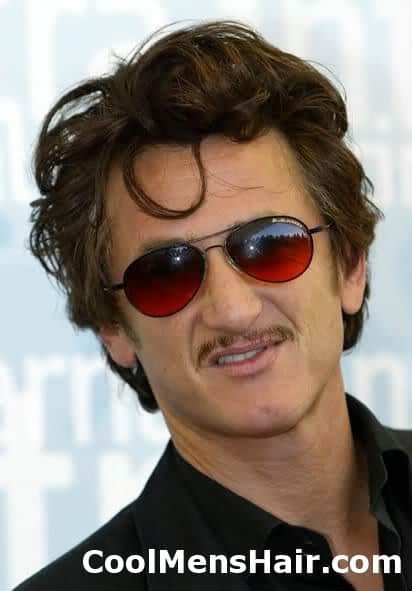 Sean Penn hairstyle with thin mustache
Though normally seen clean shaven, Penn has been known to wear a thin mustache, sometimes with a goatee.

Sean Penn curly hairstyle
Penn has naturally curly hair. In his younger days, he allowed these curls to go where they would on the top of his head. This messy appearance has served him well from time to time. Little maintenance was needed to keep this style looking good.
Sean has also been seen wearing his hair long and dyed blonde. He allowed his natural curls to fall where they would, giving his hair a stringy look that was not overly appealing. The rarest hairstyle to be seen on Penn was a Mohawk. Here, he shaved the sides of his head and allowed the stripe of hair on the top of his head to grow out long.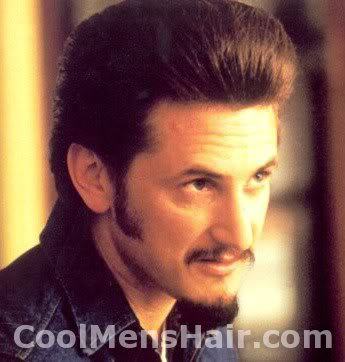 Sean Penn pompadour hairstyle
In Dead Man Walking, Sean wore his hair in a pompadour. Here the hair was brought forward on the head and flipped up and toward the back. A moderate amount of gel was needed to keep the hair in place.