Roger Sterling does not exist except in the minds of television writers and fans of the show, "Mad Men" on AMC. However, he is one of the main characters on this program and a founding partner in the advertising firm, Sterling, Cooper, Draper, and Pryce. Because he is a primary character, he is admired by many. This means that a lot of men would like to emulate him by wearing the Roger Sterling hairstyle.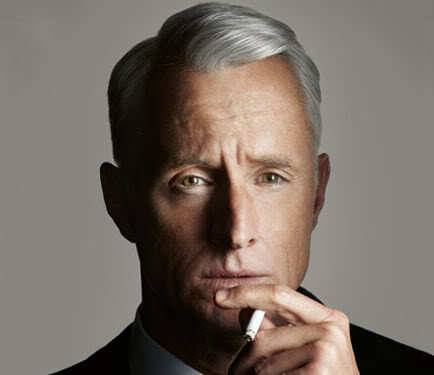 Roger Sterling hairstyle.
The character is an older gentleman and a successful businessman. For this reason, he wears his hair in a short, conservative male style. The hair is cut above the ears and tapered in back so that it blends smoothly into the top. The top is left long enough that he can comb it to one side and back.
Pomade or wax is used to hold the hair in place after styling. This provides a soft hold that is touchable and relaxed rather than stiff, as it would be with gel. It is also much cleaner and neater than if hair cream were used.
This is a relatively low maintenance style that requires regular trims to maintain the length. Once it is styled for the day, a quick pass with a brush or comb is all that is needed to refresh it and put the hair back into place. As a rule, he would have to engage in some very strenuous activity to mess the hair up badly enough to need to worry over it.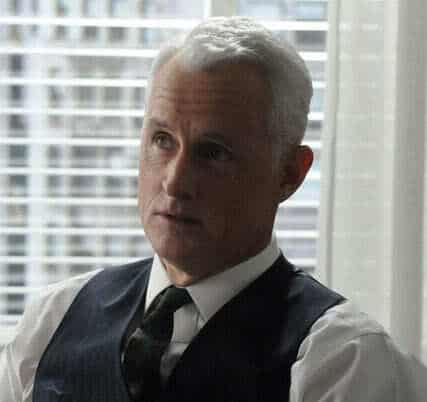 Roger Sterling businessman hairstyle.
Roger's hairstyle is one that is suitable for wear in any situation. It provides a neat, clean-cut appearance that conveys the impression of success that attracts customers to a professional firm. Worn with the face clean shaven, this style highlights the strong features of his face and makes him look every bit the conservative and successful business man.
Photo credits: Mad Men – AMC.