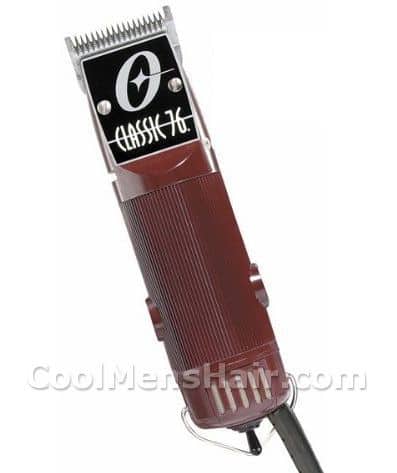 The Oster 76076-010 Classic 76 Professional Hair Clipper is a true heavy-duty performer. It was designed for use by barbers in a commercial setting. This means it is built to withstand hours of continuous running under a wide range of conditions. This clipper will cut through the thickest mat of wet hair as if it were thin and dry. The features make it ideal for at-home use by nonprofessionals.
The clipper comes with two different sized blade guard, a number 1 and a number 000. In addition there are 10 more sizes</q available that can be purchased separately. This offers one of the widest ranges of haircutting lengths available without having to worry about losing the little plastic guards that come with the cheaper sets. The Cryogen-x blade system makes it possible to change from one blade to another quickly and easily.
The device features a powerful universal motor that will not bog down under normal usage wet or dry. The casing is made from a special material that is all but unbreakable. There is much less chance in the event these are dropped that they will fall apart. There is also a reduced chance of damaging the inside so that they no longer function properly if dropped.
Given the wide selection of blade sizes, it is possible for even an inexperienced haircut or to give someone a buzz cut of whatever type he chooses. Tapers and fades become no problem and those in the military can give themselves a traditional high and tight that will pass any inspection. These are also a great choice for those who choose to have someone else cut their hair at home rather than visited barbershop.
Cons
The chief complaint about this device is that the weight and the size makes it difficult to grip. However, the size is comparable to that of many much cheaper sets that can be bought at any discount store. The Oster 76 has a bit heavier than cheaper clippers. Because the clipper is repairable with lots of accessories available.
Serviceable Parts
One extra point in the favor of this clipper is the fact that the parts are fully serviceable. Unlike the cheap models that can be bought in discount stores, this set is not disposable. If there is any problem that develops with them they can be repaired in any authorized shop.
Even the motor, should it wear out, can be replaced. However, because the device is designed and built for professional use, it is very highly unlikely that the motor will wear out during the life of the original purchaser.
Whether one is a professional barber or hairstylist or an average person looking to save money by giving himself haircuts at home, the Oster Classic 76 is the ideal machine for those looking for top quality. It costs a bit more than the cheaper sets, but the quality makes it well worth the difference.