It stands to reason that today's hairstyles are quite different. People usually choose hairstyles of bright colors as well as tend to have their hair highlighted, especially in warm seasons of the year. If one uses a pair of shears to cut hair, he or she should be aware of the fact that it might be uneven as a result.
The Oster Company has been enjoying a leading position in clipper innovation for one century. Company's range of products is a must for a professional barber as it enables him or her to cut hair by using an authentic approach. And, therefore, it may become an irreplaceable tool in any barber's or hairdresser's work.

Oster Professional 10 Universal Comb Set
For Different Sizes of Haircut
Using the Oster professional comb you can cut hair to any given length you want to. There are ten sizes in the set: # 0 (1/16″), #1 (1/8″), #2 (1/4″), # 3 (3/8″), #4 (1/2″), #5 (5/8″), #6 (3/4″), # 7(7/8″), # 8(1″), #10 (1 1/4″). You can easily adjust all comb sizes to any Oster clipper. In order to use it, you need to attach a comb to the blade, and afterwards, pull it up and then put into the right position.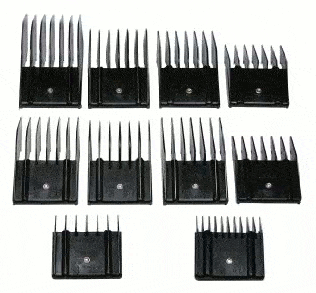 10 Universal Comb Set
There is no need to worry that combs may be not attached to the Oster Fast feed clipper, as you just need to be knowledgeable of how its mechanism works. In fact, combs can be perfectly attached.
Where to Buy
The best way of choosing where to buy Oster Professional 10 Universal Comb is by comparing reviews of those people who have already had some experience of using it. And, afterwards, you should compare prices so that in the long run you could get value for money. We find the seller with the cheapest Oster comb set is Amazon.
Great for Both Professional and Personal Use
Each product is manufactured with meticulous attention to detail and with rounded edges for safety. And, surely, the result won't disappoint you, both when it is used by professional hairdressers and those who use it for personal needs. Thanks to the high quality of the product, you can use it all day long, no matter how many haircuts you have to do per day.
Moreover, it is made of reliable materials, thus, it is a real pleasure using it in the process of taking care of one's hairstyle. Taking into consideration that you are sure to work with different types of hair in your hairdresser's career, the Oster comb set is manufactured so that you could make hairstyles of excellent quality, irrespectively of the structure of locks. The comb set belongs to the line of Oster grooming products.
If you want to keep your business afloat and gain a great advantage over your competitors in hairdressing, Oster Professional 10 Universal Comb Set will come in handy for you on the daily basis. Nevertheless, many stylists and other people sometimes appear to be a little bit skeptical about it, as they fear that it may cut off more hair than needed.
In practice it proves to be extremely helpful. So, you and your clients or any other person whom you happen to do hair, will do nothing but benefit from it and in the future it will become an irreplaceable tool of yours.