Miguel Veloso is a 34 year old Portuguese soccer player. He plays professionally for FC Dynamo Kyiv from the Ukraine. He is also a member of the Portuguese National team. While he primarily plays defense as a midfielder, he also works as an offensive left back from time to time. The Miguel Veloso hairstyle is one of the more interesting ones seen on men these days.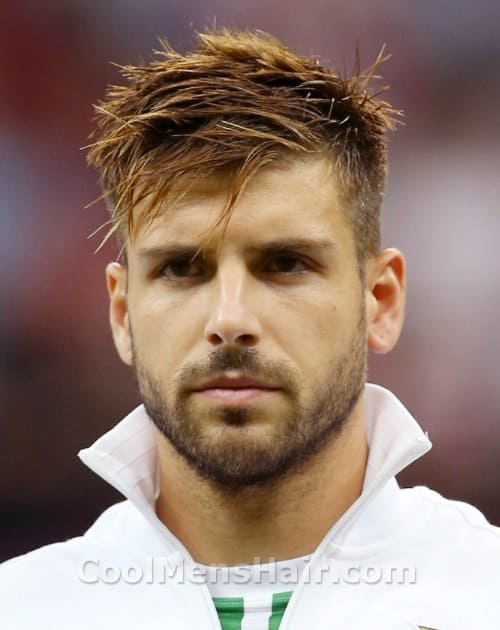 Miguel Veloso hairstyle.
He has the sides buzz cut so short that they sort of blend in with his facial hair. The back is a tiny bit longer. The top is the part that makes this an interesting style. It is cut with a razor to provide uneven length and added texture.
The length is in the one to three inch range, making it possible to comb it over to one side. However, he uses enough product on his hair to keep it from laying flat against his head. He does not pull it into spikes that stand straight out from the head, but it is stiff enough to stand out pointing to the side it is combed toward.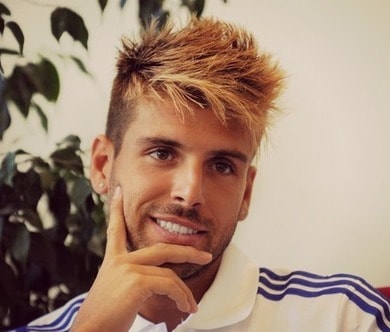 Miguel Veloso hair.
He allows a few random wisps of hair to come down over his forehead. This gives a bit of a rakish, devil may care look. Oddly enough, this unusual style works well for him. It highlights his facial features well and lets people see that he is a good looking guy.
In a career where unusual hairstyles seem to be the norm, the Miguel Veloso hairstyle does not stand out as strange at all. It is, however, one of the more interesting styles one can see on a man in this day and age. Fortunately, he has the strong facial features to pull one's attention away from his hair and let one see what he really looks like without the hair being a distraction.