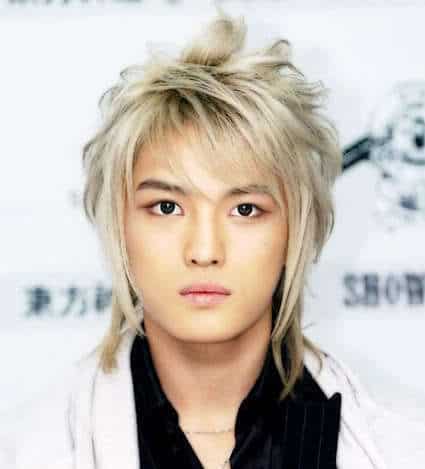 Kim Jae Joong hairstyle
Quite a famous face on the other side of the ocean, the chief vocalist and '
Hero
' of the well-known Korean group TVXQ (Dong Bang Shin Gi), a great cook –
Kim Jae Joong
seems to be a man of multiple talents.
Mesmerizing the audience with his husky voice, and stunning looks, this dashing young man is surely the dream guy of many a lovely ladies. The best part of this J-pop chart ruler, however is his rich textured ultra-straight hair, with varied hues often ruling his crown. Kim Jae Joong has often been caught trying striking hair color flaunting his locks with elan.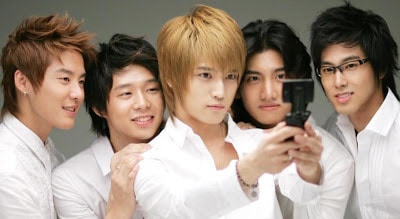 Kim Jae Joong with his boy band, TVXQ (Tong Vfang Xien Qi).
Just like his gorgeous hair, Kim Jae Joong scores high for his toned physique and his 'cute' face. Dawning from a simple family, this young singer had the strong ambition to get famous right from his childhood.
Taking up part-time jobs at several places, right from convenience stores to delivering newspapers, the path to stardom has been quite rocky for him. Interestingly, JaeJoong acquired cooking skills from his endearing restaurateur parents.
A complete cleanliness freak, this pretty lad is very fastidious of his looks especially during his stage performances. Apart from his singing, he has also done a cameo appearance in the movie 'Taeguki wa Hweenalli myuh'.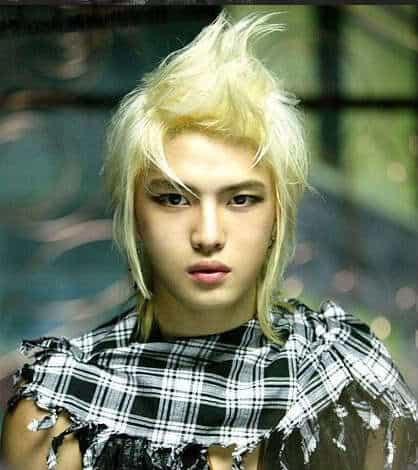 JaeJoong's long fauxhawk
JaeJoong with razored crop hairdo
When it comes to hair color, Kim Jae Joong is surely a trend-setter, trying out numerous hues quite frequently. Even though
the platinum blonde
suits him the best, the chic guy has been seen wearing light and dark brown, red and golden blonde hues as well.
Whatever may be the tinge, Kim brings in edgy sophistication to his face with the razored shag cut. With tapered down crop and short bangs on the forehead, the crop cut gives him a suave, urban and daring look.
However, what makes him the 'cute' guy is his signature mushroom cut with extensions. The layered shoulder length cut with rigid edges offers him a preppy look gives him a polished and chic appearance.
Kim Jae Joong's layered shoulder length hairstyle
Truly Kim Jae Joong assures to appear his best every time he faces the camera, ensures success in every move.