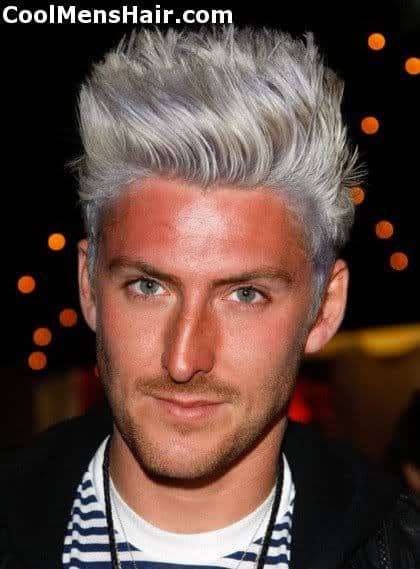 Henry Holland hairstyle.
Henry Holland
is a 37 year old British clothing designer who has become famous for his t-shirts containing catchphrases. Henry was born in Lancashire England. He has founded two clothing lines that are sold in different stores, House of Holland and H! by Henry Holland. Here, we will look at how to create the Henry Holland Hairstyle.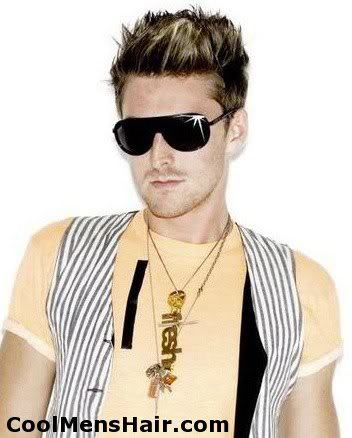 Henry Holland messy spike hairstyle
Henry Holland wears his hair in an alternative style that works well with his facial shape and features. The hair is cut short on the sides, around the ears, and in back. The hair on top is left a bit longer to provide body and height to his style.
The ends are razor cut to provide added texture. Despite the messy appearance of this style, it is created deliberately and takes a few minutes and several products to create. Starting with damp, not wet, hair, the first step is mist the top of the hair with a gel spray to obtain a soft hold.
Next, turn the head upside down and finish blow drying while running the fingers through the hair to create a messy look. After the hair is dry, comb the back and sides down with a bit of molding cream to hold this in place.
The next step is to rub molding cream into the roots of the top hair. This should be down in a small amount to avoid weighing the hair down. The goal is to lift the roots to add body to the overall style.
Next, continue using the molding cream to lift the hair and pull it in clumps every which way. The goal here is to make the hairstyle look as messy as possible.
After one has achieved the look he desires, a small amount of spray on lacquer will provide a strong hold and maintain the hairstyle for several hours. It can be touched up from time to time throughout the day as needed.
Henry Holland hairstyle