Musicians such as Diggy Simmons are remarkable not only because of their talents but also due to their unique looks. Although he has the kind of hair which is common among many black Americans, the American rapper is quite attractive by maintaining the beauty of his hair with the use of the best hair products.
His hair is shiny and lustrous and if you look at it closely, you can surely notice how perfect it is. It is very easy for you to have the same hair as that of Diggy Simmons. All you need to have is a nicely-trimmed hair, a good hair styling product and a comb.
If you have curly black hair, his hairstyle is good for you. Diggy Simmons's hairstyle is a version of the common Afro style applicable among individuals with short hair cut. This style usually fits young individuals with round or oblong-shaped faces because it helps emphasize the shape of the face. However, it requires maintenance care since the shape and beauty of the hairstyle may vary when the length of the hair gets longer.
The first step to have this style is to have a good haircut. Choose the best hairstylist in town so you can avail of an expert service. Your hair will be cut in a way that the length is the same in all areas of your head. Ask him to use a blade to remove the excess hairs on the edges and to shape 45 degrees pointy sideburns. To have a clean shape, the hair on the sides can be tapered using an electric clipper.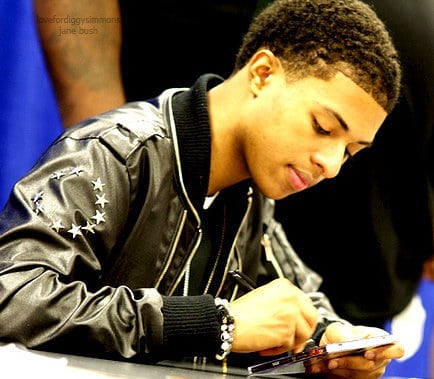 After trimming, you will have to do your part in maintaining your hair. Use a good styling product to preserve the shape and shine of your hair. Apply the product throughout your hair and comb as needed.
After a few weeks, you will have to go back to your stylist for trimming. Your hairstyle will last long through your effort and the help of your hairstylist.