Apple cider vinegar for hair loss is just one of the ways that this natural product can be used. Apple cider vinegar (ACV) is a conditioner, cleansing agent, germ killer and helps to restore the scalp and remaining strands to a more natural pH level.
Unlike some other natural products, it is suitable for both men and women. When using ACV as a balding or thinning remedy, it is common to add other herbs to the liquid.
How to Use Apple Cider Vinegar for Hair Loss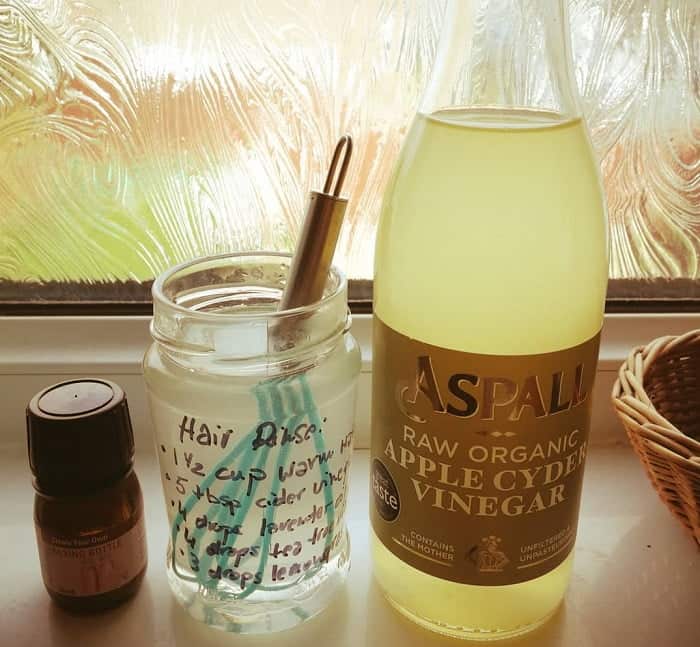 If you are a man experiencing thinning hair on the crown or front, a simple solution consists of two tablespoons of ACV mixed with a minute pinch of cayenne pepper. The mixture should be applied to the scalp and allowed to remain for approximately one hour. The user can then shampoo and condition as usual.
A second step in the treatment is to mix one teaspoon of ACV with one royal jelly capsule. This mixture should be patted on bald areas. The mixture should remain on the strands and scalp area overnight. In the morning, regular shampoo procedures should be followed.
You should use a mild shampoo for your cleansing routine and rinse thoroughly. The somewhat acidic nature of vinegar brings follicles into a closer match with the natural pH balance of your scalp. This, in itself, is beneficial and helps to promote the healthy growth of your mane.
The application of the various ACV and herbal solutions brings blood circulation to the area so that oxygenated cells improve follicle health. Both preventions of baldness and hair loss and stimulation of new growth are important in returning healthy strands to thinning or balding patches.
A generalized vinegar herbal mixture will help you to condition and bring better growth to your tresses as well as to improve the health of the scalp. You can prepare your own mixture of ACV and herbs to match your hair color and condition. Some of the herbs include yucca, thyme, saw palmetto, rosemary, lavender, chamomile, catnip, and burdock.
A good herbal rinse recipe consists of two tablespoons of the dried herb, steeped with one pint of boiling water for a minimum of two hours. Once the mixture has cooled, the addition of one pint of ACV can be applied full strength to the balding locations.
The mixtures should remain on the hair for at least 30 minutes before shampooing as usual. Using apple cider vinegar for hair loss is safe and natural for all hair types.
How to Stop Hair Loss Without Any Chemical
One of the reasons why you are losing your hair is because the blood supply that nourishes the roots has been cut-off. This means the hair has no way of developing and is literally dried out.
Reestablishing the source of nourishment will promote growth and restore hair. Do not only deal with the symptoms but treat the root causes as well! By solving that you can expect your lost hair to come back within 2-5 weeks.
You will actually need to spend up to 5 minutes daily doing the treatment. It's that SIMPLE! Without chemicals, pills, supplements or hair transplants.