The details about the Alex Gaskarth hairstyle are a subject for thousands of fans who appreciate the pop punk style of the Baltimore Maryland-based group All Time Low, formed in 2003. The fans get the opportunity to see the vocalist and rhythm guitarist, since most of the group's time is spent on tour. There have been four albums released, as well as a live album and two extended plays.

Alex Gaskarth hairstyle.

Alex Gaskarth messy hairstyle.
The lead singer is young and the style of his chin-length locks is also young. At 25, he can choose a style that would not be as appropriate for a more mature male. There has been some evolution in the style in 2023. Some of the fans are not happy about the fact that the hair is shorter than previously.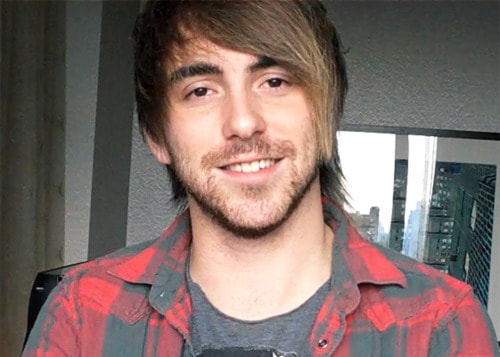 Alex Gaskarth shorter hair. Image via favim.
The look is more controlled in some aspects now, than it was previously, however it is also brighter. Some images show him with a fluorescent pink layer on top of his head that is anything but sedate. Under more formal views, the artist's look is hair that is somewhat shorter then ear lobe length. One consistent feature is the side swept design from the right side ear top level across the top of the head to fringe his forehead.

Alex Gaskarth with pink streaked hair. Image via stageandstills.
The spiked color image obviously requires significant stiffening in order to maintain the design. A more natural image doesn't appear to have much holding power built in. His locks are mostly straight, although at times, a tip escapes from the otherwise smooth look.
The Alex Gaskarth hairstyle appears less structured than many of his contemporaries. Because it doesn't appear curly, or even wavy, there is not as much volume exhibited in the hairdo. The evolution of his locks appears to be very fluid at this time. Shortening the length and providing more control makes this a style that works for young men in most environments.