Wu Zun hairstyles
Wu Zun
or
Wu Chun
is a Brunei-born model, actor, singer and gym instructor. This hottest rising star in Taiwan is the only non-Taiwanese born member in the band Fahrenheit. It was his performance in the Taiwanese idol dramas Hanazakarino Kimitachihe, Hot Shot, Romantic Princess and Tokyo Juliet that made him popular in the circuit.
One more merit that adds to his list of credential is, he is a good basketball player too and has played for Brunei's national team. Born on October 10, 1979, Wu Zun is a gym instructor and applied his business administration degree to manage his family-owned gym club in Brunei. A model and fitness instructor by profession, it was while he was traveling to Taiwan that he was discovered.
He shot to fame as a chief character in the Taiwanese drama Tokyo. With his tremendous performance in Hua Yang Shao Nian Shao Nu, one of the top rating dramas he soar to popularity Asia-wide. This Libran joined the Taiwanese boy band Fahrenheit. His looks gained notice.
With the mounting popularity of Fahrenheit Wu Zun became the hottest rising star in Taiwan. This man is truly multi talented – not only is he an actor and model but he is also awarded as the Young Entrepreneur of the Year in Brunei by the regional Think-Thank Organization, Enterprise Asia in August 2008 for his endeavor and achievement.
Wu Zun short choppy hair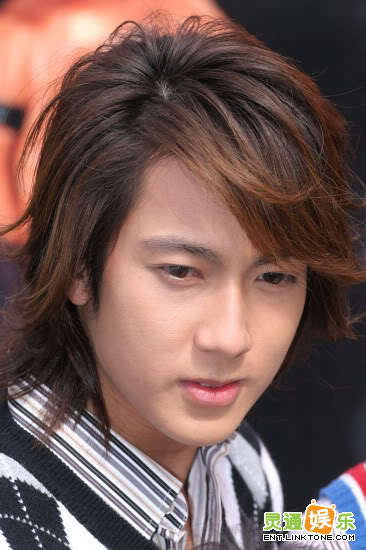 Wu Zun shoulder length layered hairdo
It is quite obvious that this multi faceted personality would experiment with this hairstyle too. Wu Zun's short choppy hairdo perfectly complements his face. He has charmed his fans with his shoulder length
layered hairdo
several times, while at other times he is often seen sporting an emo hairstyle.
He also experimented with his hair color ranging from black to brown and burgundy. No wonder, this charming hunk is one of the most popular rising stars in Taiwan. With sheer talent and charming looks, it would not be a hyperbole to say that Wu Zun is the next big thing not only in Asian film industry but also in world cinema!