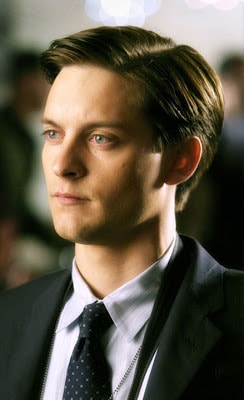 Tobey Maguire conservative short hairdo.
Tobey Maguire
, the talented and lively actor is better known to his fans and to the world as Peter Parker or Spider-Man in the Spider-Man series. As an American actor, he began his career in the 1990s. Life has never been rosy for this 45 years old actor.
After a couple of setbacks, Tobey Maguire finally managed to carve a niche for himself in the Hollywood film industry with his appearance in all three Spiderman films. This nomadic natured blue eyed man besides acting has a great interest in basket ball and poker too.
Born on June 27, 1975, in Santa Monica, California, Maguire first faced the camera for the film The Wizard. He managed to rope in one and two line roles in sitcoms as Roseanne and Blossom. After leaving school in the ninth grade for acting, he finally landed with a lead role in Great Scott!
Unfortunately, after nine weeks of filming the project got cancelled. Tobey Maguire then acted in the TV Movie "Duke of Groove, which later went on to receive an Oscar nomination. His fabulous performance in The Cider House Rules bagged for the movie seven Academy Award nominations.
But with the release of Spiderman in 2002, Tobey Maguire's struggling days finally seemed to get over. After the immense success of the first flick, Maguire appeared in Spiderman 2 and Spider 3 both earning him fame and popularity.
His kitty is now brimming with movies such as The Details slated to be released 2010 and Spider Man 4 in 2023. Apart from his acting talent, this 'friendly neighbor hood guy' is also well-known for his charming looks.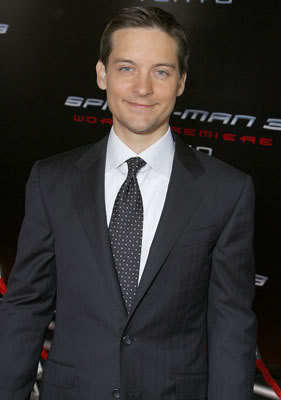 Tobey Maguire hairdo at Premiere of Spider-man 3.
In fact, Tobey Maguire poses a charming look with his short hair. The conservative
short hairdo
makes him look like a perfect gentleman. The scruffy look lends Tobey Maguire a very sophisticated style. The highly trimmed and neatly brushed hairstyles in all of his Spiderman films suits well with his boyish image.
Besides, he was caught flaunting parted and brushed hairdo at the Tribeca Film Festival Premiere of Spiderman 3. Of late Tobey Maguire has welcomed Otis their baby boy into their family. Jennifer and Tobey are parents to little girl Ruby, who was born in November 2006.