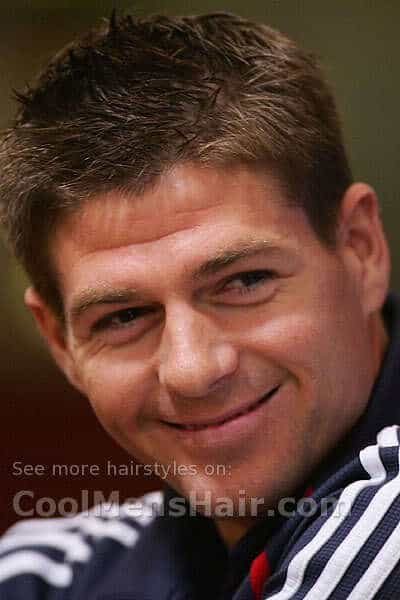 Steven Gerrard Ivy League hair.
Steven Gerrard Ivy League hair style is a classic style that is relatively versatile. His look can be roughened on the top, or it can be combed down with a part. The latter style is more conservative. Gerrard is a world class soccer footballer.
He is captain of the Liverpool premier team and also plays for the National Team of England. A couple issues arise for those men who play soccer either as an amateur or in the professional leagues.
The sport is physically demanding. A style of any length could detract from ability to see and respond to the activities on the field. Gerrard wears his style quite short on the sides, with slightly more length on the top.
Because the soccer star has a relatively short distance on his forehead to eyebrows, he chooses to keep the crown of his head fairly short also. However the style is long enough on top to be parted and combed neatly to the right.
The design doesn't feature a flattened look or a hard part. His style is not spiky either, just loosened under gel control.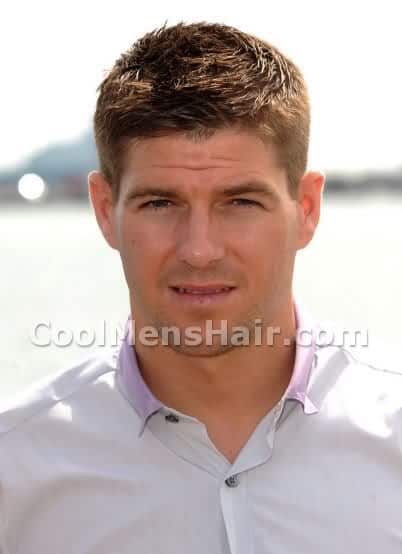 Steven Gerrard Ivy League hairstyle.
By parting and combing to the side, it tends to soften the effect of his low forehead. The hairline almost goes to a widow's peak look, except the sides of his hairline at the forehead are not as high as with a true widow's peak.
The versatility of the style brings an extra benefit for a guy who is too busy to spend a lot of time in hair styling. Steven Gerrard Ivy League hair styling requires minimal care. Only a regular trim to keep the front and top of the style from becoming too long.
The sides are even shorter, but could be combed slightly back or down. Using gel or styling mousse allows the top layer to be spiked or it can be left somewhat tousled for more height.