El Shaarawy hairstyle is well known, even among other young footballers and fans. The nickname means "The Pharaoh" and is the result of the distinctive head shape that is created by the style of his hair.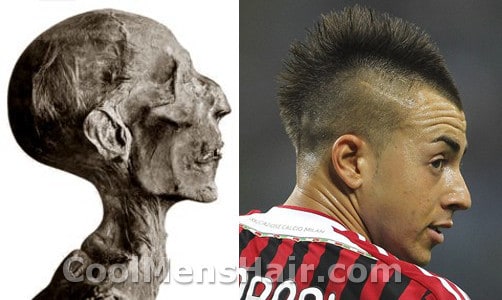 Left: Faraone or Pharaoh. Right: El Shaarawy.
The striker to the Serie A club in Milan also belongs to the Italy U21 national organization. He is coming up on his 20th birthday. He is the son of an Egyptian father and an Italian mother, but has played for Italy in Genoa, Padova and Milan throughout his short career, beginning at age 16.
There has been some pressure from teammates on both sides of his hairstyle issue. The player has also taken some heat over the way he shapes his eyebrows, Other team members have been supportive of his right to wear styles that express his personality and personal preferences.

El Shaarawy hairstyle.
The hair style is essentially a modified Mohawk. The crest of his hair is somewhat longer at crown of head so that the outline is elongated. The length of this hair is quite short in the front of this crest growing to three to four inches.
Obviously, in this type of stiffened crest, significant holding power is required of the styling gel. On the sides of the head, hair is close cropped to a stubble length with a distinctive double bar shaved into the sides of the head near the crest. Behind his ears and around the back of his head, the length is longer by less than an inch difference from the temple area.
Il Faraone hairstyle is hard to mistake for that of someone else. The style requires meticulous attention to trimming and shaping. A good styling product is the basis for the Mohawk crest.