The scissors-over-comb haircutting technique is a foundational skill for a competent barber. The technique uses two main tools: a comb as a guide for angle of a haircut and a pair of scissors as a trimmer.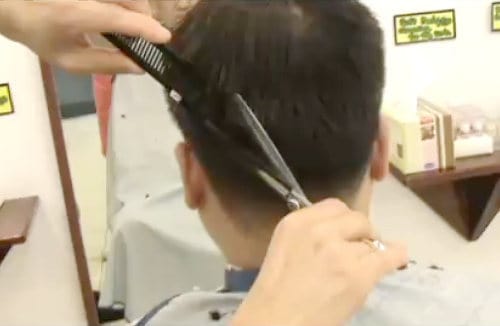 The scissors cut the hairs above the comb when the comb is moving up from the hairline to the top in an angle resulting in a close tapered haircut which gradually increases the cutting length. Following the head contour and cutting close to the head, the technique leaves a fresh and soft look that's quite refreshing. To give you a better understanding, here we embed two videos on how to do this technique:
Make the hair a little dampness so it can be cut easily. With your left hand, from the hairline lift the hair up with your comb. Trim the hair that is visible beyond the comb with your right hand using the scissors. If you use your right hand to hold the comb, use your left hand to cut the hair.
Keep the comb lined up with the bottom blade of the scissor therefore only use your thumb to tackle the scissors. Always keep the blade working as you cut each area of hair (which is one combs worth).
If you pause or hesitate, you could damage the hair and ruin the final look. Follow the contour of the head. Pay special attention to the round areas you cut like on the nape and occipital bone. Watch your angles carefully.
These Comb Over Fades Are Trending in 2023
Also be sure to not hit the comb with your scissors blade. This will ruin them. Keep a narrow space between the comb and the scissors. If the result is still longer than you need, you can re-do the process from the hairline to the top.
Don't let the scissors-over-comb haircutting technique intimidate you. Practice makes perfect but with just a little work you'll have it down and master short haircuts before you know it.