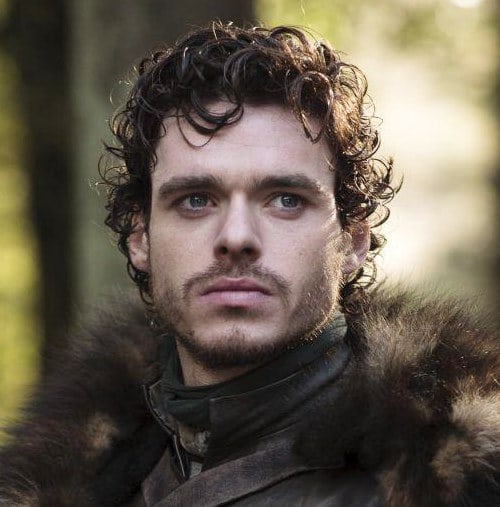 Robb Stark is a fictional character in the American fantasy drama television series, Game of Thrones. His hairstyle gets a lot of well-deserved attention. This effortless sexy hairstyle has created a buzz among women.
This rugged yet stylish haircut is a perfect choice for those who have naturally thick curls. It is versatile and requires little maintenance. It goes well will a long fur coat, checked red shirt or a business suit. You can enhance this classy look by keeping a short, fuzzy beard.
To get this hairstyle, you need to keep your hair medium. Wash your hair and squeeze it using a towel to avoid frizz. Apply a good quality light hair gel or curl cream gently all across your hair. You can side part the top of your hair or make it to frame your face.
Use your fingers to twist few strain hairs. To get a manly knight look, use your fingers to comb through your hair. Leave the front hair loose to make it look messy and innocent. The key is to loose those natural, manly curls.