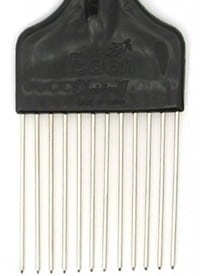 A metal hair pick is an invaluable tool when dealing with thick curls. These may occur naturally or be the result of a permanent. Either way, using a regular comb or brush on these curls can result in damage to the strands. However, it is important to use it properly.
Because curly hairs have a tendency to tie into knots, it is necessary to use an implement with a wide space between the teeth. The teeth need to be longer than the average comb in order to reach all the way to the scalp in cases where the strands are longer. The afro pick is the tool of choice for meeting this need.
Using one is not difficult. One should insert the teeth through the curls directly toward the scalp. For very thick locks, it might be necessary to only insert a small section of the teeth at first to remove tangles from the outer layers before detangling the inner. After insertion, gently lift the pick away from the head so that it lifts the strands straight away from the scalp and removes tangles.
Depending on how the hairstyle is to look, one may need to keep a wide toothed comb on hand to part the locks and direct the strands into place after the tangles have been removed. However, the pick is still the primary item because it is less likely to pull on tangles hard enough to break them.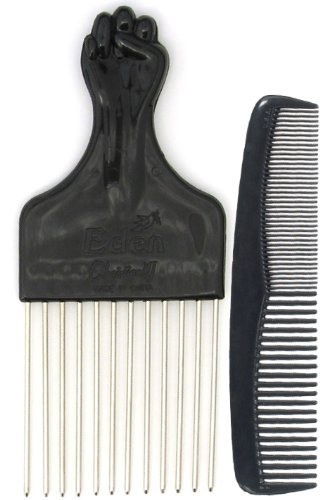 One popular combination is the Afro Hair Pick with Black Fist and Comb Set – Metal African American Comb available on Amazon. This set features a metal comb for curly hair with a plastic handle that comes up into the shape of a closed fist. This is in keeping with the tradition from the original picks created in Africa having a design on the handle that reflected something from the culture of the creator or meant something to the user. In this case, the fist is a symbol of strength.
The comb is included in the set to make it easier to part the locks and create a variety of styles. It is recommended that those with thick curls only use the wide toothed end to avoid damage to the strands. However, proper use of a metal hair pick will minimize the need to use the comb. The pick will be much gentler to the shafts and help one to avoid frizz and damage.