The Mark Sayers McGrath hairstyle shows that busy public figures can still have a look that is trendy and fashionable. The singer is associated with the band known at present as Sugar Ray. Early success was seen in 1997 with a song known as "Fly". At age 52, he is popular in part because of his appearance. In fact, People magazine named him as 1998s "Sexiest Rocker".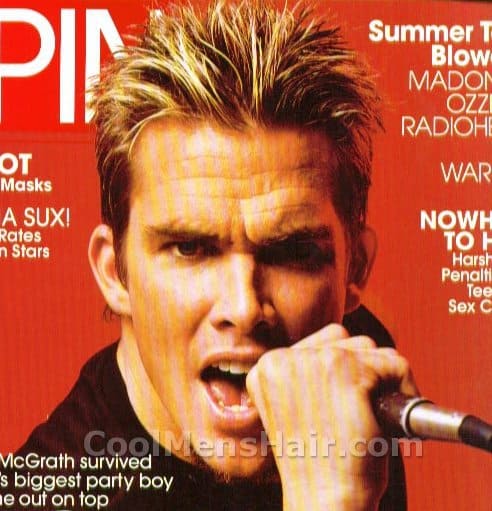 Mark Sayers McGrath hairstyle.
The style features his light brown and streaked hair with a length of about two inches on the top of his head. The area is spiked, using the help of styling products. No greasiness is present. A low left-side part that is not well defined is seen, but the balance of the hairs extend up from the top of the head
The sides of his head feature hairs that are more closely trimmed, especially around his ears. The full ear can be seen. His sideburns are not well defined, and reach only about one-third of the way down the length in front of the ear. The hair on the back of his head is shorter and neatly trimmed to less than two inches in length. It lies flat.
Because his hair is short, there is a requirement to have frequent trims in order to achieve a consistent appearance. Otherwise care consists of daily shampoos with conditioner to improve hair health. The styling gel can be applied once daily and refreshed by simply running his fingers through the hair.

Mark McGrath spiky hairstyle.
The Mark Sayers McGrath hairstyle is one which can be worn comfortably by men of a wide age range. The appearance looks equally good with business attire and with casual and recreational activities. For those men who don't have time to spend extra time styling strands, this look may be the perfect answer. Only a few minutes daily will keep the the appearance fresh and attractive.