The Joshua Rush hairstyle perfectly fits the eleven year old actor known for several movie and television roles, as well as for his commercial work. He has been working since before he was a year old. His hair is casual, naturally dark and medium straight.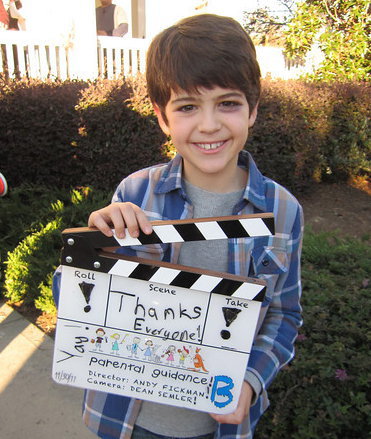 Joshua Rush hair. Photos via Joshua Rush.
The basic cut is uniform all over. This gives him a well-balanced appearance. The style is contoured to the head in a low-fuss manner. When looking for a hair style for thick hair that is straight or semi-straight, this look is easy to design and doesn't require much in the way of gel or wax product. The hair design does require regular trims once every one to two months.
The style is suitable for a diamond, oblong or oval face shape. It would not work well for a person who has a round face, since it emphasizes the roundness. The wearing of eyeglasses with the design is also not recommended.
This is a great look for youngsters or adult men with an active lifestyle. Fine hair that is medium density or even thick density is going to look good wearing this style. A person with a wide or large forehead might want to choose the style, since the bangs help to camouflage this feature.
The daily styling time is about ten minutes. Begin by using wax on the fingertips and use the tips to pull the wax downward through the hair. If you want to have a more tousled look, pinch clumps of hair and pull them in different directions.
Use the minimum amount of styling product possible, to avoid greasy appearing bangs that can feel itchy. On the sides of the hair, work another dab of wax down through the hair to mid-length.
End the downward stroke with a pinching motion. Additional pinching and wax can be used for more texture. The final step to achieve a Joshua Rush haircut is to apply wax to the palms and stroke forward and down from the crown of the head. Flatten the hair slightly as you move forward.