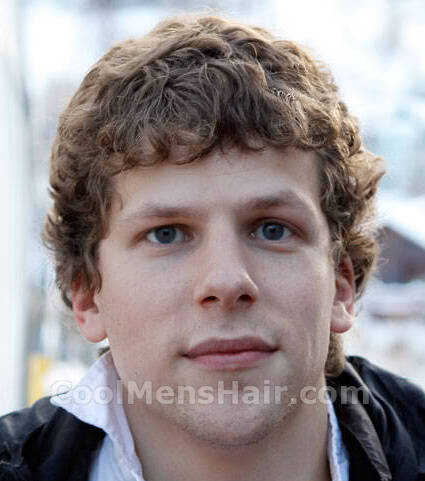 Jesse Eisenberg curly hair.
Jesse Eisenberg is a 37 year old American actor from Queens, New York. He has extensive stage acting experience, but really rose to fame when he portrayed the creator of Facebook, Mark Zuckerberg, in the critically acclaimed movie, "The Social Network".
He was nominated for the award, Best Actor, for his performance in this film. Here, we shall be looking at Jesse Eisenberg curly hairstyles. Eisenberg is fortunate in that he has naturally thick, curly hair.
This makes it possible for him to establish his hairstyle by its length more than any other factor. He does not require any special tools or products to maintain his hairstyles.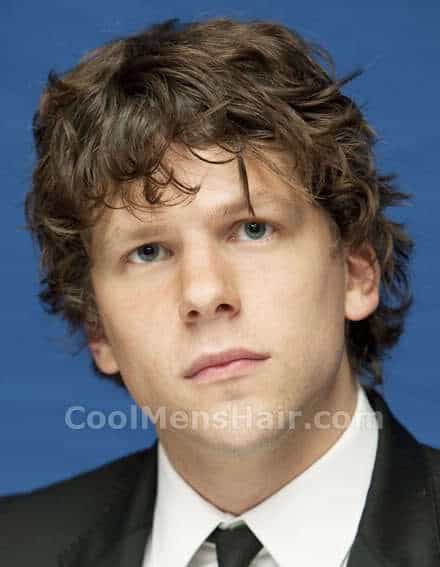 Jessie Eisenberg curly hairstyle with bangs.
The most common style he wears is simply a carefree do that stays in place, even when he is straight out of bed. At other times, he has worn it a bit longer so that it could be parted in the middle and guided toward each side. He has been seen with his bangs grown out so that they covered his forehead as well.
The best thing about his hair is that its natural curl makes it possible for him to maintain most styles without any special tools or products. When his hair is longer, he can use a comb to part it in the center. Otherwise, just running his fingers through it is enough.
Jesse Eisenberg curly hairstyles have not changed a great deal over time. One major feature that has remained constant is that his curls tend to frame his face and define his features. He has worn his hair cut short so that the curls were tight and close to his head.
He has worn it longer so that it stood out from his head somewhat. In all cases, his hair has made it possible for him to maintain his style with a minimum of effort and little or no product.