The teddy boy haircut is an iconic haircut that defined the 50s. Flamboyant yet masculine, this haircut reached its peak in the 50s but is still popular today. The haircut needs a longer length but it is relatively easy to style in the morning with the right kind of product.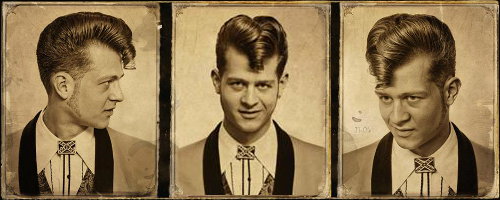 Teddy Boy Hairstyle Characteristics
It is a hairstyle that is characterized by height, volume and natural texture. It is a uniquely British phenomenon that arose from the influence of the Edwardian style.
The first styles were conservative, with hair allowed to grow about two inches long and styled to follow the natural contours of the head without any form of over the top styling.
As the style evolved, it allowed guys to grow their hair up to three inches long which they combed up to create manes that have lots of volumes.
The hair was also allowed to grow a few inches at the back and cut and styled to look like a duck's rear which was easy to maintain if the texture of the hair was kept natural. With a little bit of volume and the use of a setting product such as a styling gum or hairspray, this style is achievable in a matter of minutes.
Photos
The Teddy Boy hairstyle works best when paired with draped jackets, drainpipe pants that hover short of the ankles, and leather or suede loafers. Guys who liked to sport the hairstyle wore suits with high wing collars popped up and paired with velvet ties.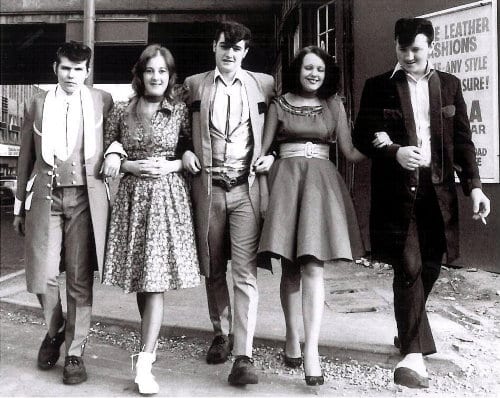 How to Do It
The style requires hair about 1 to 2 inches at the front, enough for a flamboyant quiff, hair gum or gel and hairspray. Comb the sides of the hair up, grab a dollop of styling gel and rub onto the palms before running the palms up the sides of the head so that the hair stands up.
Comb the rest of the side back to form a duck's tail at the back. To create a basic quiff, grab the hair over the forehead. Emulsify the styling product by rubbing between your palms before you apply to this part of the hair.
Fold the hair over and back to create a bump over your forehead. You can fold the hair over, allowing half to go over your forehead for a more dramatic shape. You can use any styling product to create this style, from styling gel, gum, putty or spray.