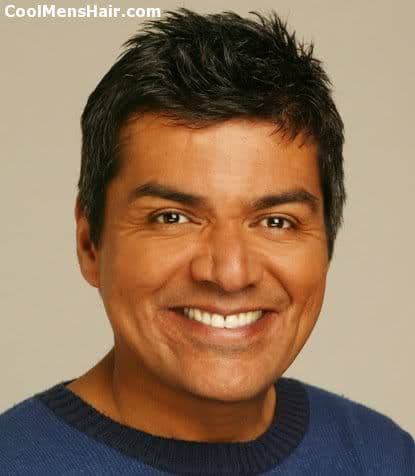 George Lopez hairstyle.
George Lopez
is a Mexican-American actor and talk show host. He has also done some stand up comedy specials on cable television. He is probably best known for the self produced sit-com that aired on ABC from 2002 to 2007.
Lopez is also known for his criticism of Jay Leno and his intense dislike of 80s star, Erik Estrada. However, here we are going to focus on taking a look at George Lopez hairstyles.
In general, Lopez prefers to stick to a single hairstyle. He normally wears his hair in a short cut that can be combed to one side or straight down in front to show off a short fringe. His preferred style is to comb the top of the hair to the right.
He then pulls up small spikes in a scattered pattern and holds them in place with a bit of gel or pomade. He sometimes simply run his fingers through it with a small amount of gel on them to create a slightly mussed look. He has also been seen with his hair coated in pomade to produce a wet look.
George Lopez short hairstyle
George Lopez mussed hair
All of these styles are easily achieved from a single style of cutting the hair. Keeping it short allows Lopez to look like a businessman when he needs to do so while still being able to change his style to match some of his favorite characterizations used in his standup comedy.
George Lopez Hairstyles are not difficult to duplicate, but care should be used to ensure that one chooses a style that matches his facial shape. George has more of a round shaped face so the shorter hairstyles are more flattering to his features. How he places his hair and styles it depends on the need of the time.