Douglas Booth is a nineteen year old actor from London, England. He first became famous for his performance in the role of Boy George in the film, "Worried about the Boy". He was also seen in "Christopher and His Kind" and will be playing Romeo in the upcoming movie version of "Romeo and Juliet". There are a couple of basic Douglas Booth hairstyles he wears most of the time.

Douglas Booth hairstyle.
He has the sides and back trimmed relatively short, leaving hair above his ears and off the collar. The top is left about three to four inches long so that he can part it and comb to one side. He commonly does this, but flips his hair forward as well as to the side so that it lies at approximately a 45 degree angle to the part.
A touch of hairspray or a small amount of hair wax (pomade) is all that is needed to hold the hair in place. He probably has to refresh the style a few times throughout the day using a brush and his bare hand.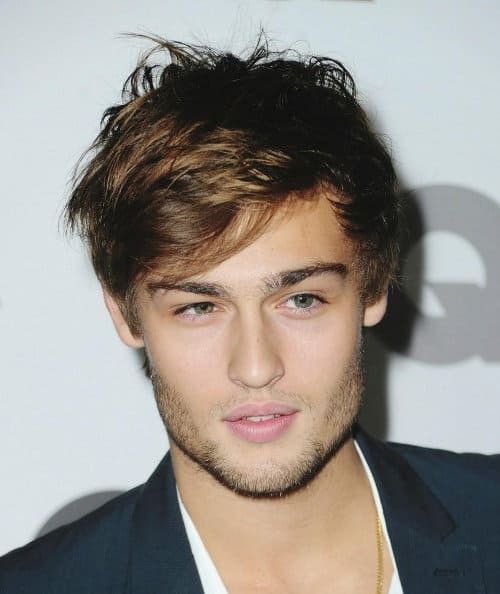 Douglas Booth casual hairstyle.
His other hairstyle makes use of the same cut. The difference lies in what he does with the top hair. Rather than brush it down into a neat, formal style, he uses his hand and fingers to create a mussed up look that makes him look more rebellious. This style is excellent for casual situations such going out to the clubs and enjoying the night life.
Douglas Booth hairstyles are similar in the way the hair is cut. One style is more conservative and formal, having the hair brushed in a manner that has it all lying straight and even on his head. The other allows some of the hair to stand up in a messy, "bed head" look that has become very popular among young men.