So if you were wondering what is the difference between a fade and a taper, because a part of you wants to get that low fade that Justin Timberlake completely owns and the other part wants to try out the taper that your buddy was talking about the other day.
And somehow, you just cannot decide which one to get because, come on, your haircut is such an integral part of you – almost defining the essence of how you want to be viewed.
Fade VS. Tapered Haircut: How They Differ?
So, here you are unsure of which haircut to get because these two cuts are so similar and yet somehow manage to produce different aesthetic results dramatically that you simply cannot decide.
Well, think no further, here we are, to take you through the difference between the two cuts and what should you consider before getting them. But, first off, understand this, the best haircut for you depends on you- your facial structure. hair texture and the confidence with which you can carry yourself out.
What is the taper haircut?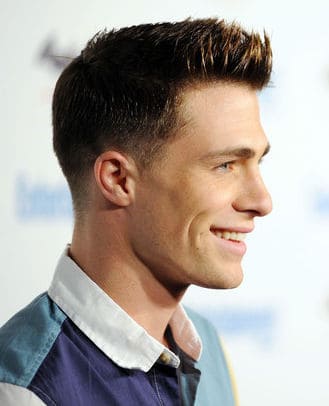 Colton Haynes tapered haircut.
Tapering, as the name suggests is gradually decreasing the length of your hair. Like from longer to shorter. So you can expect longer hair at the top of your head say about 2- 4 inches and closer to the hairline, shorter hair. Like a gradient, beginning at the top and ending at the natural hairline.
Your hairstylist may use both scissors or hair clippers to perform these taper cuts. You can have your long hair and at the same time look neat and groomed enough to rock the world effortlessly. If cut to perfection, it allows more movement and greater styling flexibility.
What is the taper haircut?
A fade haircut.
Like a taper, a fade will also form gradients, beginning to end. The difference? The hair is much shorter on the top (about 2 inches) and then, you give in the fade -effect which will end just above the natural hairline (right above the ear).
Once it ends, it should look as if the hairline on the lower part has completely blended into the skin, you can say- a shaved effect. There are high chances that a hair clipper will be used to get the smooth fade.
The taper vs the fade
A taper has longer hair on the top which gradually shortens along the lower parts- the back and sides of the head. In a fade, the hair on the top is pretty short and is cropped from all sides.
A fade cut will make you look bald along the sides and back of the head whereas, a taper will not make you look bald.
In you have get a tapered cut, be sure your hair will move but, not so in the case if fades.
Fade cuts are low maintenance. Not so for tapered cuts.
Which one to get?
As we have stated before, it all depends on you. No matter what the shape of your face is, round, oval square or long, be sure a taper will only accentuate your features. However, a fade goes best with men having oval and square faces.
While both these cuts go with almost all hair textures, make sure to instruct your stylist well about how to cut your hair. If required, take a picture of the desired haircut along with you and show it to him, and also instruct him -clearly. If you have good knowledge, you can also instruct him on what he should be using to cut your hair- hair clippers, razor guard size, scissors etc.
And finally, whatever haircut you do, make sure to carry it out with confidence. It will naturally suit you and make you look more attractive.