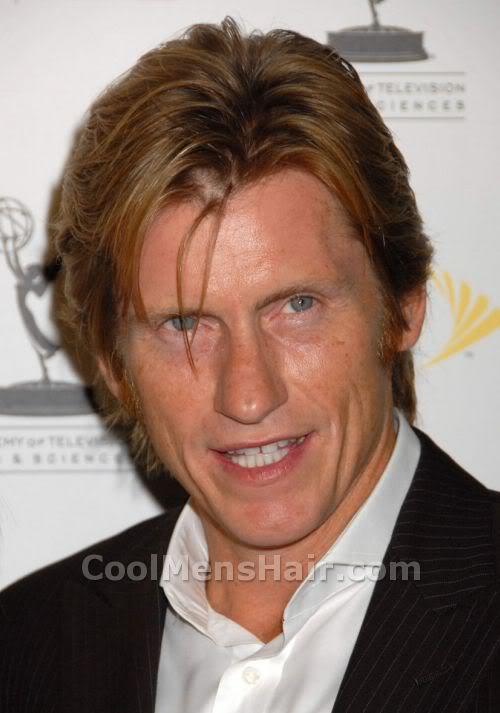 Denis Leary hairstyle.
Certainly, the Denis Leary hairstyle cannot be referenced as thick and luxuriant. He has sandy hair that generally is longer than is considered chic. With a soft high left side part, the line is somewhat forward and to the side. When combined with a lock coming forward onto the forehead, his longish style brushes the ears.
Layers of hair are lighter on the top of the head ranging almost to blond, but the make color is reddish. The widow's peak is an added attraction. His sideburns are longer, extending in front of the ears, which helps to add proportion to his otherwise long upper face. The entire look is very casual and windblown.
His role in "Rescue Me" portrays a New York City firefighter in the aftermath of 9/11. Although he was well-known as a comedic personage, the show, now in its 7th and final season is a drama. It deals with such subjects as alcoholism and dysfunctional families. He has won awards for his performance in this series in 2006 and 2007.
He has no lack of interests, working in drama, comedy tour, music, and recently has authored a book. He has done voice-overs in the Simpsons and other presentations. This type of lifestyle means it is important to have hair that he can rub down with a towel after shower and be ready to go. It has been said that his hair is the benchmark for perfect hair.
Those who want a Denis Leary hairstyle should be prepared to ensure healthy strands. A great cut and regular trims are a must. No particular effort is needed in styling the locks. The wearer must be sure that the hair is scrupulously clean with no oily based dressings.
The actor is known for his humanitarian efforts with the Leary Firefighters Foundation. To date over $2.5 million in cash and equipment has been presented to fire departments in New York City and in New Orleans.