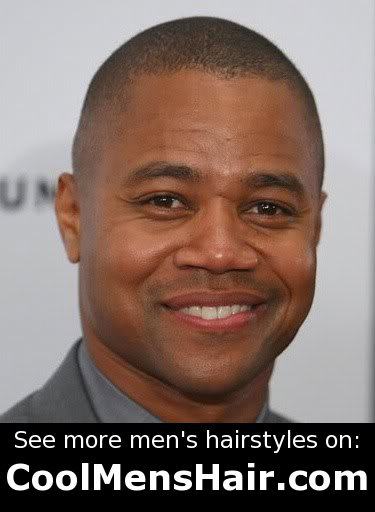 Cuba Gooding Jr buzz cut hairstyle.
Cuba Gooding Jr. Hairstyles were originally noted when he played to critical acclaim in the movie Jerry Maguire. He won an Academy Award for his portrayal of Rod Tidwell in this film. His performance as Tres Styles in The Boyz n the Hood won him recognition as well. Gooding has a mature look with strong jawline.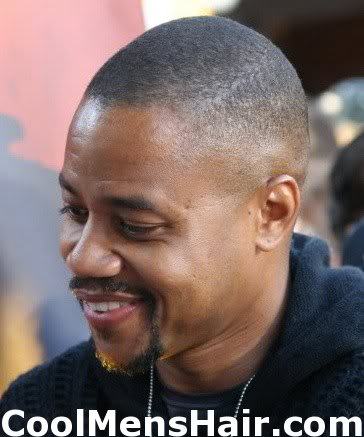 Cuba Gooding Jr crew cut hairstyle
The shape of his head is followed closely by the cropped hair. More hair would probably blur the lines. His hairline on the back of his head is so closely trimmed so that you can see the heart shaped lines on the neckline. The hair grows much lower in center of the neck than on each side of the center hairline.

Cuba Gooding Jr short curly hairstyle
The temples are closely trimmed as well. Even when his hair is longer on top, it is balanced by a short beard. The longer style remains basically the same in shape, closely following the contours of Cuba's head. When his hair is left in a slightly longer look, the heart shape on the front of his head is somewhat more obvious than when his curls are trimmed close to the head.
The temples are very short, almost shaved, even when the top of his head sports a longer look. His hair is quite curly even in the very short styles that he seems to prefer. He doesn't appear to use a part in his hair, regardless of the length of the style.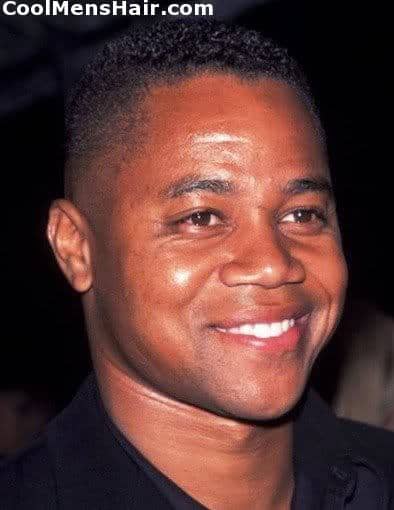 Cuba Gooding Jr taper fade haircut
If you want to imitate Cuba Gooding Jr. Hairstyles, you should trim the sides of your head very closely. The top of your head can be short, but not as short as the sides. A tight natural curl is a strong feature, but not everyone is blessed with that attribute. The hair will need to be evenly evenly over the scalp without cowlicks, whorls or other imperfections.