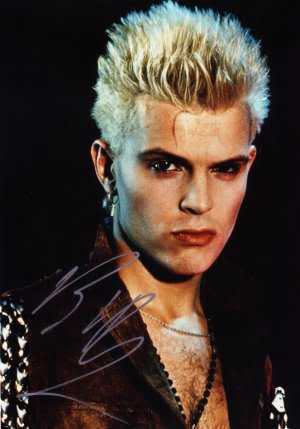 Billy Idol hairstyle.
While talking about rock music there is hardly anyone who has not heard of
Billy Idol
. The coolest punk musician Billy Idol claimed to fame with Generation X. This talented musician had a successful solo music career too, with many music videos to his credit and a worldwide fan base.
Billy Idol's blonde punk look with a natural looking hairstyle generated quite a rage with his fans. In spite of intense drug use and accidents, he is still an idol to many. His appealing lip-curl, his crazy and wild attitude off and on stage, makes him a heart throb of many women across the globe.
Born in Middlesex, England, in 1955, America made a big impact on Billy. It was during the course in English and Philosophy when punk rock caught his imagination and Bill Broad became Billy Idol. In 1976 Idol joined the punk rock band Siouxsie & the Banshees, but soon gave it up and joined Chelsea in the year 1977.
He and Tony James his Chelsea band mate quitted the band and together they co-founded Generation X, with Billy Idol turning to lead singer from guitarist. After 3 albums owing to management problems Billy went for a solo career and released the self-titled 'Billy Idol' in 1982.
This great rock artist ruled the charts from the early to mid eighties and is known for "White Wedding", "Dancing with myself" and "Rebel Yell". His songs were refreshing change and he is considered to be a 'genre' by himself. Though his tunes seem to be for the masses, he in fact dealt with complex themes such as society's new view on 80s phenomena or the liberation of Sexual practices.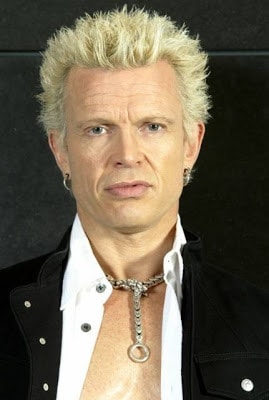 Billy Idol blonde spiky hairstyle
Billy Idol blonde punk hairstyle
When it comes to the hairstyle it seems that Billy idol is completely loyal to the blonde
punk hairdo
. For the quarter of a century Idol sported the same hair style. With the greater influence of fashion, Billy Idol's good looks, peroxided hairstyle became popular with his fans.
Sporting hair colors and deliberate asymmetric cuts, credit goes to Billy for popularizing the spiky hairstyles with the use of hair gel and bleaching.
An extremely talented and sexy man, Billy Idol in his 60s still has the body of a 25 year old and is rocking. This man continues to mesmerize the world with his sheer talent and rebel look!