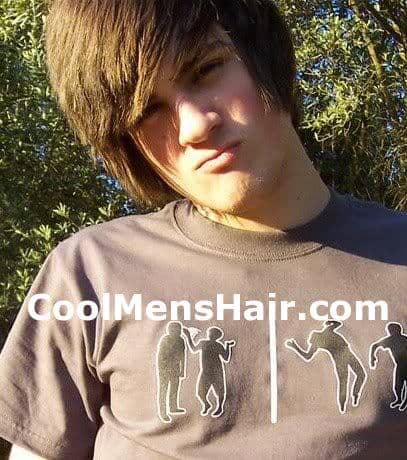 Anthony Padilla straight hairstyle.
Anthony Padilla
is one half of the YouTube comedy duo,
Smosh
. He and
Ian Hecox
began posting comic videos to YouTube in 2002 and have been doing so ever since. Together, the two hold fifth place in the YouTube all time most subscribed to channels. Here, we are interested in looking for Anthony Padilla hairstyles.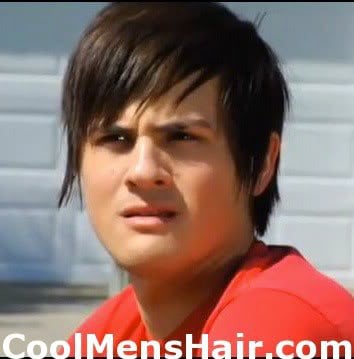 Anthony Padilla hairstyle
Anthony seems to have one favorite hairstyle that he wears virtually all the time. This is a medium long hairstyle that includes a fringe just above the right eye. This is not a true
Emo hairstyle
, but it does resemble one. The primary difference is that the fringe does not cover the eye.
The hair is very straight. This style does not require much product to maintain it. In fact, it is possible to maintain this style without any product as long as he keeps a comb or brush handy.
It appears that his hair is cut in layers with razor cut ends on the sides and fringe. This portion of the hairstyle requires a professional to get it right. This means that Anthony has to go to a salon to have his hair cut and styled. This is not a style that one can cut himself or have done by a friend and expect such good results.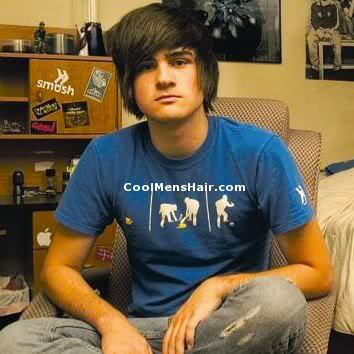 Anthony Padilla hairstyle
He keeps the back and sides a medium length as well. The sides are combed or brushed straight down and cover the ears completely. The back touches the collar.
This is the only hairstyle that turns up when searching for Anthony Padilla hairstyles. He is a young man, but has almost certainly worn other styles at different times in his life. However, there are no published images that show him wearing any other hairstyle. This seems to indicate that Anthony likes this particular hairstyle and does not have any immediate plans to change it.