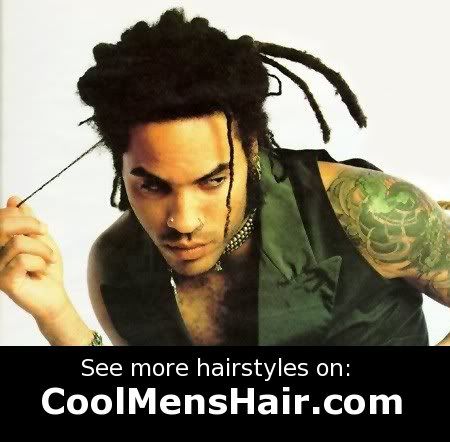 Lenny Kravitz dreadlocks hairstyle
Fond of dreadlocks? You really do not have to be a certified Bob Marley fan or a Rastafarian fanatic before you can sport one. Usually, you wear dreads as a form of self-expression or art. Here are 7 great tips on styling dreadlocks:
Limit the washing.

Contrary to the norm, you should not make your hair smooth, or you will not be able to attain the almost-unkempt fuzzy look. However, you may have to wash it at least once every week if you have very dirty or itchy scalp.

Be creative.

You can now choose a wide variety of dreadlock styles. If you are the on-the-go type, the ponytail bun will do wonders. Pseudo-punk stars can opt for the Mohawk dreads. You have the French draids, knot roll, fancy pile-up, lock hawk, dread pony–well, the least can just go on and on.

Find inspiration.

If you cannot be creative enough then at least find yourself an inspiration whose style can bring out those artistic juices. You can check out several fashion magazines or follow the styles of celebrities, particularly their hairdos, or see our pictures gallery of dreadlocks hairstyles>>

You can also talk to professional hairstylists to know the latest trends when it comes to dreadlocking.

Make use of natural products only.

The problem with chemically based hair care products is they make the hair look unhealthier. Moreover, when the residues stay on the scalp–but they should not–they can begin itchiness.

Use natural shampoo and conditioner, like the one that contains jojoba oil, olive oil, and rosemary oil. You can shampoo once a week, but you need to condition the hair at least 2 times in 7 days.

Backcomb.

When you want to maintain your dreadlocks on your own but you do not know how, follow the basic rule: backcomb. This is by far the easiest, fastest, and the most natural method of creating and maintaining dreadlocks.
Learn the different ways on creating dreadlocks. There are dread perms, which can be very high maintenance. If you want to spend less on the locks, you can do brush rubbing, twist and pin or rip, and dread braiding, besides backcombing.

You can also simply neglect combing your hair, but this is not highly recommended as you still need to take care of your hair properly.

Use dreadhead wax.

If you still need to style your dreadlocks and hold them together still, you have to use wax, but it is not an ordinary one. Pick that which is intended for dreadlocks.