Men who like to play with the style and texture of hair will love the hold of the Uppercut Deluxe Pomade. This product comes with a unique formula making it suitable for various styles and hair textures, whether you have limp, curly or wavy hair. It is also formulated to easily wash out with water.
The water soluble formulation gives the hair a fixed hold without that heavy, greasy feel. You will know that this is a good product just by looking at its history. Developed by professional barbers, Uppercut provides just the right hold for a stylish and manly do.
The pomade has a soft texture which makes it easy to rub between the palms without leaving any oily and sticky residue. The product is light on the hair, does not feel oily or greasy on the palms and easily sets. The product, which has a light brown color, also has a coconuty smell to it.
Packaging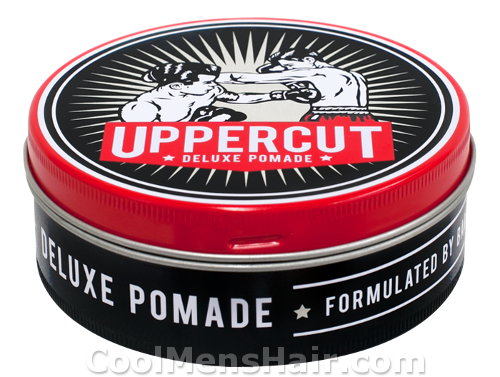 You know you have a product in your hands when it sports a killer packaging. A masculine screw-on tin cap over a metal tin holds the product, with the label showing a retro drawing of two boxers getting it on.
The drawing is printed on the lid in black, red and silver ink, not stuck on it, which makes the entire tin a nifty collector's item as well. Pretty retro and classic, which makes any user think of rock and roll signature puff.
Pros
The product offers great hold without being too crunchy or brittle. There is no heaviness and you use a lesser amount of product compared to other pomades that you need to use in order to achieve a good hold.
The product also lasts long allowing you to go the whole day without having to worry about your hair. Unlike other pomades, there is minimal to no streaking partly because of the water-based formulation.
Most users love the smell of the product. The coconut scent adds just the right amount of oomph to a great hairdo and is nothing like the usual pomade scents of other products. The scent is fresh and light and not oily, which is something that others would associate with coconut.
Many users rave about how easy it is to wash off. The product also does not leave any after-odor.
Cons
Few complaints are given about this product. There are some who complain about the hair feeling a bit wiry which can be remedied by using less of the product. Others also prefer a product with more shine and say that the product tends to give a duller shine compared to other brands.
The Uppercut Deluxe Pomade is a great buy for the price for any guy looking for a natural-looking hold on the hair. It gives the hair the right hold without weighing it down while giving the hair a fresh, coconut scent. Whether you want James Dean's rebel style or you want something sleeker and more modern, this water-based formulation can do wonders for the style you want to achieve. Buy Uppercut Deluxe Pomade 3.5oz >>