When boys become men, the need for shaving begins. Whether they prefer a clean shave or a well-shaped beard, goatee, or some sideburns, having the perfect shaving razor is crucial.
The whole shaving experience depends on how effective a razor is and how it works according to a man's preferences. Fortunately, there are several types of safety razors, each providing unique features to suit the needs and demands of men. Here are the 5 types of safety razors:
Twist-to-open Razor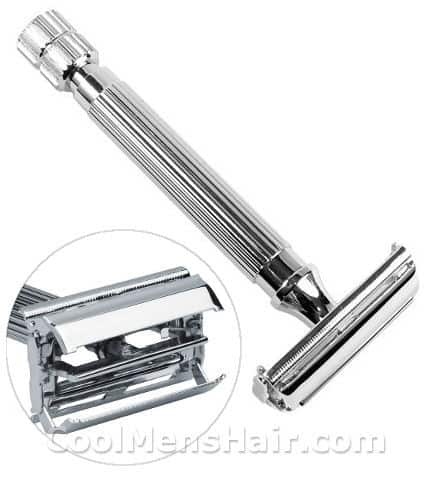 Parker 82R Super HeavyWeight Butterfly Open Double Edge Safety Razor
Also called TTO or Butterfly, this type of razor consists of only one piece. This means that there are no parts that needs to be detached or removed when cleaning or changing blades. The design is based on the classic vintage model created by pioneer shaver manufacturers.
When the knob at the end of the handle is twisted, the top cover of the razor opens, like a butterfly's wings, and the razor is exposed. This design makes it easier to change the blades when necessary.
However, because there are no removable parts, cleaning hard to reach areas could be a little tricky. Hair and cream could get stuck in the hinges of this type of razor. Despite this minor drawback, the twist-to-open razor is still highly preferred by men.
Three-piece Design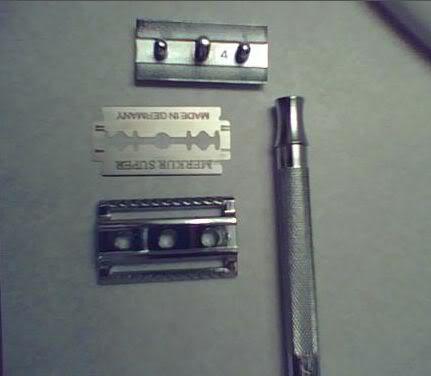 Merkur Model 180 Long Handled Safety Razor
In the early 1900s, the three-piece design safety razor became popular. Nowadays, although several modern designs are available, a lot of men still prefer it because of its durability and because it can be cleaned more thoroughly.
This shaver consists of three pieces: the top that covers the blade, the base where the blade is placed, and the handle. All these are held together by a screw connected under the top cover. The great thing about this type of razor is that when all parts are detached, any hair or cream that gets stucked can be easily removed.
Single Edge Safety Razor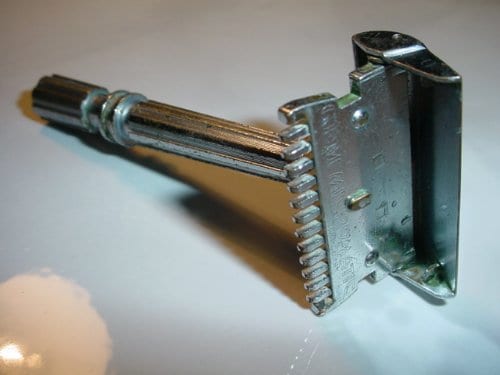 Vintage "Gem Micromatic Razor" Single Edge Safety Razor
The single edge safety razor is as vintage as a shaver can get. The safety razor's head is connected to the handle in a right angle, thus, resembling a hoe. The head opens on one side with a turn of the handle so the single edge blade can be replaced.
Typically, the single edge of this type of safety razor features a comb-like design to make it safer to use. The single edge safety razor is quite rare these days. Also, only those who are experienced enough would be able to use this type of shaver effectively.
Double Edge Safety Razor

Edwin Jagger De89lbl Double Edge Safety Razor
The name itself states that this type of safety razor features a double shaving edge. This means that both sides of the blade can be used. Double edge safety razors can either be a two-piece or a three-piece design shaver.
A one-piece design double edge shaver usually has hinges on one of the shorter sides of the face plate. The great thing about this is that when one edge of the blade doesn't shave well anymore, you could start using the other side. This reduces the need to replace blades frequently, thus, saving you time and money.
Adjustable Double Edge Safety Razor
Merkur Futur Adjustable Double Edge Safety Razor
Men's facial hair vary in thickness and texture. This is why an adjustable double edge safety razor is an ideal shaver for all types of facial hair. The shaving level can be adjusted, usually from 1 to 5, simply by turning the end of the handle to the corresponding number.
This way, you would be able to choose just how aggressive you would want your shaver to be, and it would be easier to achieve smoother shaves with less cuts and irritation. Most adjustable double edge shavers come in two or three-piece designs, either with a screw or a snap-on lock feature.
As the level of technology increases, more and more innovative designs are becoming available when it comes to safety razors. Nowadays, shavers have become digital and automatic. Despite the launching of various high-technology razors, the classic designs manage to maintain its popularity among men.
These types of safety razors featured here are smaller and easier to handle. Although they lack some of the perks and added features of new shaver designs today, they are still capable of providing a smooth and close shave.